Steemscape Launch Announcement
Greetings Steemians!
We are happy to announce a new website, steemscape.com. Our mission is to give you useful information about your Steem account, and provide tools to help you grow its value.
We are have launched with a small feature set, but we have lots of exciting ideas that we plan to release over the coming months. We will post regular updates to our Steemit blog to keep you informed. We aim to be responsive, so we will be paying close attention to user feedback. Please try it out and tell us know what you think!
Feature: Dashboard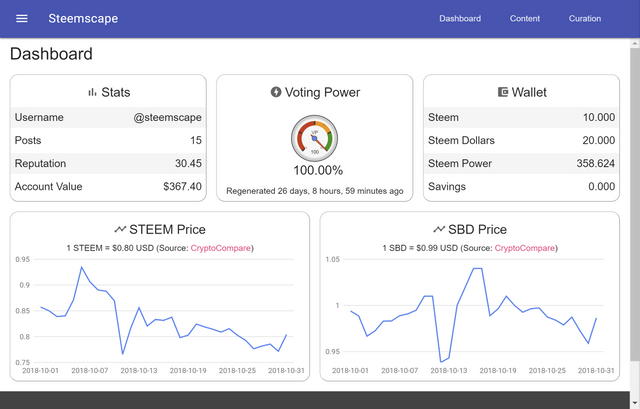 The dashboard gives you the important information about your account at a glance. This includes:
Basic account info: username, number of posts, reputation, date created.
Your current voting power as a percentage. If your voting power less than 100%, the component will show the time remaining before your VP regenerates completely. If your voting power is at 100%, the component will show how much time has passed since your VP regenerated.
Wallet balances for Steem, SBD, savings and Steem Power.
Recent price history for Steem and SBD.
Feature: Content View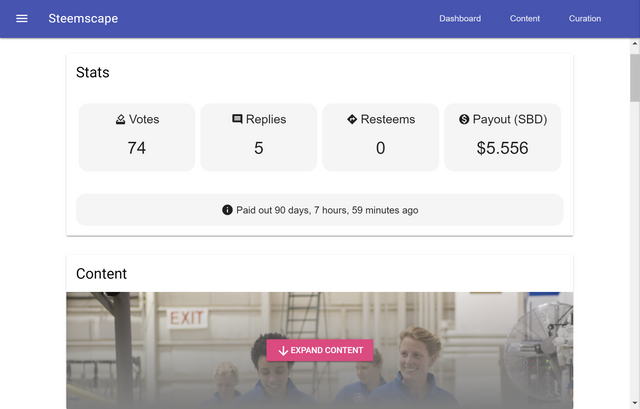 The content view allows you to drill down into your blog posts to see how they generate value. For each blog post, the following information is available:
High level stats: number of votes, replies, resteems.
Breakdown of the value of individual votes on your blog posts.
Vote stats: time after blog post, percentage, weight, rshares.
Expandable view of post content.
Why do I need this?
The most compelling features right now are the dashboard and vote value breakdown for blog posts. We plan to expand these so that the site becomes more and more useful over time. We are really interested in doing analytics on the Steem blockchain that will provide insights far beyond what is available on sites like steemit.com and steemd.com. Watch this space!
How do I sign up?
Signing up is easy! Steemscape uses SteemConnect to authenticate users. Just click on the "Log in to Steemscape" button on the front page at steemscape.com. You will then be redirected to SteemConnect and asked if you would like to grant offline access to the Steemscape application. If you don't have a SteemConnect account, or you aren't logged in, then you will be asked to log in to SteemConnect using the same credentials you use for Steemit. Once you have logged in to SteemConnect then you will be redirected to the Steemscape dashboard. That's it! You will need to re-authenticate with SteemConnect every week, but if you are logged in to SteemConnect already then the process is simple - you just have to accept the permissions that Steemscape is asking for.
Bug Reports and Feature Requests
We have tested the Steemscape site across a number of browsers and devices, but some bugs might have slipped through. Also, we hope that the Steem community can help us by suggesting enhancements and new features. Is there any information about your Steem account that would be useful to know? Are there any features of Steemscape that you think could be improved? Have you encountered any problems using the site? Please let us know in the comments below!