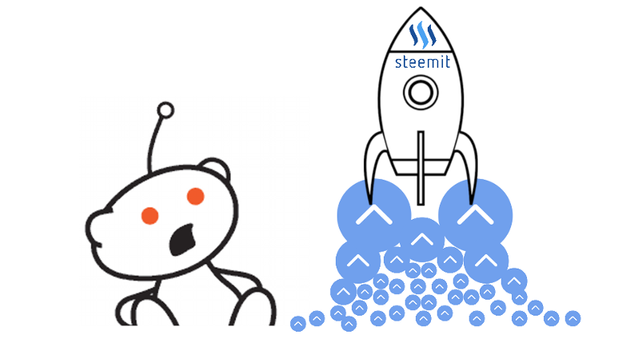 Wow that was fast.  The user engagement numbers keep climbing and we are now ahead of Reddit!  Incredible!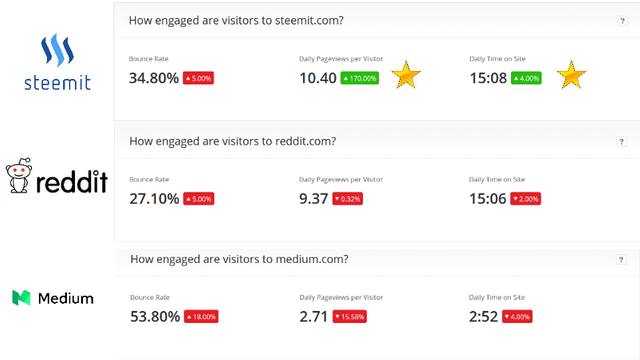 I've been following engagement numbers closely for Steemit because user growth and engagement are the two key metrics for the long term success of this content platform.  I posted updates for July 3rd and July 15th.  You can see the improvement in bounce rate from 40.2% to 34.8%, in avg. daily pageviews from 7.6 to 10.4 and avg. daily time on site from 11:09 minutes to 15:08 minutes.  All this in just about two weeks!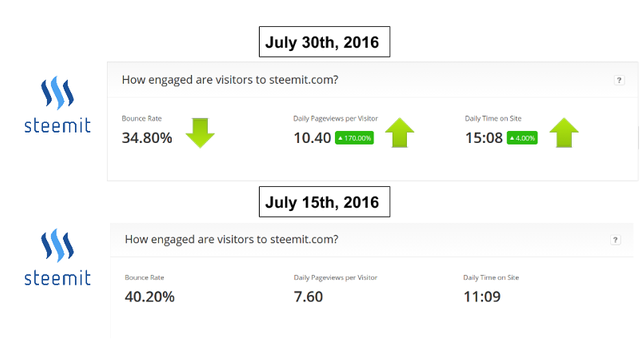 In just a few months Steemit has surpassed Reddit in engagement according to Alexa!  This is no easy feat.  Remember Reddit has been around for over a decade and has accumulated tons of content over the years.  Some call Reddit the Front Page of the Internet and it's #9 in traffic ranking for the US.  The reality is Reddit is predominantly used by young males so it's not the Front Page of the Internet for everyone.  What about females?  Steemit has a much more balanced demographic profile!   There are an above average number of females on the website as we can see here: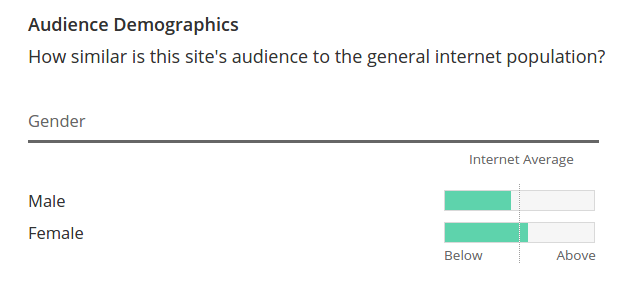 Let's compare Steemit to a website like Pinterest that is a popular content website for females.  It's an image-based platform as well so I expect very good engagement.  Pinterest is the #13 ranked website in the US.  Here are the numbers:
Sorry Pinterest.  Steemit WINS!     
Ok we compared a male-centric website Reddit and a female-centric website Pinterest, but what website can be considered the Front Page of the Internet for the general public these days?  Where are people if they aren't searching for something specific on Google?  I would say most people default to Yahoo.com for general content.  I know the company and the user experience on the platform has been going downhill the past few years, but it's still #5 in traffic ranking in the US.  Let's see its engagement numbers.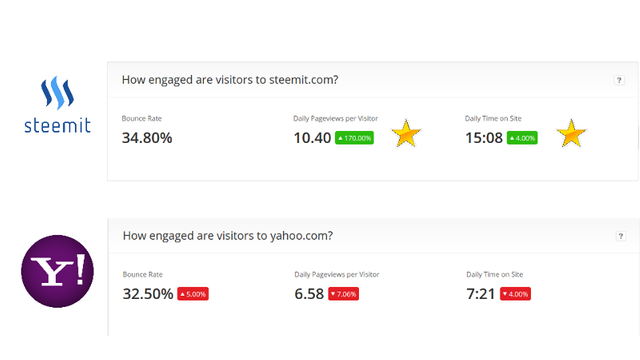 Sorry Yahoo.   Steemit WINS.  Again!
Hmmm... why can't Steemit become the real Front Page of the Internet?   Instead of Yahoo... or Reddit? Ok let's think bigger and compare it to one of the major social media companies Twitter, #7 in traffic ranking in the US.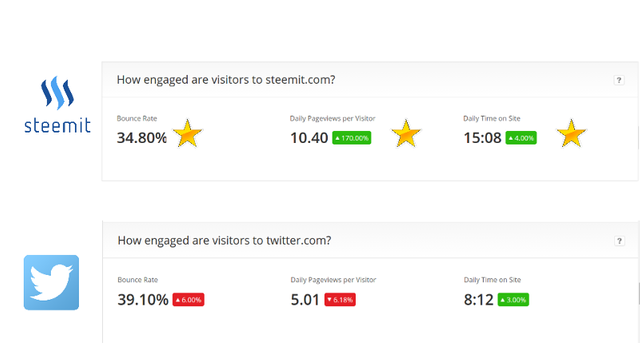 Sorry Twitter. And Again. Steemit WINS!  

You know what?  The way Steemit is trending in engagement, the big behemoths of Google & Facebook better watch out.  They are our next targets!  

Avg. Daily Time on Google is 15:37 minutes so we are closing in on them.  Facebook is the ultimate target with avg. Daily Time on Site at 19:20 minutes.  With more great content and improvements in user experience, we might get there in no time!
Traffic Rankings Keep Surging!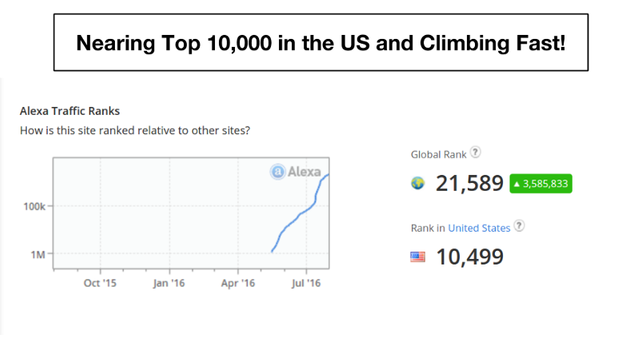 As you can see the traffic keeps surging ahead.  Just two weeks ago we cracked the Top 20,000 Ranking in the US.   Now we're on the doorsteps to being in the Top 10,000!  
Conclusion:   Despite the recent price declines and the complaints about bots, payouts and gaming, Steemit's long term fundamentals remain strong.  Yes there are always ways to improve the user experience on the platform and we should focus hard to make that happen, but when you look at the engagement numbers it's incredible to see where we already are.  So keep posting the great content!  Continue doing whatever you've been doing to make this platform engaging for users.  Remember not everyone is going to be active as writers or even participants.  Some people just want to read and discover good quality content.  People are clamoring for a new landing page for their Internet experience.  Yahoo is stale.   Reddit is immature.  Can Steemit be the gateway to the New Internet?