Please support Steem on the @BittrexExchange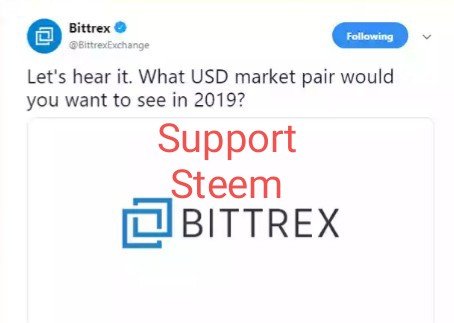 Actually, Many of us do not know that just 2 days ago, Bittrex have made a question from their Twitter official account that you want to add USD to which coin with its platform in this year 2019. This means they have taken a step to open a new currency pair with usd as well as the fiat currency exchange market. Which you think is widely used worldwide and a currency of your choice. So I think that only Steem Coin deserve it.
However, if we can add steem to US Dollar at bittrex then steem coin buy / sell and easily we can trade directly with the US Dollar, which means that its demand and usage around the world will be greatly increased. So I would say that this is a good time to help us. Because, it will improve our community. So I hope, your friends will definitely help. And especially, you can earn a good amount for it. As you comment by writing #Steem to Bittrex's tweets, then screenshot then comment on @ oracle-d's post.
On the other hand, you can create 3/6 usd quantity even after making a post or video,
But you only have to use two tag, that is,
1, steemtrex
2, bittrex
However, thanks @oracle-d for knowing usus
TASK DURATION
Start date: 13-Jan-2019
End date: 20-Jan-2019
I want to invite @r2cornell @tdas0 @a-0-abul @zaku and @anikearn
Hurry up.