I'm working on a new video related Steem project and this morning I did a little research into some characteristics of video content linked from the blockchain.
I analysed the number of YouTube and DTube videos that were posted as top-level posts to Steem (between 06:30 and 08:30), and found the following:
246 videos were added
18% were DTube videos, and the remaining 82% were YouTube (I didn't look at Vimeo or other minor video hosts)
---
I then looked at the difference between when the videos were published to YouTube and when the corresponding Steem posts were created, and a deeper breakdown shows that of the 246 videos added:
18% were posted to DTube
40% were posted to YouTube within the last 24 hours
53% were posted to YouTube within the last 7 days
59% were posted to YouTube within the last 30 days
23% were posted to YouTube more than 30 days ago!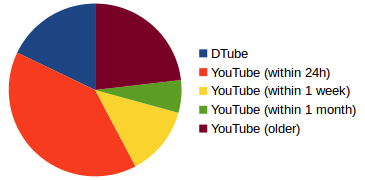 I suspect the majority of YouTube content older than 30 days is unoriginal material, and of lower than average quality, and that this kind of metadata could be useful in improving front-end experiences, so watch this space!
I'm aware this wasn't from a very typical time period, but expect it should be somewhat indicative