Get Featured on Steemit.com!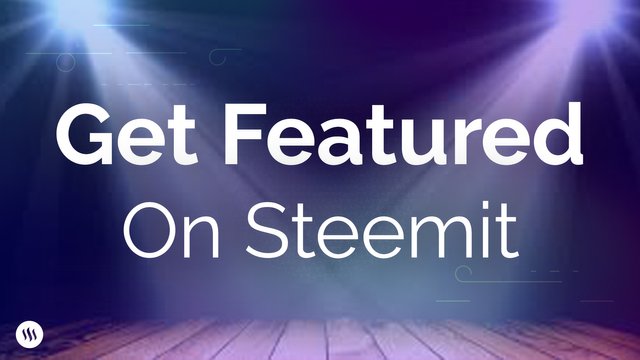 We're excited to announce an open process for applying to be Featured on steemit.com. We want to bring as much positive attention to great projects and content creators as possible. To that end we have created the following framework which is intended to minimize the work required on your end, while ensuring that your content is optimized for being Featured on steemit.com and enjoying the maximum benefit from that position.
TL;DR
Follow the format below and submit your copy at least 7 days prior to the day on which you would like to be Featured.
Format
Featured posts should be short, sweet and to the point. They should have roughly 3 sections that each serve an important purpose.
Section 1: The Steem Audience
The whole point of featuring content on steemit.com is to maximize its impact for the Steem audience. That's why we recommend starting off with a brief paragraph that explains why your offering (whether it's a new feature, competition, incentive program, etc.) adds, or has already delivered, unique value to the Steem blockchain ecosystem and its users.
E.g. "Thanks to this new feature, Steemians will enjoy an entirely new capability that increases their opportunities while decreasing their exposure to volatility."
Section 2: Your User Base
Obviously your users are your #1 priority which is why we recommend that the second section in the post be dedicated to highlighting how Steem integration has added unique value for them.
Section 3: Call-to-Action
The final section should be your call-to-action where you encourage anyone consuming your content to perform an action which ultimately benefits your project, for example by visiting your website or promoting your project.
Grammar and Syntax
Featured posts are the most visible posts on all of steemit.com so we want to ensure that readers (for whom this might be their first exposure to steemit.com) are left with a positive impression of the site and its Featured content. For that reason, we request that your Featured post be reviewed for grammatical and syntactical errors before it is submitted for review.
We know you've probably got all kinds of information you want to expose people to, so you should feel free to insert links and references to this content while remaining within this format.
Application Process
Once you have done all of the above, e-mail a copy of the article to [email protected] at least 1 week prior to the time you would like to be featured. Please bear in mind that conforming to this process is a prerequisite for being featured, not a guarantee. We won't be able to Feature every piece of content that is submitted, but we will do our best to provide feedback when beneficial.
Steem Marketing