Announcing OpenMarket!
We, @steem-supporter as the name says , have always been committed to add value to the steem ecosystem by any means we could. We have developed RUPA The notification BOT for discord after GINA was abandon.
We have made steem chat available to steemians tho its not being used, we still want to keep this operating.
Today we have came back to write a post announcing OPEN MARKET (A Decentralized Market Place for STEEM ).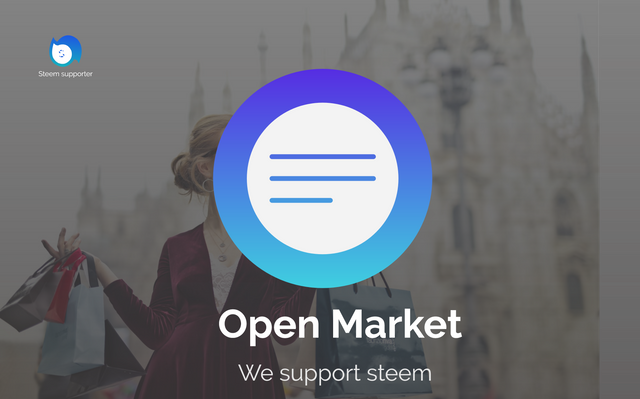 We have been working on this for a long time and its around 60% complete. We were influenced by purse as we were working on something similar for bitcoins and now have decided to make this avilable for steem only. (Both on normal web and TOR)
What is Open Market?
Open Market is something similar to EBAY where everyone is allowed to buy and sell anything . Exclusively for steemians.
Is Open Market is a DAPP?
Yes, all transactions happening in Open Market such as listing event BUY/SELL event, auction event, bid event are broadcasted to the Steem Blockchain with custom json.
How does it will work ?
Any one wanting to sell anything in open market can simply use the quick listing and list there items for a USD price i.e converted to STEEM in realtime, there is no fees for quick listing . If anyone wanting to list a lot of items and want their own custom shop page like the amazon has , they might have to pay a specific price. However quick listings are limited to 5 active listings .
Payment security and delivery ?
As of now payments are escrowed with @steem-Keeper as default until buyer confirms delivery. In any case of disputes , there is a dedicated dispute management system where sellers can upload proof of delivery and other shipment details.
No addresses shall be saved withing the system, and seller will be notifed about details on a encrypted memo.
These are the basics of Open Market . However there are three phases in open market that will be released eventually
Phase 1 - June 1st
Features:
Quick listing enabled
All operations through steem keychain
Auction and bidding enabled
All features a basic marketplace will have
Phase 2 - June 15th
Features:
Delegation Market (Place delegations for sale)
P2P market place for buying and selling Steem and SBD (Paxful)
By this phase users can sublit whishlists which they want to buy and and sellers can grab this offer and earn steem .(Buyers can place requests for discounted prices as well )
Implementing steem's standard escrow system (We call @steemitblog @steemcurator01 to be a part of it )
Phase 3 - July 10th
Launch on TOR
Will there be Open Markets own token?
Yes, there will be SE TOKEN. There will be only 300K Tokens Minted and put for sale. (This will help funding and other major stuffs)
Below are the features of OMT (Open Market Tokens ) :
Staking enabled (Stakers will get 50% daily Profits made by open market)
Discounted listing (70% off on fees, if paid in OMT )
10% off on all listings for buyers if bought using OMT
5% extra payment for sellers if accepted OMT as a sandard payment
Language Used: Python
Frame-work used: Django Oscar (https://github.com/steem-supporter/django-oscar)
UI Used : Market place : https://themeforest.net/item/marketpress-ecommerce-multivendor-html-template/21676475" Theme Forest
Since we are not much of writers, please forgive us if you did not understood and parts .
Fell Free to Join our OPEN NETWORK DISCORD!
If you like what we are doing please support our witness, we need your help to continue our work here!