Steem Philippines | 4th Official Meetup in Davao City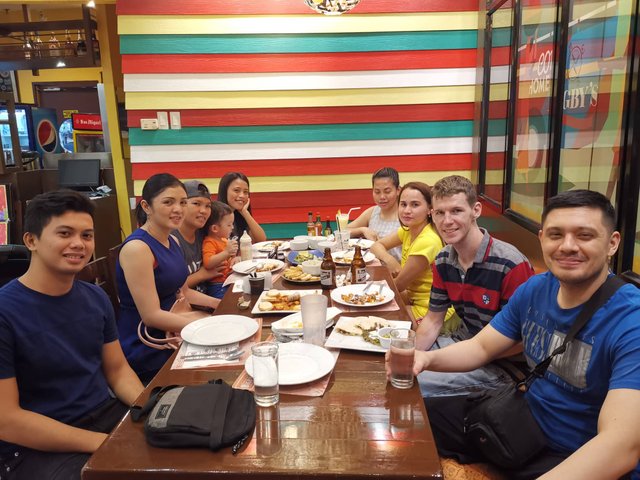 ---
The #SteemPhilippines meetup ended about 4 hours ago and @jancharles (co-Founder), @nathansenn (co-Founder), @chrisrice (co-Founder), @emafe, @riyuwe, @zaclucas and Christine were in attendence.
The topics started today involved creating a DAPP for Steem.ph, the pre & post-2017 Bitcoin Bull Run, the Steem.Dao, Steem-Engine and some other ideas relating to @jancharlest's work at Remotasks.com.
---
One of the ideas of @chrisrice is to eventually start a Steem-based DAPP for Filipino users, and people residing or visiting the Philippines.
The domain name Steem.ph is reserved for such a project and would currently require 3,100 Steem to be burned on Steem-Engine and would also require 1 ENG (worth 1 Steem) to be staked to the project on Steem-Engine for every user of the DAPP who staked PH tokens (a PH token is already reserved for the project on Steem-Engine).
That led Nathan to the idea of creating a DAPP on Steem-Engine where the actual users were required to stake the 1 ENG. This would reduce the costs of the community owner and it might also reduce spam if spam ever becomes an issue on Steem-Engine social networks.
Chris liked the idea and Nathan even said something about users being required to stake 1 Steem and 1 ENG each since it would only cost $0.32 USD at today's prices. Another idea that wasn't mentioned in the group would be creating a hierarchy of users with ENG staked users being able to use more of a DAPPs functions, much like Steem is required to post, upvote, comment, etc. on Steemit.com.
The issues that could arise might be related to adding too much complexity, and possibly discouraging users from joining that specific DAPP but it is still a decent idea to consider anyways.
---
In relation to the pre & post 2017 Bitcoin Bull Run, the group discussed how Bitcoin investors were loaded in cash at the peak of the last bull run only to lose all, nearly all, or at least a lot throughout the bear market that followed.
This isn't a new type of experience for @chrisrice and it is a common theme in market cycles.


There is a massive influx of buying at the peak, most people don't sell, and then many hold all the way towards the bottom only to sell at rock bottom prices. None of this is investment advice and shouldn't be classified as advice of any kind, but some of the #SteemPhilippines members are actually interested in buying more Steem at these current prices, and welcome the current "discounts" for Steem.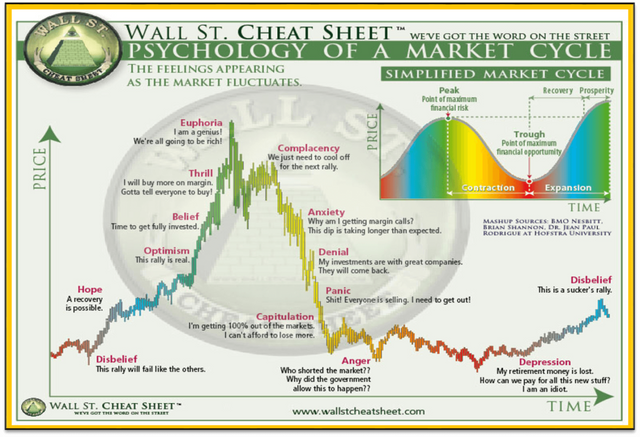 Source of Image
---
As for the Steem.Dao, the Steem Blockchain now has it's own DAO.
For people that don't know what a DAO is, it is a Decentralized Autonomous Organization and it is now operational on Steem where users can vote for projects offered to the Steem community in exchange for SBDs.
Now, anyone with a good idea, or interest in developing or helping the Steem community can launch their idea, apply for funding from the Steem community and if it's granted, they'll receive SBD (Steem backed Dollars) as long as their project remains in favor.
The project that Chris was most interested in talking about was Steem.Craft, a project intended to make a Steem-based version of the popular virtual reality game, Minecraft.
---
One of the other remaining topics that the group discussed was Remotasks.com.
Jan Charles currently works at Remotasks Davao Bootcamp. It's actual an organization or group that his brother started and it is related to training people to work for Remotasks.com as higher level workers.
If anyone is interested in working online, and especially if you live in the Davao Region, you might want to contact Jan Charles on Facebook. He might be able to help you get started as a Data Analyst or Data Annotator.
---
If anyone lives in Davao City and is interested in meeting other blockchain and crypto enthusiasts, or if you just want to meet other people, you are invited to the next #SteemPhilippines meetup at SM Ecoland on September 18th, 2019 (Wednesday) from 5:00 PM - 8:00 PM.
CONTACT US on Steem.ph
---
Originally posted on Steem Philippines. Steem blog powered by ENGRAVE.