Bots, bots, bots everywhere!!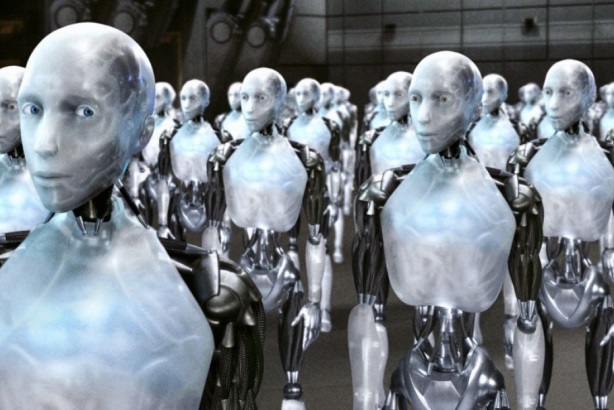 Imagine from movie "I, Robot" Copyright Twentieth Century Fox
Last week, 8 days ago to be exact, I wrote a post celebrating 1000 followers. That post here, was the first post that I used bidbots in an attempt to reach the trending page, and to subsequently increase my viewership, and make a good return on the investment. Since then, I have written two posts in a series on Incentives, here, and here, that I have also used bidbots on. I will do a similar post to this one with the results of those two posts.
So far, only the 1000 follower celebratory post has paid out, and here were my results:
Paid: 234.071 SBD or approx $657.07USD at todays exchange rate
Return: 155.523 SBD and 44.54 Steem Power or approx $586.67
For a loss of $70.40 USD
I also received a (sizeable?) @Grumpycat flag from @madpuppy because I used a Bot that they don't agree with. That of course affected my returns. Basically they flag and "erase" any votes given by bots that upvote posts older than 3.5 days. You can see the message in the comment section of my post to learn more.
WARNING!
There are a few things to watch out for when using upvote bots. First of all, you want a bot that won't get you flagged by @GrumpyCat and @madpuppy regardless of whether you agree with what they are doing or not. We don't want to pay a bot only to have that bot's upvote countered by other users. You can check the cut off ages for bots on Steem Bot Tracker. Make sure to use bots that have 3.5 days or less listed in the Max Age column to avoid a grumpy response.
The next thing you will want to check while you are at Steem Bot Tracker is the min/max ROI. Most of the bots do not list any limits on the up or down side, so really you aren't too sure what you are getting. If a round is over-bid, will you take a loss? It might be a good idea to focus on the bots where there is a positive ROI in the minimum column. We don't want to lose money, unless there are at least some other benefits to using a bot.
The Positives
As you can see, using the bots for the first time, I took a monetary loss. But, did I gain anything? Well yes. My post hit the trending page, albeit quite a way down the list. My rep score went from 49 to around 53 based on that post. I also gained a bunch of new followers. 8 days ago I crossed 1000 followers. After three posts where I paid to get to the trending page, I am now over 1250 followers.
Hopefully, those extra followers will actually represent more value in the future. As a person's follower count goes up, does it necessarily result in more upvotes and more rewards? It will be interesting to see over time if that is the case.
For this post, I plan on using just one resteem service, and one bot. This way, I can hopefully identify the best bots to use. I will start with those that advertise a guaranteed profit, and see if they deliver.
Thanks for reading, commenting, voting, sharing,
SnubberMike