Snax integrates with Steem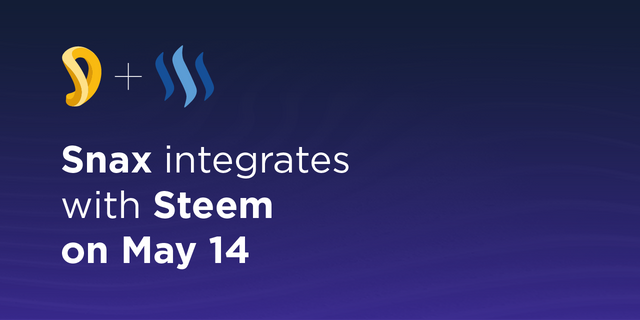 In just past few weeks since mainnet release on April 10 roughly 250 people made use of Snax, 30% of which are far from the crypto industry. Today we are happy to announce Snax integration of Steem. It is going to take place on May 14.
What is Snax: Snax is a blockchain which rewards people for the content they create on public social media and provides them with free instant transactions by social account name. As an overlay solution Snax can integrate any established public platform. It builds bridges between these platforms and brings crypto closer to the people.
Snax began by integrating Twitter. In only last 32 hours (which is how much takes Scoring Round for Twitter  —  the period needed to calculate rewards for a particular platform), we've distributed 30'000 SNAX tokens as free rewards between registered Twitter users. In total, 1'780'515'936 tweets were analysed to reward people for their social activity.

This colossal work of data analysis was made possible by a global team of 21 block producer from different crypto communities, few of them are from Steem: @dragosroua (snaxtopia), @crowdmind, @liberosist.
What does it bring to Steem?
We started focused on Twitter - one of the most prominent public social media. Now you can make posts on both platforms and gain SNAX as a return of your activity.
Few ways of how Snax could work in favour of both Steem and Snax agendas are outlined below.
Rewards
"Even if you're not considered a whale on Steem, you can still gain a decent reward."
Steem will account for 0.5% of the total rewards fund of SNAX tokens. Although at the moment, Steem is relatively small, it may gain more SNAX tokens in the distance if Steem users show interest in Snax and join it earlier than Twitter users read more about Snax token distribution
How do rewards work: you simply keep posting on any Steem-based platform (or Twitter, or any other platform integrated with Snax) and get rewards automatically for any content you've posted. There's no need to replicate content on an alien platform, as well as no need to create a paid artificial content - stay true to yourself. In the case with Steem, you will gain not only STEEM tokens but also SNAX ones without a single extra action.
Snax collects metrics of all your posts (number of comments, upvotes, who upvoted your post, how many people are registered on the platform at the moment and so on), processes them into a metric called Attention Rate and records it on a designated smart-contract. After the Scoring Round you will get SNAX tokens depending on how high is your Attention Rate relative to other platform users. To enjoy automatic rewards you only need to bind your Steem account with Snax blockchain account.
Snax doesn't take into account such platform-specific score as steem power in any way. It means that even if you're not considered a whale on Steem, you can still gain a decent reward and vice versa.
Instant and free transactions
"It doesn't matter whether the beneficiary of the transaction is registered on Snax: once they have logged in for the first time, smart-contract will automatically send them their tokens."
Snax provides Social Transactions mechanism, which works as an overlay above social platforms and enables you to send tokens to any user of social networks integrated into Snax just by their account name on that network. It doesn't matter whether the beneficiary of the transaction is registered on Snax: once they have logged in for the first time, smart-contract will automatically send them their tokens.
It may be particularly useful for those who have an active group of followers outside of Steem and wants to draw them into the crypto ecosystem, or for those whom eagers to capitalise their digital appearance further.
Smart Contracts and dApps
Snax blockchain based on dPos consensus with bandwidth of 1500 transactions per second, and provides smart contracts to build decentralised applications. Snax is like a programmable financial layer over social media, which creates excellent opportunities for developers to save many resources for building their applications.
Any developer who has the willingness to expand the crypto ecosystem and support the evolving dynamics of blockchain and Snax, in particular, is welcomed.
What's next?
More and more we'll bring you new social integrations - this will remain constant along with the goal to make the crypto landscape more welcoming for anyone. However, currently, our top priority is SNAX listing on exchanges and integration of Steem.
In terms of growth, we are partially relying on you, spreading the word about Snax. Bringing people in is a win-win scenario and for you, and for Snax blockchain as its value increases proportionally to the number of users registered on Snax.
P.S. We've got a lot of feedback that lack of mobile wallet seems to be a significant barrier to broader adoption. Worry not, we've directed some of our efforts into negotiating a deal with our friends who are going to develop a mobile wallet for Snax and EOS. We are already polishing details, so stay tuned to be the first to hear about it.

Bounty program
We want to encourage you to give Snax a try, that's why we are allotting 5'000'000 SNAX for a bounty program. Anyone who makes a post on Steem with a short review (from 1000 symbols) of Snax will get a share of that fund according to how much subscribers they have. You may check reward calculator to see how much tokens you will gain.
The program will take place from May 7 until May 31. Rewards will be distributed automatically starting from the date of Steem integration - May 14. For posts made after the release date, rewards will be distributed approximately the day after you post. Conditions are provided on snax.one.
After you post our oracle will find your article automatically and register you on the related smart-contract.
Full list of participants will be published on the snax.one website. If you haven't found yourself on this list or have any questions, don't hesitate to reach us in our Discord channel.