Two Ways to Earn With SmartSteem: Do the Smart Thing!
There's something everyone has in common on the Steem Blockchain, and that is the desire to grow their audience, voice and Steempower.
If you're looking for a way to promote your content or to simply maximize your growth rates in addition with your Steempower ... SmartSteem may be the smart choice for you.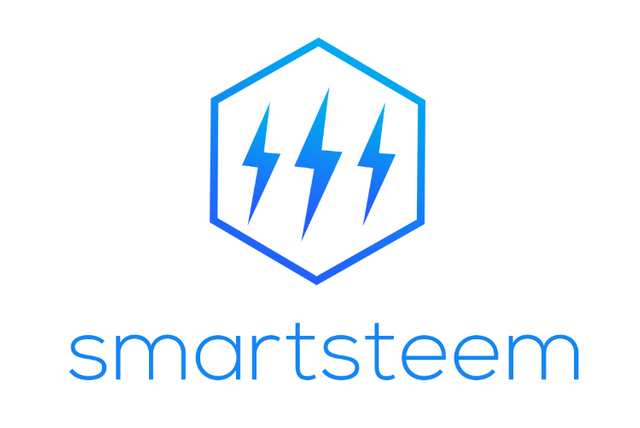 SmartSteem and SmartMarket are fairly new in the Steem Blockchain, so we know many of you still are unsure on how everything works.
We also believe communication is key, so we like to keep everyone informed on how we grow and work to better provide our services to you.
Having that in mind, we thought about giving you an in-depth overview on our services and on how you can easilly and effortlessly work with us in order to maximize your profits and exposure.
Sounds good?
Then read below, as it's going to get better.

Earning as a Customer: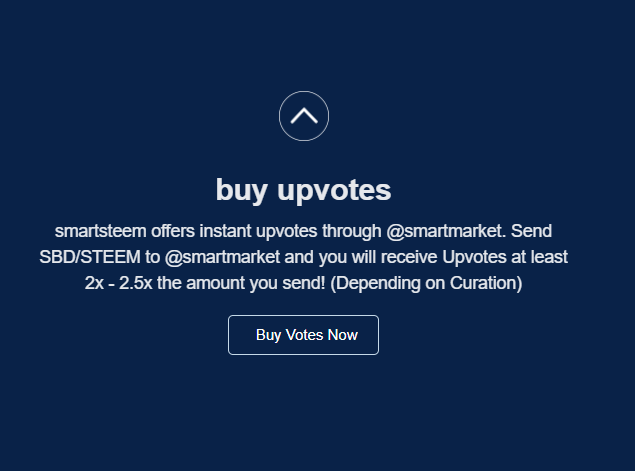 As we previously stated, there are two ways to earn with SmartSteem.com:
You can earn as a Customer
You can earn as a Supporter
Let's start by going over everything you can do as a customer, which includes using our bidbot, buying votes on SmartMarket and making sure it is all done with the highest quality guidelines in mind.
Trust us... we hate SPAM just as much as you do, and low effort posters, spammers and plagiarists won't find our service cooperative.
But let's approach each of these topics in depth now.

Meet SmartSteem the BidBot: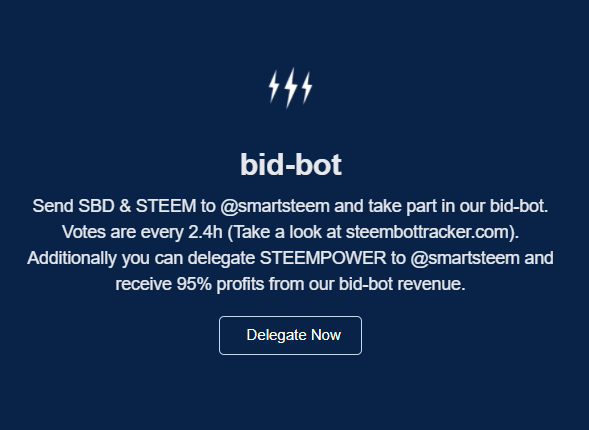 If you want to use our bidbot, you simply need to send @smartsteem a minimum of 0.5 SBD or STEEM and link the post you want it to boost in the MEMO section of the transfer.
As of now, @smartsteem has a vote roughly worth $70, but that is subject to change on a daily basis.
This bidbot is ideal for the little guys who want added exposure as it has a low minimum bid amount ensuring even the smallest players get a say.

Go the Extra Mile with SmartMarket:

On the other hand, you have @smartmarket.
Smartmarket is a service that allows you to buy votes, but it has a twist.
Unlike its competitors where you buy a vote and get it done by someone, you can buy a vote with smartmarket and get it done by multiple people.
Sounds confusing?
It isn't...
Simply put, if you buy a vote worth $10 on our competitors' services, you'll get an upvote worth $10. On the other hand, buying a vote worth $10 from us can net you a $5, a $3 and a $2 upvote.
This makes it seem more natural and organic, so you can get all of the benefits with zero shame.
---
High Quality Standards:
You should also note that we review each SmartSteem account manually and Whitelist them or Blacklist them.
When the accounts are approved, we give them between 1 to 3 stars depending on their content's quality.
We care about the content on the blockchain and we take pride in ensuring a proper "SmartScore" is given to each individual, but more on that later.

Earning as a Supporter: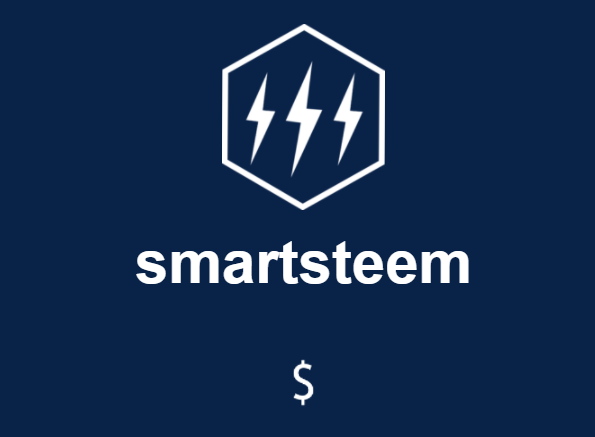 Now, there are a lot more ways to work with us and ensure your growth rates go through the roof.
You can:
Sell your Votes through SmartMarket;
Delegate your SP to SmartSteem;
Calculate your Revenue for both the cases.
...and even earn a percentage of the vote-selling profits from your referrals to the site!
It's a win-win-win!
Let's take a look at how that works.

Sell Your Votes to SmartMarket: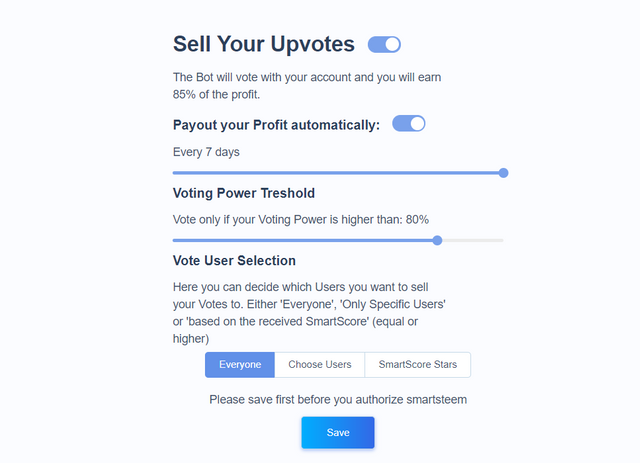 The above image is your "Features" page on the SmartSteem.com portal.
Through it you can sell your votes.
Simply select your voting power treshold, and choose the payout deadline.
Finally, you're given the ability to either sell your vote to anyone or only for SmartScore Star users.
While you'll get faster income with Everyone tagged in, choosing SmartScore Stars ensures you only vote for content providers manually approved by us, so you know it's quality stuff.

Delegate To SmartSteem: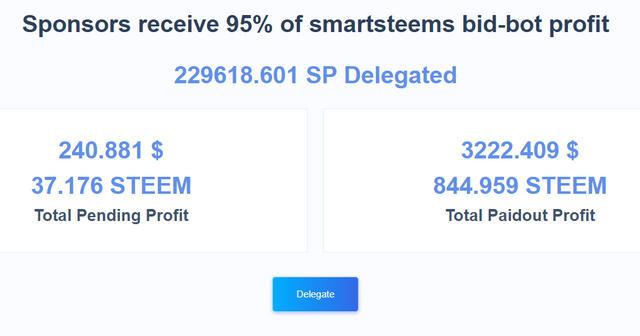 You can also delegate to SmartSteem, our BidBot.
If you do, then you receive a proportional part of the 95% slice of the bid-bot's profits.
This can be a very lucrative way to ensure your SP is being used even when you don't plan to use it yourself.
Ever wonder why Whales delegate to bots so much? It's because it works as an investment.
Care to capitalize on your Idle Steem Power?
This may be the thing for you.

When in Doubt, Calculate Revenue: The Feature You've Been Waiting For!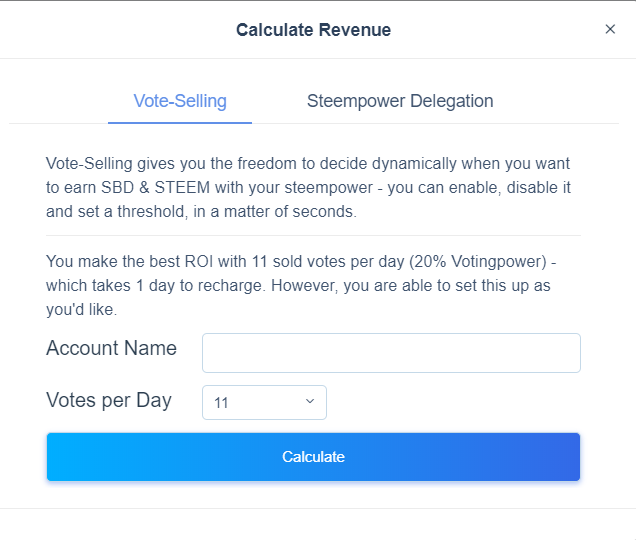 We know what you're thinking - there's a huge problem with these services.
There are these different choices, but you never know what's the best one for you.
Introducing... a feature you have all been waiting for:
The Revenue Calculator!
You don't have to fetch a calculator and put on your geek glasses to see what's the best course of action - you now have a "Calculate Revenue" button in your SmartSteem page that allows you to easilly see what the your returns will be for delegating or vote-selling.
So, if you're in doubt, simply check it out and decide what makes the most sense for your particular case!
We got your back!
---
Do the Smart Thing... with SmartSteem!
So, do you now see why SmartSteem is becoming the go-to destination for both vote buying and selling?
Do you also see why more and more people turn to us to ensure their votes and Steem Power and giving them dividends?
But these aren't the only reasons, we have something else:
We know an attractive and intuitive GUI (Graphic User Interface) can make or break a business, platform and even blockchain.
That's why we strive to always keep it simple, minimalistic and easy to navigate.
You don't need to be tech savvy to use our service, you don't need to be a coder and you certainly don't need a huge tutorial.
It's there... try it!