I have done extensive research on all things STEEM, and and have concluded that the price of STEEM is bullish. It is showing clear indications of going "to the moon", as they say.
To illustrate, I have produced the following graph: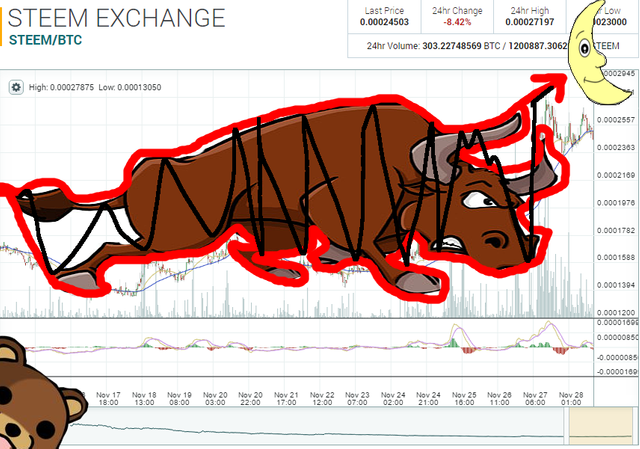 As we can see here, the price of STEEM is forming what is a very clear, classic "bull" pattern. You can almost see the bull. The price, as we speak, is literally pointing to the moon. Never mind the bear.
Everything about the price looks awesome and we're going to be rich, but if you invest and don't end up rich, don't blame me.
Right now, the price is undoubtedly bullish, as illustrated by my graph, but tomorrow the price can either go up, or down. Depending on factors. I have a strong feeling it will go either way tomorrow. We can determine that by looking at STEEM's historic ups and downs, and the fact that they have occurred. So, there's little doubt that things will occur tomorrow, as well.
(Note: This is not poking fun at people for making analysis posts in general, just a few that offer little to no information, but whose posts are sold as being very informative, while also abusing the fact that people respond well to good news. I will not name names.)