Just two weeks ago Steem was flirting with $1.50 USD. We were below the $2.60 area that has acted as a pivot point in the past and thing were not looking super strong.
Oh My, How Things Can Change
Here are are two weeks later and the price of steem is abobe $3 USD, but more importantly we pushed above the $2.60 area which had acted as a prior support and held it nice before moving higher.
If you look at the chart below you will see we spiked through the $2.60 area and then came back to test that level the next few days.
Price held in strong and once again carved out that level as a support before pushing higher over the past week.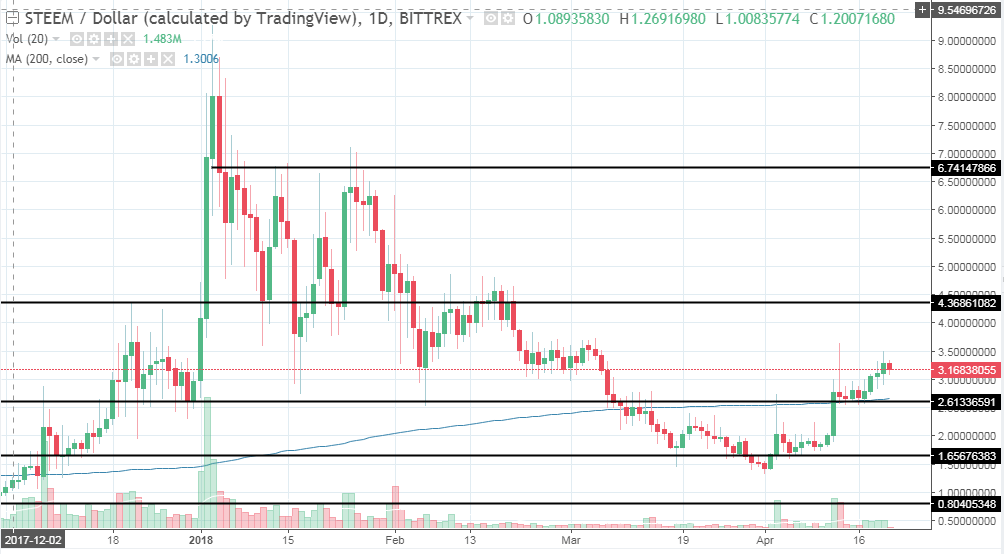 Upside
Well, first stop is that prior high around $3.50, then we are looking at the $4.30 area, which is the top of the range we are now back in.
Downside
As I mentioned, that $2.60 area is now acting as a solid support so as long as we hold that on any pullback we should still be in good shape.

Need to learn the basics about bitcoin, the blockchain and wallets?

Free e-book: ScaredyCatGuide to Knowing What the Heck Bitcoin Is

---

Best Regards,


Disclaimer: All info in this post is my opinion and for educational us