How to buy CRYPT using INR from bitbns and convert to steem
In this post, I am going to demonstrate the various mechanisms that you can use in bitbns to buy crypt using INR and then convert to steem.
Many exchanges have shut down because of the RBI ban on accepting INR on their bank account for crypt purchase and newer exchanges like wazirx and bitbns have evolved which allows buying crypt using INR. I have been exploring the mechanisms to invest in steem, and in this post I am going to share how you can buy BTC or LTC from bitbns by depositing in INR and then how to convert it to steem.
At first, you need to sign up in their site. If you want you can use my referral ( https://ref.bitbns.com/201094), It does not get a lot of money to me, rather a mere Rs 100/- :). After you sign up, you will need to provide your KYC details, and it will take 1-2 business days to be verified. For me, it took more than 2 days. So once you are verified you can trade as well as buy.
For trading, you can transfer your crypt from other exchanges to bitbns, and they say in one of their post that they do not charge any fees for your first transaction, but I am not sure about that, since the post is a bit old. Since I was more interested to buy , I am going to share, various possible ways to buy crypt using INR and their advantages / disadvantages (in bitbns).
So the very first thing you should do is enable Two factor authentication (2FA), so please do that, and then go and click on the WALLETS link. You will see something as below :

Click on DEPOSIT INR and you will be taken to the below page :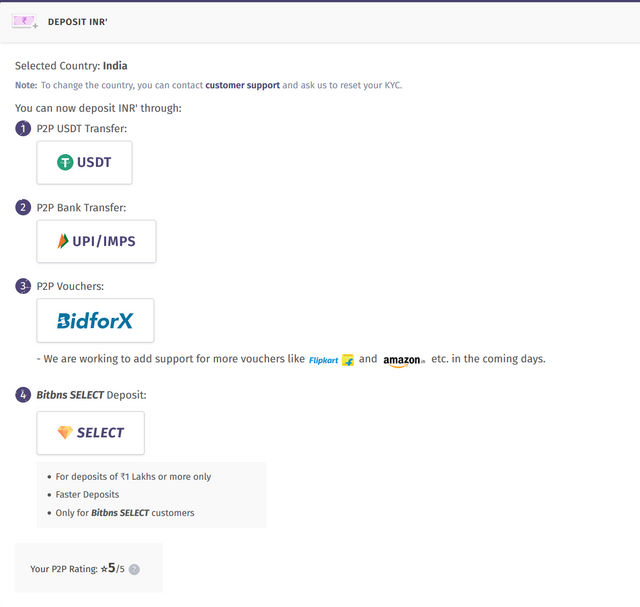 As you can see, you have four options, out of which two are relevant : P2P USDT Transfer , P2P Bank Transfer . There is a tips in the P2P Bank Transfer where as P2P USDT Transfer is direct buying USDT with whatever money you deposit.
The tips in the P2P Bank Transfer looks very attractive, and you may feel, its going to give you a lot of profit, and the same did I feel and went to buy using P2P Bank Transfer . So I decided to deposit Rs 1000/- ( INR) AND clicked on P2P Bank Transfer and filled 1000 as amount. The system matches the matching withdrawals and shows up the tips amount that you are going to receive.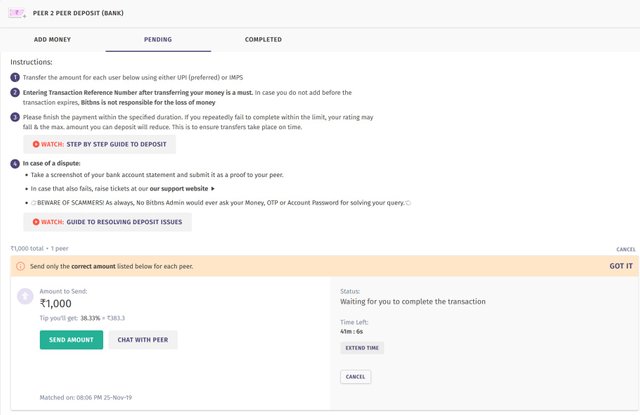 Then you will have to pay that user the specified amount using bank transfer and confirm by submitting the UPI/IMPS reference. I used IMPS and am not a big fan of UPI, because of lot of frauds happening in UPI. But you can choose whatever you like.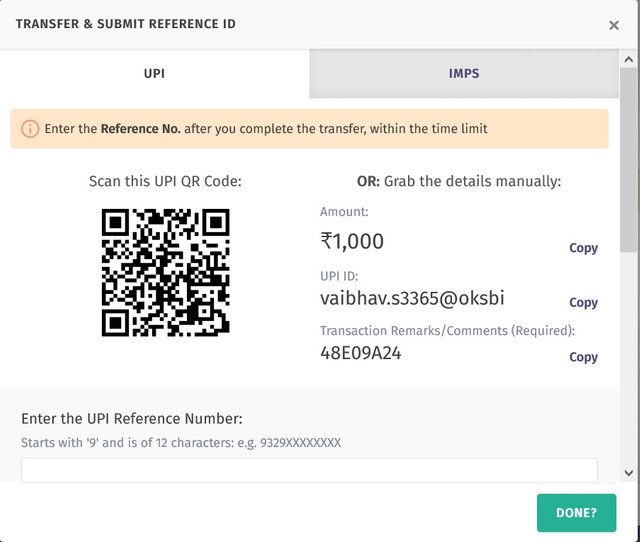 After that the peer receiving the fund need to confirm, after which the transaction is completed and the wallet balance is updated. You can see how it would show up in the below two screen shots.


So I got a 38.33 % tip and thus in total I received Rs 1383 / by depositing only Rs 1000 /- . Looks very profitable ? , but it is not in actual. Lets understand why.
When you buy crypt, there is a difference in price when you use USDT vs INR. So the price in INR is much higher than the price in USDT. For example as of writing this post, the price of BTC vs USDT in bitbns is $7,236.12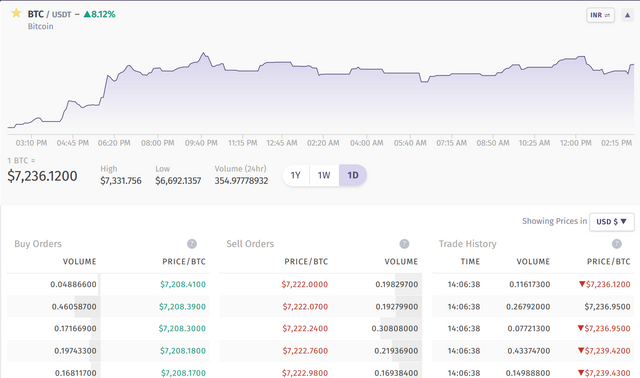 And the price of BTC using INR is ₹7,94,897.96, as you see below. We can only use BTC/INR, if we have deposited INR using the P2P Bank Transfer ( the one I did).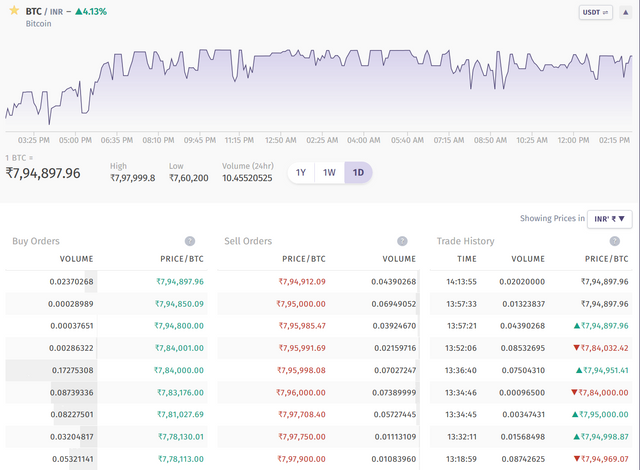 So lets do some math, to see which one is profitable. Assume you deposit ₹20000/- using P2P Bank Transfer with a tips of 38.43 % ( as shown to be max now). So you get a tips of Rs 7686/- and your total wallet balance is ₹27686 . Now with this amount you can buy 0.0348296276920877 BTC (without any fee, just for sake of calculation).
Now let's use the same amount to buy USDT, so click on WALLETS and then P2P USDT Transfer. You will be taken to the below page. So any USDT you buy here is direct USDT and no extra bonus given like P2P Bank Transfer.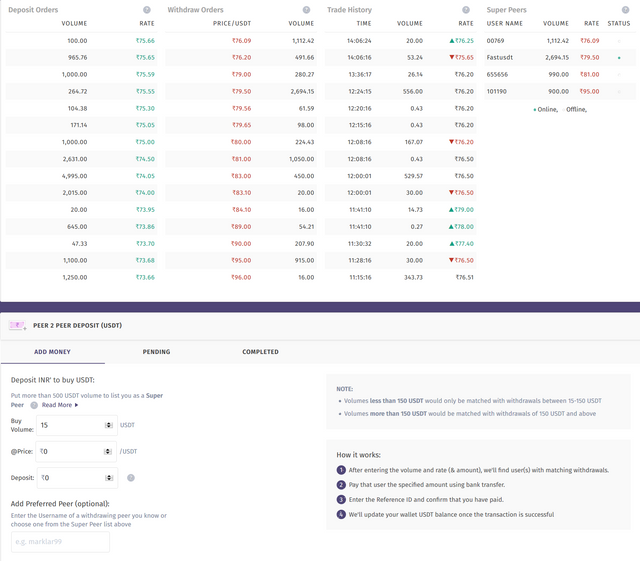 So with the current price, lets say we buy USDT in ₹20000, so with a price of ₹76.09 per USDT, you will be able to buy 262.8466289919832 USDT. And then if you use this to buy BTC at $7,236.12, you get 0.0363242495967429 BTC.
So which one is profitable ? As you can see the math yourself, buying through P2P USDT Transfer is more profitable though the P2P Bank Transfer looks more attractive.
And apparently P2P USDT Transfer is more faster also. But there is a catch on the matching in bitbns as shown below. So you will have to take care of splitting your orders, if you are buying less amount.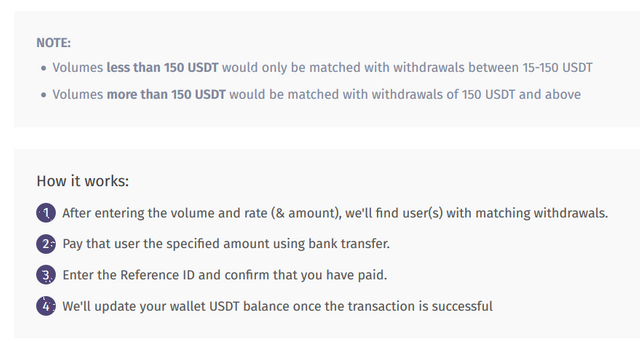 You can buy either BTC or LTC, if you want to convert it to steem. The most convenient method is to transfer your BTC or LTC to blocktrades developed by our very own @blocktrades. And then exchange with steem.
You can also use bittrex and convert your BTC or LTC to steem, if you have an account there.
In my next post , I am going to show details of trading through wazirx and also compare if wazirx is better or bitbns is better. Stay tuned.