STEEM-Finance Operation Plan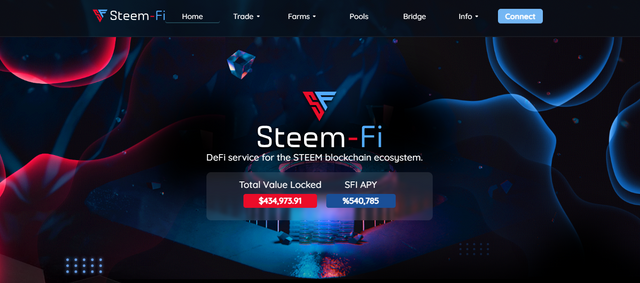 Blokfield.INC has started operating STEEM-Finance after terminating RobiniaSwap DeFi service normally.
As a service exclusively for STEEM, STEEM-Finance plans to launch various STEEM ecosystem-linked services such as mining SFI tokens by delegate SP or purchasing Vote using SFI.
Since it is still in the early stages of service, the functions implemented so far are as follows.
SFI compensation for SP rental users
SFI token automatic compounding system
STEEM Cross-Chain Bridge
Features to be added in the short term include:
STEEM Pool Mining System
SFI Token Vote Purchase System
Gamble dApp
STEEM exchange system
Blokfield.INC plans to continuously conduct development activities and service management for the development of STEEM-Finance, and about 1 million SP is currently being used for STEEM-Finance.
STEEM-Finance users can receive Votes from @robiniaswap and @robinia accounts.
STEEM-Finance Service Features
Proceeds from STEEM-Finance will be used for SFI Buy-Burn.
Token per Block: 0.03 (864 SFI per day)
Tx Fee: 0.1%
SFI Selling Fee 10%
Using BSC Blockchain Network
For STEEM-Finance safe service operation and continuous development, 10% of service revenue will be used for Blokfield.INC operating expenses.
Blokfield.INC provided initial SFI-BNB liquidity for safe service operation.
---
---
STEEM-Finance Website : https://steem.finance/
Discord Channel: https://discord.gg/wGv4UjER2f
Global Telegram Channel: https://t.me/officialrobinia
Korea Telegram Channel: https://t.me/robiniakr
Kakao Talk 1:1 Inquiry: https://open.kakao.com/o/s9uEwEyb
---
---
If you think the STEEM-Finance service is helpful for the STEEM blockchain, please apply through Witness Vote.
Witness: @roadofrich