Ciao a tutti amici, oggi voglio portarvi una guida su come poter prelevare i vostri Steem e convertirli in euro, cercherò di svolgere la spiegazione in modo lineare e facilmente compresibile, portandovi una guida passo passo strutturata come una ricetta di cucina
ingredienti:
Steem all'interno del Wallet
Conto su Binance
Conto su Coinbase
Fasi del procedimento:
-1 Ingresso nell'wallet di Steemit
-2 effettuare il trasferimento su conto esterno (Binance) e inserimento dati
-3 posizionamento ordine di conversione da Steem a BTC
-4 Invio BTC su Coinbase / Coinbase pro
-5 conversione in Euro
Procedimento Guidato
per prima cosa dovete entrare nel vostro wallet.

A questo punto dopo aver premuto su riscuoti le ricompense fate click su Steem in verde, e cliccate sulla voce Transfer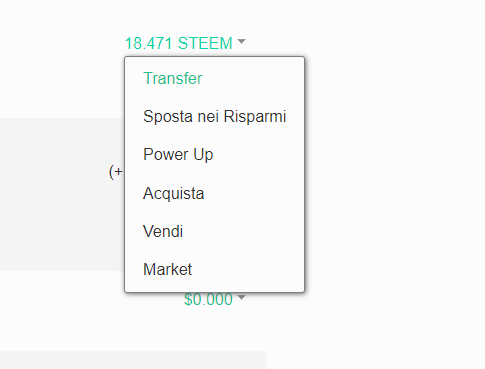 Ora vi si aprirà una schermata come la seguente, nel quale dovrete compilare i dati del trasferimento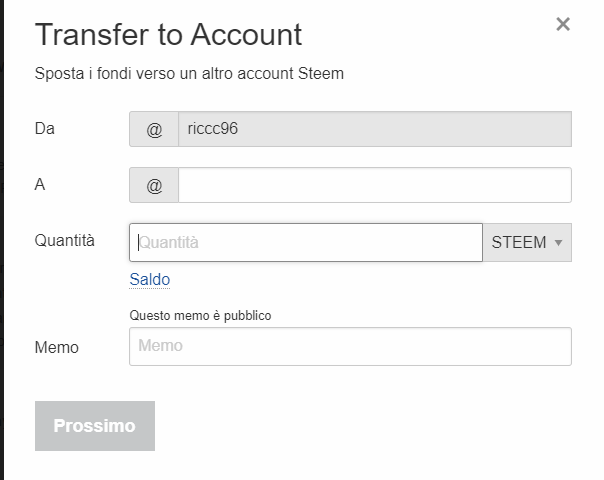 Spostiamoci su Binance e andiamo a vedere i dati del nostro portafoglio ( Per i meno pratici di Binance premiamo sulla sezione Wallet, nella barra di ricerca scriviamo Steem e successivamente sulla destra deposit, vi troverete in una schermata dove sulla destra troverete i dati del vostro portafoglio)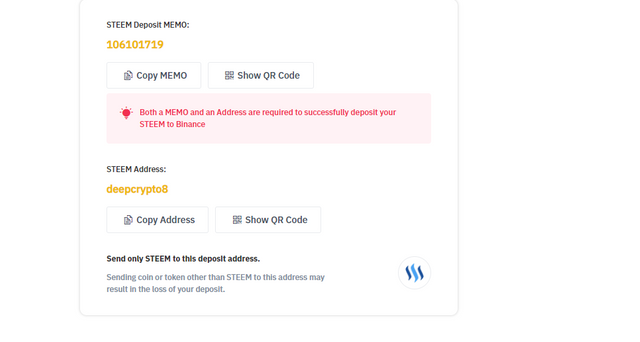 Ora compiliamo i Dati facendo attenzione a copiarli correttamente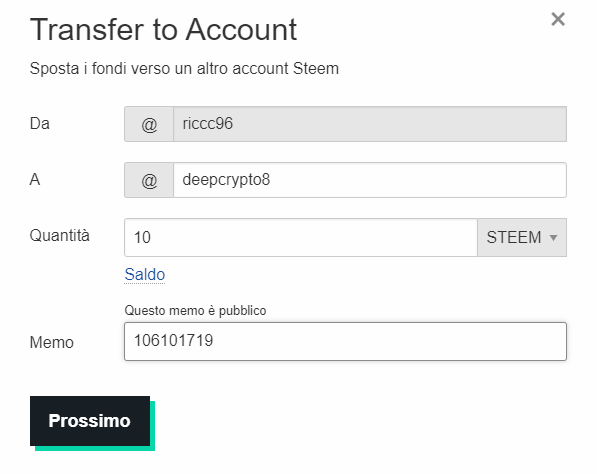 Una volta controllato diamo pure il comando Prossimo e confermiamo con OK, in pochissimo tempo vedremo il movimento nella sezione cronologia del nostro Wallet

Il deposito sarà praticamente istantaneo vista la grandissima velocità di Steem, ci arriverà una mail come la seguente e vedremo i nostri Steem nel portafoglio di Binance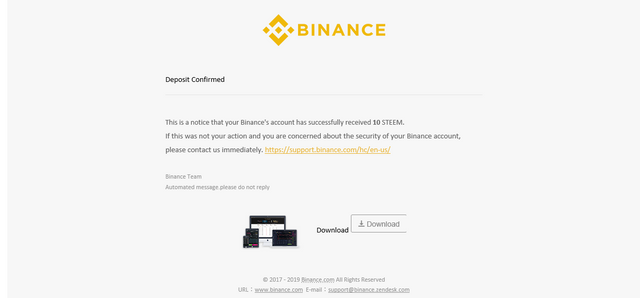 Ora le scelte sono molteplici:
Non muoverei nostri Steem e mantenerli nel portafoglio
Posizionare un Ordine di vendita a mercato (prezzo attuale)
Posizionare un Ordine di vendita al prezzo scelto da noi ( Consigliata)
Per poter svolgere le operazioni numero 2 e 3 dovremo spostarci nella sezione Exchange ( per i non esperti di Binance spostatevi nella parte più alta del sito, premete sul menù Exchange e poi su Advanced)

Ora dovete spostarvi nel mercato di Steem, lo troverete nella barra di ricerca in alto a destra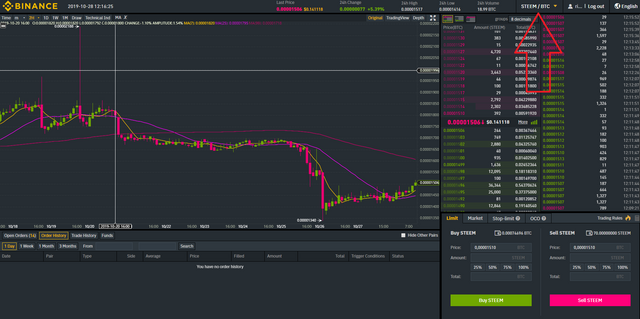 A questo punto, si aprono le due strade vendere a mercato o al prezzo deciso da noi ( prima scelta freccia gialla, seconda scelta freccia verde)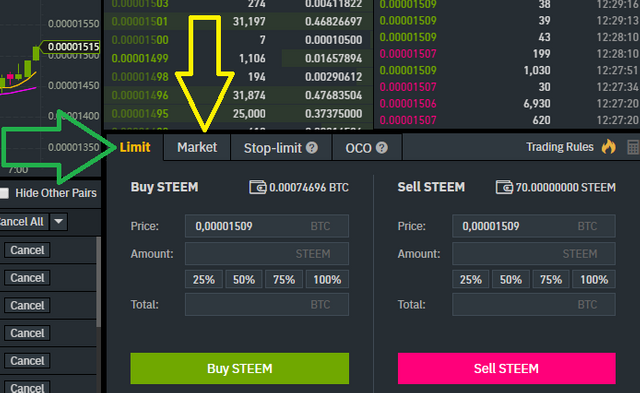 Ora piazziamo l'ordine di vendita e diamo l'ok ( le cifre sono a titolo di esempio e non sono consigli finanziari)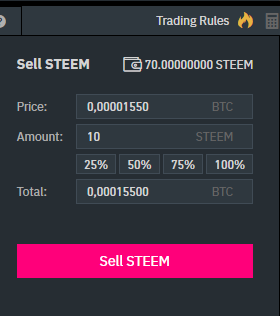 una volta effettuata la vendita avremo il corrispettivo in BTC seguendo il mio esempio un totale di 0,00015500.
ora non resta che inviarli su Coinbase o Coinbase Pro, dalla sezione Wallet BTC premiamo su Withdraw a destra e compiliamo i dati per effettuare l'invio sul nostro conto, inserite indirizzo e ammontare, minimo 0.001 BTC ( potete usare altre valute oltre a Bitcoin fra quelle accettate su coinbase)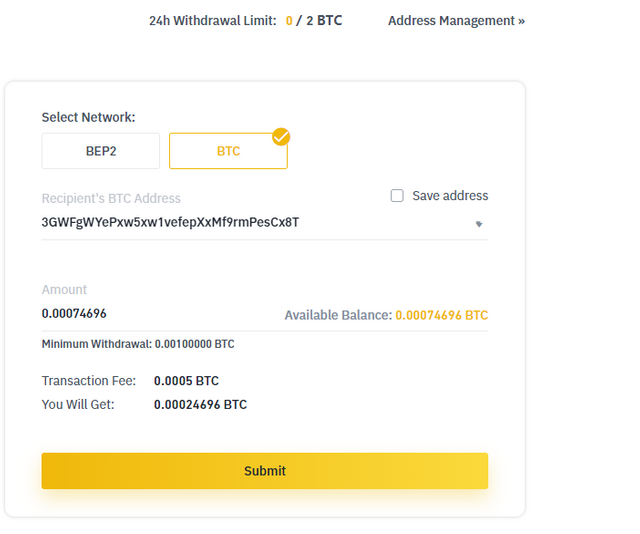 Ora che i fondi sono sul vostro conto coinbase dovete semplicemente premere in alto a destra su effettua transazioni e posizionare la vendita da BTC a Euro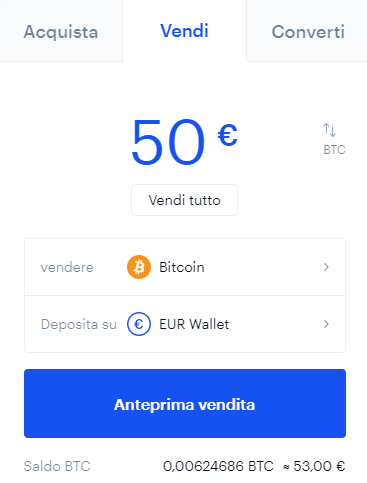 Perfetto, arrivati a questo punto avete convertito i vostri Steem in Euro, fate un bonifico sul vostro conto corrente e avrete completato tutte le operazioni necessarie!
Spero tanto che la guida possa esservi stata d'aiuto!
Un grandissimo saluto a tutti!
ENG
hello to all friends, today I want to bring you a guide on how to take your Steem and convert them to euros, I will try to carry out the explanation in a linear way and easily understood, bringing you a step by step guide structured as a recipe for cooking
Ingredients:
Steem inside the Wallet
Account on Binance
Account on Coinbase
Stages of the procedure:
-1 Entrance to the Steemit wallet
-2 to make the transfer to external account (Binance) and data entry
-3 positioning of conversion order from Steem to BTC
-4 Sending BTC to Coinbase / Coinbase pro
-5 conversion into Euro
Guided procedure
you must first enter your wallet.

At this point after pressing on collect rewards click on Steem in green, and click on the item Transfer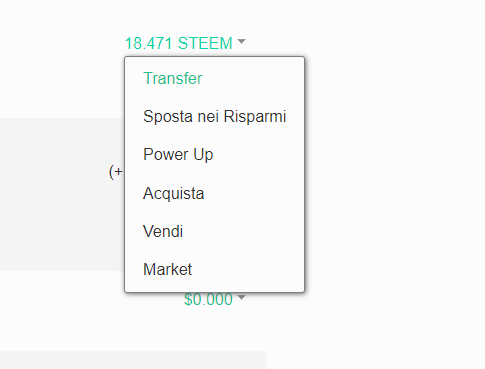 You will now be presented with a screen like the following, in which you will have to fill in the transfer data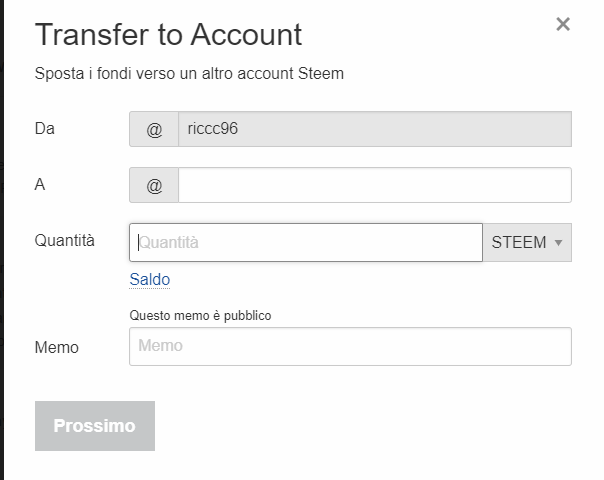 Let's move to Binance and go to see the data of our portfolio (for the less practical of Binance we reward on the Wallet section, in the search bar we write Steem and then on the right deposit, you will be in a screen where on the right you will find the data of your portfolio)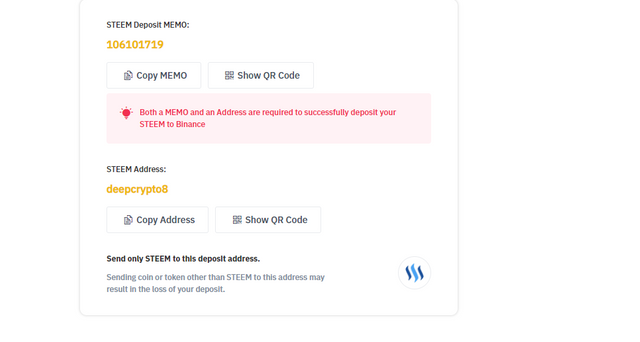 Now we compile the Data being careful to copy them correctly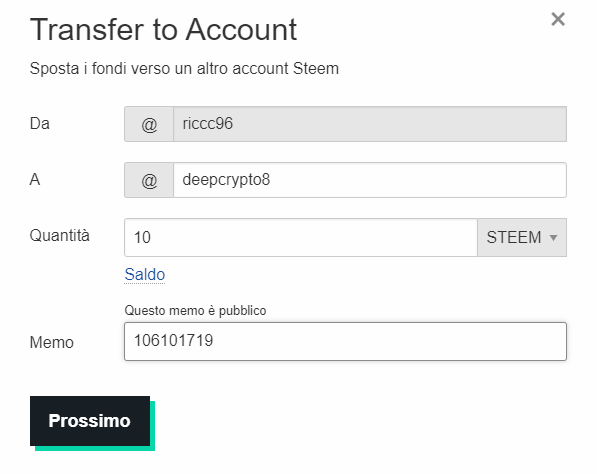 Once checked let's give the command Next and confirm with OK, in a very short time we will see the movement in the history section of our Wallet

The deposit will be practically instantaneous given the great speed of Steem, we will get an email like the following and we will see our Steems in the portfolio of Binance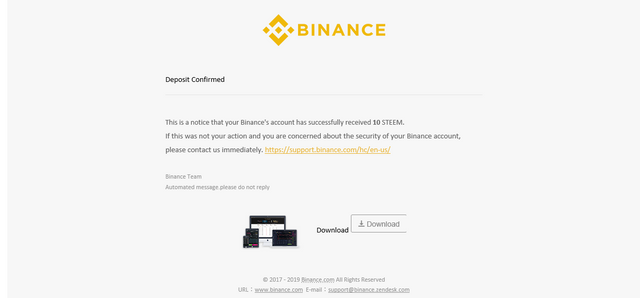 Now there are many choices:
I would not move our Steems and keep them in the portfolio
Place a Sales Order at market (current price)
Place a sales order at the price chosen by us ( Recommended)
In order to carry out operations number 2 and 3 we will have to move to the Exchange section (for non-binance experts move to the top of the site, click on the Exchange menu and then Advanced)

Now you have to move in the market of Steem, you will find it in the search bar at the top right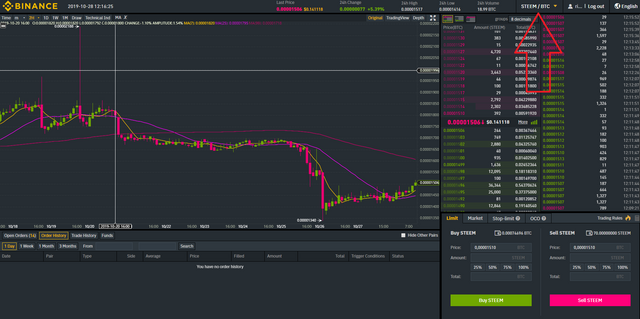 At this point, we open the two ways sell at market or at the price decided by us (first choice yellow arrow, second choice green arrow)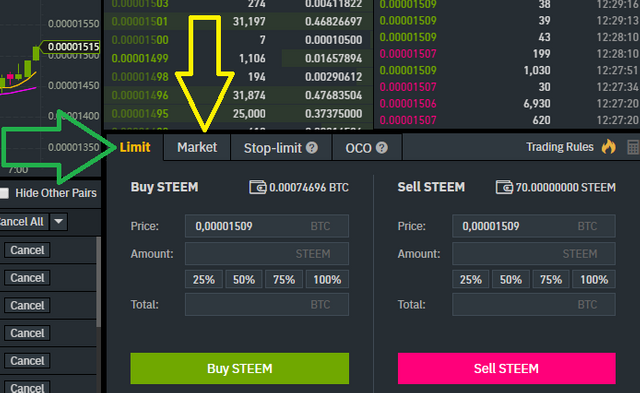 Now let's place the order of sale and give the ok (the figures are by way of example and are not financial advice)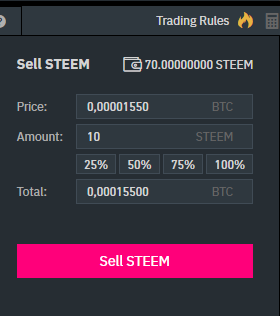 once the sale has been carried out, we will have the consideration in BTC, following my example, a total of 0.00015500.
now you just have to send them to Coinbase or Coinbase Pro, from the section Wallet BTC we press on Withdraw on the right and fill in the data to send to our account, enter the address and amount, minimum 0.001 BTC (you can use other currencies than Bitcoin among those accepted on coinbase)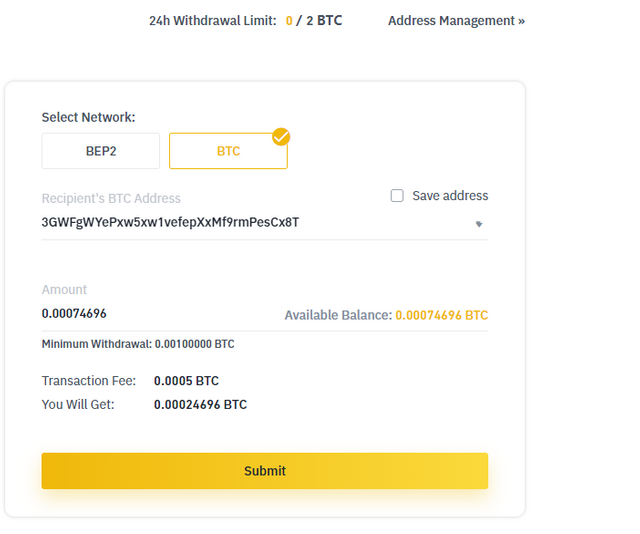 Now that the funds are on your coinbase account you simply have to click on the top right corner on make transactions and place the sale from BTC to Euro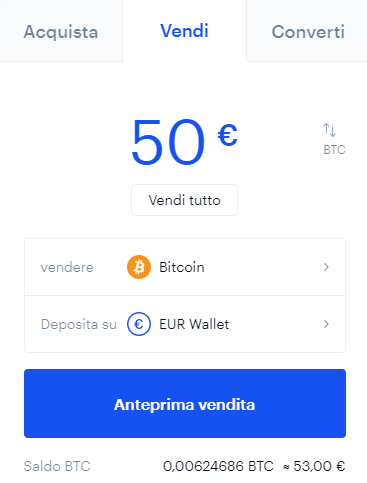 Perfect, at this point you have converted your steams into euros, make a transfer to your bank account and you have completed all the necessary operations!
I hope that the guide will help you!
A big greeting to all of you!