Netcoin Contest - 100 HUNT Tokens up for Grabs | 넷코인 스팀 코인 상장 보팅 - 100 헌트토큰 드립니다
(This event is targeted to both global and #kr community, so is written by both English and Korean.)
PLEASE TAKE FULL SCREENSHOT WITH DATE OF TODAY BE SHOWN!!" If not, your comment won't be considered.
스크린샷에 반드시 오늘 날짜가 보이게 찍어주세요. 안그러면 리워드를 드릴 수 없습니다.
Since most Steemians know about Netcoin contest, I will skip the details. Instead, this is a quick summary:
Netcoin runs a voting contest, and top no.1 token will be listed for free.
Netcoin MAY have 171,000 retail locations in over 53 countries across 6 continents in terms of their website.
The voting will be closed in 14 hours from now and STEEM is #2 now.
Vote here - http://contest.gonetcoins.com/
Even if you've voted before, you can VOTE AGAIN if you've voted 24 hours ago or more.


===== REWARD: I Will Give You 100 HUNT Tokens PERSONALLY =====
This great contest was initiated by @oracle-d 6 days ago - read their post here. STEEM was running at #1 by yesterday but now it's down to #2, so I decided to run this event to promote this for the last minute voting.
Steemhunt is reserving HUNT tokens for airdrop now, and there are corporate/founder portion too. I will use my personal portion for this event for whoever participate in the voting.
[How to Participate]
After you voted here - http://contest.gonetcoins.com/ , please share the screenshot with the date/time recognition together.
Share the screenshot as a comment under this post.
I will send 100 HUNT Tokens for each person after the contest is finished.
Your screenshot must include those content as below the screenshot:
"Vote again in ~~" message
The date and time on your desktop (so that I can know this vote is fresh or not)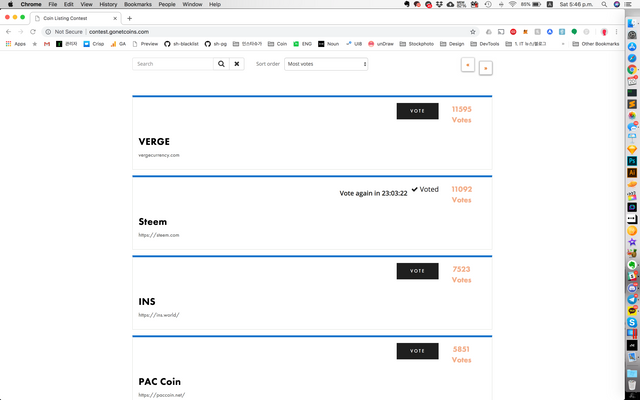 안녕하세요, 지금 글로벌 스팀잇에서는 "넷코인" 상장 관련 투표 콘테스트에 다들 관심이 많습니다. 내용은 다음과 같은데요,
넷코인이라는 곳에서 거래소를 런칭합니다 (본인들 말로는 전 세계 53개국에 17만개 이상의 리테일 로케가 연결될거라고 하네요).
http://contest.gonetcoins.com/ -> 여기서 투표를 진행중인데, 1위를 하면 해당 거래소에 무료로 리스팅을 시킨답니다.
투표는 지금부터 14시간 후에 종료됩니다.
이미 @ned도 해당 관련 포스팅을 한번 했었죠 - https://steemit.com/steem/@ned/steem-needs-you.
원래 어제까지만 해도 1위를 달리고 있다가 오늘 보니까 2위로 내려가서... 저도 뒤늦게 막판 보팅에 미약한 힘을 보태고자 본 이벤트를 준비했습니다. 누구든지 위 보팅에 "새롭게" 참여해서 댓글로 인증하시면 제 파운더 개인 배정분에서 할애하여 100개의 헌트토큰을 보내드리겠습니다. 참여 방법은 다음과 같습니다.
http://contest.gonetcoins.com/ -> 여기서 스팀코인에 보팅하시면 됩니다. 보팅시 이메일 인증이 필요합니다.
보팅하신 후에 인증샷을 이 댓글에 달아주세요.
인증샷에는 반드시 지금 새롭게 보팅한거라는 걸 보여주는 "Vote again in ~~" 메시지와 오늘 날짜가 표기되어 있어야 합니다. 예를들면 위에 있는 인증샷 이미지 처럼 말이죠.
이미 보팅 하셨던 분들도 24시간 지났으면 다시 보팅이 가능하오니 꼭 참여 후 스샷 남겨주세요. 이벤트가 모두 종료된 후에 각 인증하신분 별로 100개의 헌트토큰을 보내드리겠습니다.
감사합니다.