CRYPTERIUM ~ Cryptobank for cryptopeople
What Is Crypterium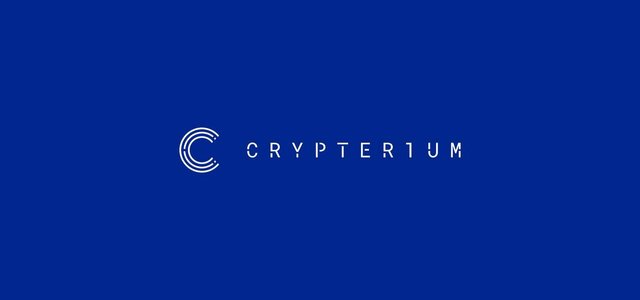 Providing cryptocurrencies to mainstream everyday users, will require dedicated cryptobanking services. Only once a person is able to use cryptocurrency in the same way that they use any other currency, will all of the benefits of cryptocurrency, such as lower transaction costs, speed of payment, removal of national boundaries and so on, become real. There are already 3 million daily users of cryptocurrencies, a number that is expected to exceed 200 million by 20256.
The demand for cryptocurrencies exists now and will grow at an annual CAGR of ~70% for the foreseeable future.
The potential to satisfy this demand is perhaps the most exciting banking development of the past 100 years and the prize for those who are successful is a place on the global banking landscape at a rate of growth and a worldwide presence that can never be matched by any traditional banking development plan.
The Crypterium Cryptobank will be a first step in satisfying this demand. It will be made available for download via the IOS or android marketplace and is planning to be ready-to-use on mobile devices immediately. Unlike conventional mobile banks that take weeks to process and issue cards, the Crypterium Cryptobank provides an instant processing engine for both fiat and crypto based currency transactions while enabling inter-changeability between the two. With Crypterium's digital bank customers will finally be able to use cryptocurrencies to pay for fiat based goods without transaction limits and with low commission on any of the world's existing 42 million payment terminals and many
internet stores and payment points. Crypterium's technology platform is developing to be based on algorithms that allow for the most efficient exchange rates matching across natural peer-to-peer flow as well as third party Crypto-exchanges. This is planned to be quickly followed by a range of complimentary banking services from simple Peer to Peer payments to Cryptocurrency backed lending.
ICO Overview
Over the past 5 years, the team at Crypterium has been building the platform on which its cryptobanking services will be launched. The next stage in our development will be the release of a cryptobanking payment platform that will in turn will its own cryptocurrency - CRPT, to feed the transactional process. This platform will be ready for the release at the end of Q4 2017 - early Q1 2018, and we aimed on developing it in future. This Whitepaper highlights the key stages and features of Crypterium payment solution and the future trajectories in which our products will be developed.
In advance of their use within the Crypterium cryptocurrency bank, Crypterium is offering pre-payment of the CRPT token. Crypterium allow for pre-payment up to 210 000 000 CRPT tokens at the initial market value of 0.0001 Bitcoin per CRPT. Further details of the ICO and the potential benefits of CRPT ownership are provided in this
Whitepaper. The binding terms and provision of CRPT Token Sale will be outlined in the Terms &
Conditions provided at https://crypterium.io/ (the "Website").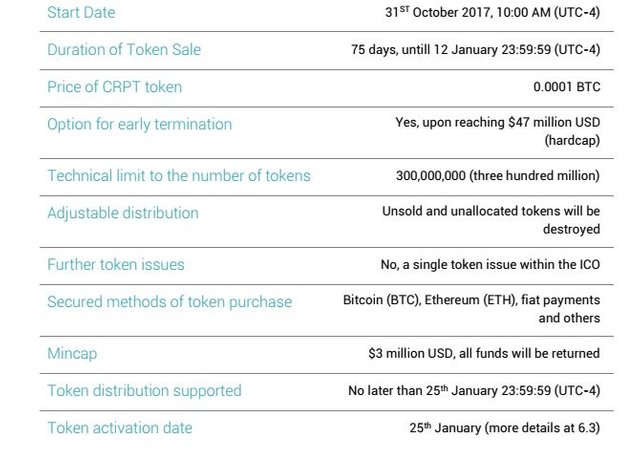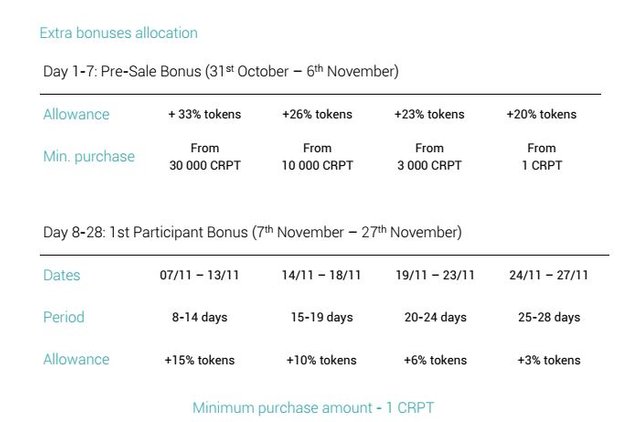 CRYPTERIUM OPEN PLATFORM
Crypterium believes that the cryptocurrency era will require a much wider development community than just a few leading cryptobanks. For this reason, Crypterium is providing an open platform that enables companies to build their own products using Crypterium API. Many of the features of the mobile platform will be made available for developers to use inside their own payment applications and solutions.
Examples of products and services that can be created and provided through the Crypterium API include:
Cryptocurrency wallets
Cryptocurrency exchanges
Cryptosystems for payments on and off-line
Loyalty programs
Payments with the use of cryptocurrency and tokens
Information retrieval
Automated regular payments
Billing
Receive automatic notification of transactions

The following diagram shows the range of modules that will be available for developers.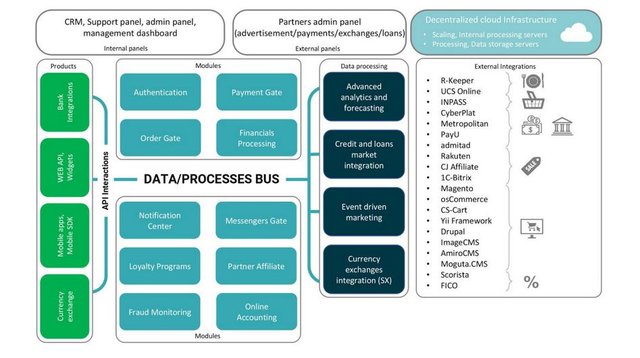 CRYPTERIUM CORPORATE VISION
~ Corporate Culture
Our corporate culture formed by the years of successful development and achievement of planned results is based on following principles. Not less than 50% of all available resources are distributed for scaling and increase of userbase, this trajectory led us to success most of time. No more than 15% of resources is intended to be used to maintain current operational activities including wages of management. The rest part of all available resources is aimed on research and development and search for new stack of technologies.
~ Product Development
Product development and further roll-out is naturally affected by our corporate vision. The following are considered to be our current objectives: Crypterium Cryptocurrency Wallet with Fiat Settlements – we are planning to provide full stack of innovative technological solutions, including Processing Centre, Fiat-to-Crypto and vice versa instant exchanges, NFS payments support (only for Android devices via card emulation), integrations with third-party Cryptocurrency payment infrastructure, P2P transfers in fiat and crypto currencies.
Our plans are to spend on the development in this direction at least 9 500 ETH in the nearest 2 years. Crypterium Mobile Bank 2.0 should be the one the best payment solution in the industry including such technologies as CrypteriumSX, Native contactless payment support (Apple Pay, Samsung Pay, Android Pay and oth.), Partnership with banks or financial institutions in every region of financial activities – to guarantee stability and security of settlements. We estimate that around 14 500 ETH has to be invested to achieve our product vision.
The next big thing is Crypterium own payment infrastructure, which we plan will cover at least 25 000 POS and online stores around the world. It is rather difficult to estimate marginal expenses on every connection of the store, but it is definitely looks like we will spend at least around 50 000 ETH on building all the solutions and expanding our minimal infrastructure.
We expect to spend at least 29 000 ETH on creating universal OpenAPI for our products, developing Crypterium in the direction of providing standard banking services and developing complementary services. All rest available funds we will intend to use in R&D for such technology as Credit Subtoken Protocol and others.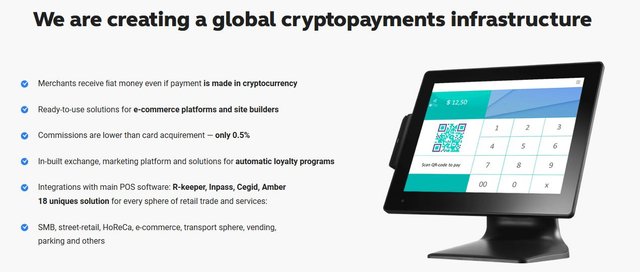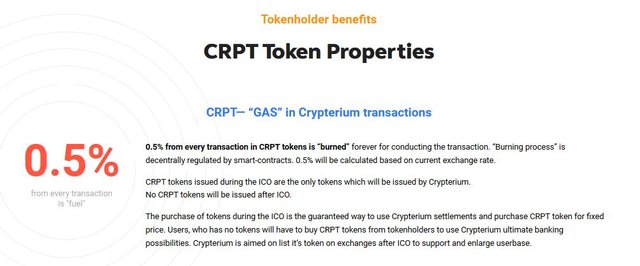 ICO timeline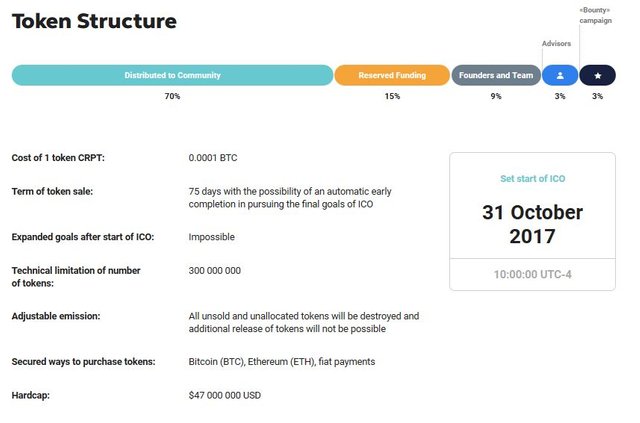 OUR ADVISORS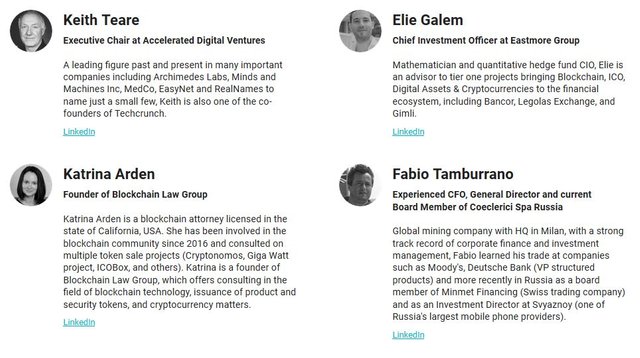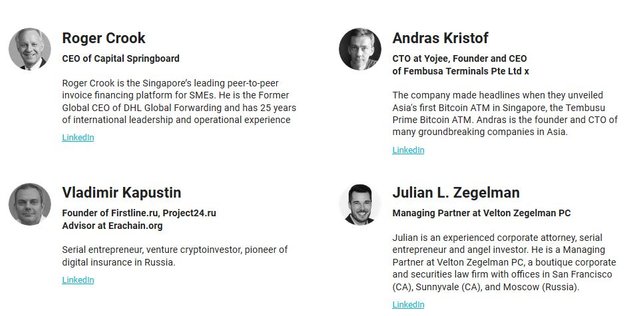 Our Team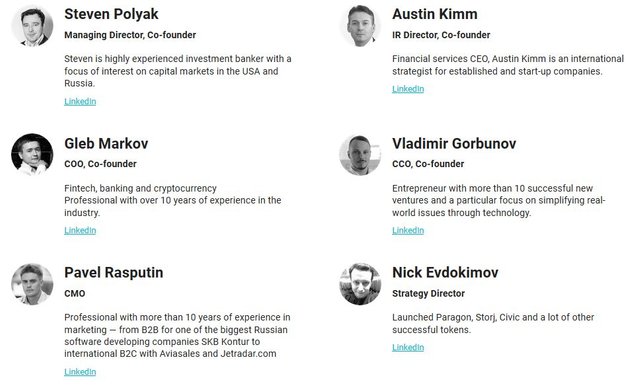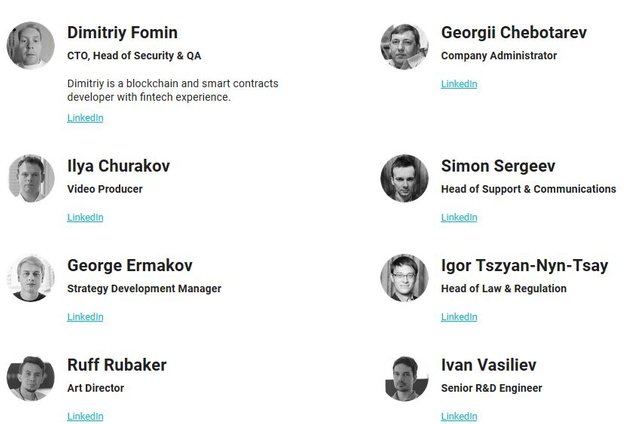 LETS JOIN !!
READ MORE
WEBSITE : https://crypterium.io/
BITCOINTALK : https://bitcointalk.org/index.php?topic=2318931.0
FACEBOOK : https://www.facebook.com/crypterium.io
TWITTER : https://twitter.com/crypterium