SteemUp #3 : Oh Quality, Where Art Thou?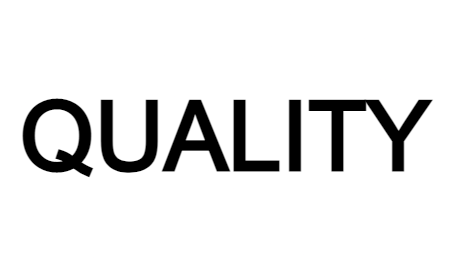 Yes, I'm joining in the chorus. We need more quality in the posts on Steem.
There are two parts to this topic - what the posts are about, and how the posts are presented.
For this post I am just looking at the second of these - quality of presentation.
That is a broad enough area in itself covering titles, punctuation, grammar, spelling, images etc.
The goal is simple. Make your posts look good and read well.
---
---
Five Tips for Better Posts
1. Titles
Keep them short and informative. Cut out the unnecessary information that is already in tags.
You don't need to include your club status, nor your burn status - they belong in your tags.
Most of all do not include your account name in the title - we know who wrote the post.
And check the spelling. The title forms the url (web address) of the post. If you get it wrong it is there forever.
So if you are writing about your daily life, don't mention the cows...
[Heads Up - that's a farming joke - I'm just milking it for a few laughs 🤠]
---
2. Introduction
Keep it short, keep it sweet.
You do not need to thank everyone under the sun for supporting you. You do not need to recap how you arrived on Steem. You do not need tell the world how important Steem is in your life.
You just need to introduce what the post is going to be about, and maybe highlight the key points of the post.
Five or six simple sentences should be quite enough for an introduction.
---
3. Punctuation, Spelling and Grammar
These could all be individual points, but I have lumped them together as they all come under the heading of basic writing skills.
Not everyone will be fluent and well versed writers. That is a skill like singing, or cooking, or carpentry.
But it is a skill that can be improved with practice and diligence.
If you are writing in English it can also be improved with Grammarly. I have not used it myself but I believe it does a good job and the basic version is free...
[ I would be interested to hear from people who use Grammarly. And for non English writers are there similar packages for other languages? ]
If you can't use Grammarly, I am sure there must be spellcheckers for most languages - please use one if you are not good at spelling. This is particularly important for Google Translate - if you misspell a word in your own language Google will have no chance of translating it correctly for readers of other languages.
And please remember sentences always begin capital letters, and I is always a capital letter...
---
4. Photographs
Be selective with your photos. Just because you took 17 pics of your nephew on a bouncy castle does not mean you have to include all 17 in your Steem post.
Choose your best photos to illustrate individual points in the post.
Make sure the photos are in focus and the composition and lighting are good. And crop and resize if needed. Try to make all the photos in your post of the same size. If need be have two different sizes for the photos.
For most posts up to five photos is likely to be enough. Although if you are doing a step by step tutorial for example more photos may be justified.
Don't use composites or collages of images - each individual image becomes too small to see anything useful.
For every image include a descriptive and informative caption. 'Dog' doesn't cut the mustard. 'My Neighbour's Doberman, Rex, Playing with my Pet Rabbit' works better.
Ideally use your own photos, if not use ones from copyright free sources such as Pixabay or Unsplash.
---
5. Cut The Crap
Don't include unnecessary and superfluous 'stuff' that adds nothing to the value of the post.
As mentioned in #2 keep your introductions tight, and your conclusions brief.
Again you don't need to thank every curator and every Admin and Mod of your community in your closing paragraph.
AND DO NOT TAG PEOPLE JUST FOR THE HECK OF IT. This will unlikely get you more votes, and most likely get you less as the people who are repeatedly tagged might just get annoyed.
It's personal choice but I do not like all the animated gifs and other graphics that many people carry at the bottom of their posts. Do they add any value or do they just add to the mouse scrolling time...
When you have finished your post, read it again. Is every word necessary? Cut out those that aren't.
Then when you have finished those checks and corrections, read the post one more time - just for luck 😀
---
---
Thank you to the many people who have written similar posts recently. (I will resist the tagging, but you know who you are 😉)
I don't like to be repetitive, but the message still isn't getting through to large chunks of the Steem population.
Take care with your posts. Take time with your posts. Check and re-check.
Make posts that read well and look good.
Pennsif
---
---
[ graphics by @pennsif ]