Steemit is sold to Justin Sun!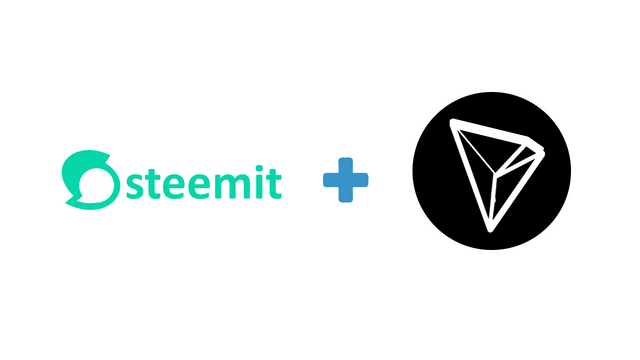 Image Source - Digitally made by the Author
There was a strong rumor since a few months that Chinese entrepreneur and Tron founder Justin Sun would take over Steemit. Crypto world has seen numerous such rumors earlier. Maximum people might have ignored this considering the potential hoax content. Steemit was launched in 2016 and it was the first application built on the Steem blockchain. Steemit is regarded as the first decentralized social media in the history. The native currency of Steemit is Steem token and it runs on Steem blockchain. Steemit rewards content creators and readers both. It has a 'proof-of-brain' mining system which allows people to earn Steem token, Steem Dollar and vested Steem called Steem Power. Steemit has been handling very high traffic since inception. It has over 1 million users currently and very high Alexa rank.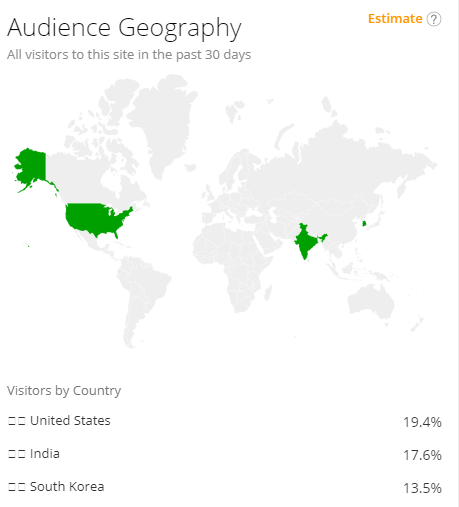 Image Source – Alexa Analysis | Audience geography – Steemit
Justin Sun does the marketing thing very well. Just a few days back, he met Warren Buffet for a charity dinner and sent social media ablaze with heavy promotions. This time he prepared something even bigger. He announced on twitter just before the Valentine's Day that he had a big news for the TRX family.


Image Source – Justin Sun tweet
Then came the big news. Justin Sun gave a big Valentine's Day surprise! He announces that Tron had done a strategic partnership with Steemit.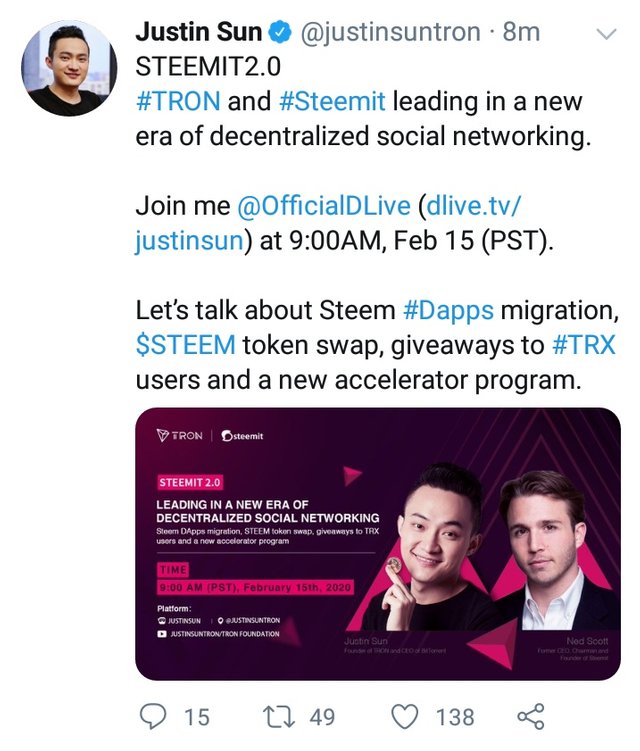 Image Source – Justin Sun tweet
Tron Foundation is known for making continuous partnerships. Earlier they have partered with firms like Samsung, Poloniex, Opera, and DLive to provide a dynamic value proposition to the Tron eco system.
Steem project was originally founded by Dan Larimer and Ned Scott. In March, 2017, Dan Larimer stepped down as CTO and later went on to lead the development of EOS. Steemit remained very stable as a platform but the platform faced problem due to price volatility of Steem. Once upon a time, bots were controlling Steemit but recently after the Newsteem launch, natural engagement increased. Steemit wasn't doing bad but it always had more potential. As per the latest tweet of Ned Scott, it is not a strategic partnership. He has actually sold Steemit to Justin Tron.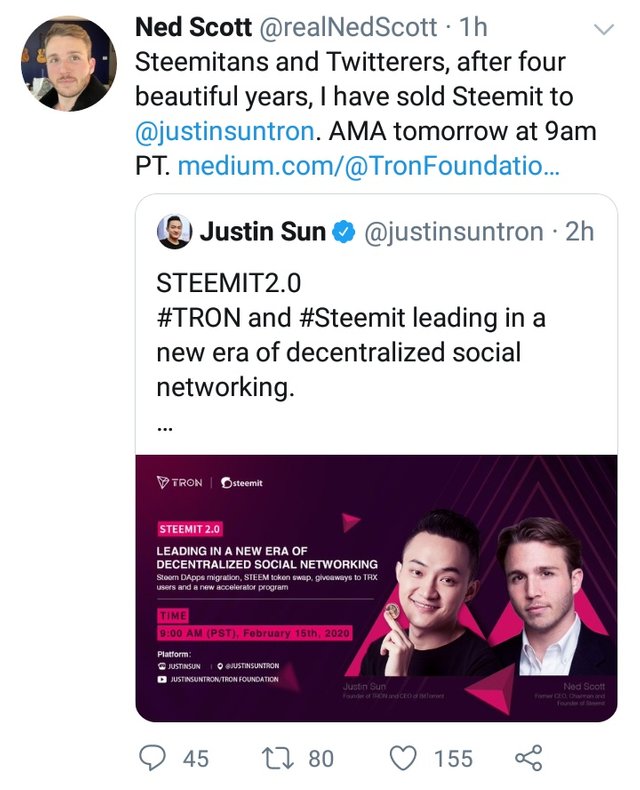 Image Source – Tweet of Ned Scott
What does it mean?
Tron Foundation published a detailed post. Here is the crux of the post:
• Steem blockchain will exist as Steemit is a DAPP only.
• Old Steem token will move to new Tron based Steem token.
• Giveaways will happen to the existing TRX users with new Tron based Steem token.
• Several DAPPs are running in the Steem blockchain. There are Youtube alternative D.Tube, Instagram alternative APPICS and fitness Dapp Actifit. Now, these DAPPs may migrate to Tron blockchain. Tron already has 800 running DAPPs. The Steem blockchain DAPPs might be the additions.
Tron was recently in news for bastardizing its hard cap. Will this partnership bring true fortune for Tron? Steemit was an original concept of communities meeting cryptocurrency to achieve mass adoption. Yes, no timeline has been depicted about the stated migration and whole structure is also not very clear. Both Steem & TRX prices are up due the news. Also by coincidence, the announcement comes on the same day of Beta launch of VOICE, a new social media backed by Dan Larimer, the old Steemit founder. The decentralized social media industry has a very big potential to grow. Steemit mainly thrived because of an active community with zero marketing. Can Tron bring the much needed marketing boost to Steemit? Time will tell! Whatever happens, we may see interesting stories getting unfolded. And yes, many Steemians are not happy with the acquisition!