Hi Steemians! Today I am proud to announce the BETA version of a website that I've been working on, Steem Locator! Now you can find and list Businesses accepting Steem or SBD all over the globe!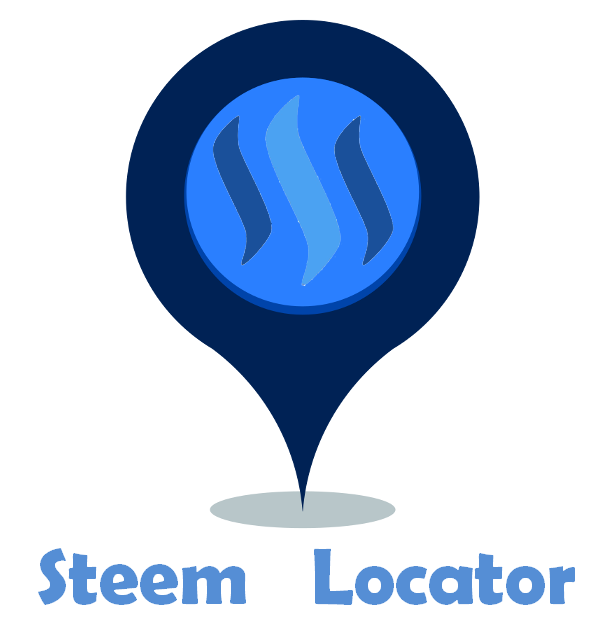 Since this is the BETA version, some core features are still missing but will be available soon in the next release. For now the website is hosted in Firebase so the address is https://steemmap.firebaseapp.com
Features
Custom designed Map
Nice and colorful markers for the different types of Businesses: Restaurant, bars, hotels, coffe shops, etc
Marker Grouping depending on zoom level
Info Window with Business details like address, description, website, phone number, registration date, etc)
Display with the current number of Venues accepting Steem or SBD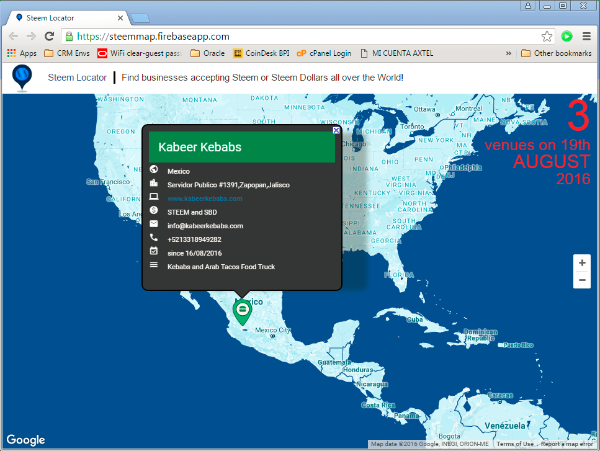 In a mobile device...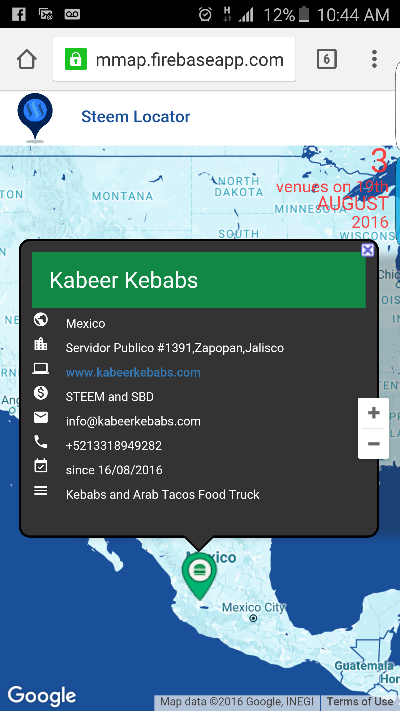 For now (in beta) if your business currently accepts Steem or SBD and you want to have it listed on Steem Locator please comment on this post using the following format:
Business Name
Business Address
Business Coordinates (you can get these out of Google Maps just by dragging a marker to where your business is located)
Business Type (restaurant, food truck, coffe shop, etc)
Whether you accept Steem, SBD or both
Contact email address (optional)
Contact phone (optional)
Website address
Or you can also send an email to steemlocator@gmail.com with the mentioned details.
Some businesses accepting Steem and SBD
I took the liberty of locationg a couple of businesses that I know are already accepting Steem or SBD, I know there are currently just 3 (at least that I know of) but considering Steem potential as Crypto Currency soon will be lots more! Germany is winning at the moment!
Kabeer Kebabs Food Truck (this is my business)
Einstein Kaffee Bistro
Sylter Stuben
Please provide any missing information so that I can update this places.
Main comming features for version 1.0
User sign up for venue creation.
Administrate your Venues.
UI enhancements to the map, markers and info windows.
Share Venue
Features for later versions:
Add Images to your venues
Claim a Venue
Search for a Venue
Feedback
Any kind of Feedback regarding the website will be highly appreciated, please let me know what you think about the design in general, colors being used, logo, and features you think could make the user experience better! Remember this website is for the Steemit community so I won't hesitate on putting in place your recommendations in the coming versions.
Finally
I am really proud of being an active contributor of the Steemit community. This is really cool! Now we can keep track of businesses accepting Steem, list our business and have a place where everybody can see which businesses were the first ones accepting Steem!
Remember I am going to be actively working on this site so there are more features and enhancements to come! For the time being I am going to be actively monitoring the email address mentioned before and this post in order to add new businesses to Steem Locator.
What are you waiting for? Start accepting Steem and get your business listed in Steem Locator!
Follow me if you don't want to miss any updates about this website!