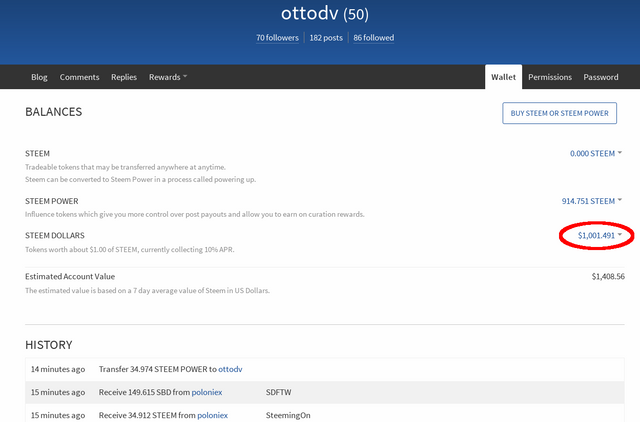 Steem Dollar Milestone!
After a few rounds of buying, I am now the proud owner of 1,000 Steem Dollars!
Steem Dollars?
Steem Dollars are pegged to the US Dollar, or at least that's the idea. In practice they are trading somewhat below parity, currently at around 90 cents for a Steem Dollar.
As a result of the peg, Steem Dollars don't have much upward potential though, and in the cryptocurrency world anything that can't potentially increase its value tenfold in a year is quickly dismissed as a lousy crypto-investment.
However the other side of that limited upward potential is limited downward risk, which make Steem Dollars a more stable store of value than traditional free floating cryptocurrencies.
Steem Dollars FTW!!!
There are however two main benefits to holding Steem Power:
There is a 10% annualized interest rate, with interest paid each month.

There is a fair chance that the system will be tweaked to move Steem Dollars closer to the peg. For instance, the changes in the previous hard fork, seem to have been successful in moving it in that direction. I'd expect further changes with similar effects, as the peg is a stated goal of the Steem project.
On the downside, if the Steem project is not successful, there will be nothing much to uphold the peg, and all value could be lost. However I am betting that the Steem project will be successful enough to maintain the value of Steem Dollars close to the peg.
The interest rate on Steem Dollars is higher than any interest bearing account in US Dollars or Euros, and if the Steem team manages to get Steem Dollars to trade closer to the peg, that would mean an additional 10% gain for today's investors.
That's a pretty nice potential gain to offset a minor risk in my opinion, which is why I have made the investment.
---
Nothing in this post should be construed as investment advice, invest at your own risk!
This is a 100% Steem Power post as I already have enough Steem Dollars ;-)
Also don't forget to follow me or you'll be late, like in the late insert your name.