What is asthma?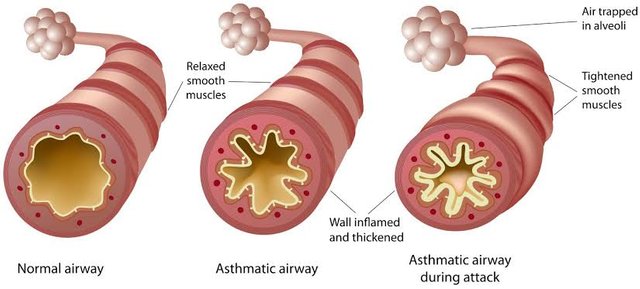 Some information about asthma is also important to you that asthma is a respiratory disease in which there is a lot of trouble in breathing but it can be beneficial for you to get more information about this disease, so why not today, about this Be spoken. So, let's talk today about asthma and know what asthma is -
Swelling in the airway in the airways causes swelling, which causes the respiratory tract to shrink and it becomes difficult to breathe. Asthma is of two types - external and internal asthma. External Asthma is caused by allergic substances, such as pollen and dust, while internal asthma chemical agents such as cigarette smoke are pulled from inside with breath.
symptoms of asthma-
breathlessness
Feeling chest tight
Mucus
The sound of wheezing
while breathing or speaking
Feeling too much pain in breathing in cold air
Because of asthma-
air pollution
Common Colds, Flu, Bronchitis and Sinus Infection
Allergies from eggs, cow's milk, soya, peanuts, wheat and fish
Smoking
alcohol abuse
Stress and anxiety
More physical work
Difficulty breathing in very hot and very cold weather
Already there is a problem of asthma in the family
Asthma prevention measures-
Eating fruits and vegetables containing green leafy vegetables and antioxidants
Asanas strengthening the respiratory organs and pranayama
Making distances from dust, allergic and polluting environments
Drinking hot water.
Friends, now you know what asthma is, what causes of respiratory disease like asthma, and you have become aware of its symptoms and prevention measures. Hopefully you will like this information and will prove beneficial for you.