If you are not familiar with what a mystery box is, if you go onto YouTube you can find endless mystery box unboxing videos. The premise is simple, you pay to receive a box for a fixed price where the contents are unknown, it's a surprise, a lucky dip. You could get good stuff, you could get bad stuff.
Because I am fascinated with the mystery box trend, I thought it would be a fun exercise to build a Steem app which allows Steemians to buy mystery boxes using Steem or SBD. And that app is called https://steemboxes.com
While the site focuses on mystery boxes, I also plan on selling unmystery boxes. At present, there is only one unmystery box for sale, which is packed with Australian foods and goodies you can't really buy anywhere else except Australia.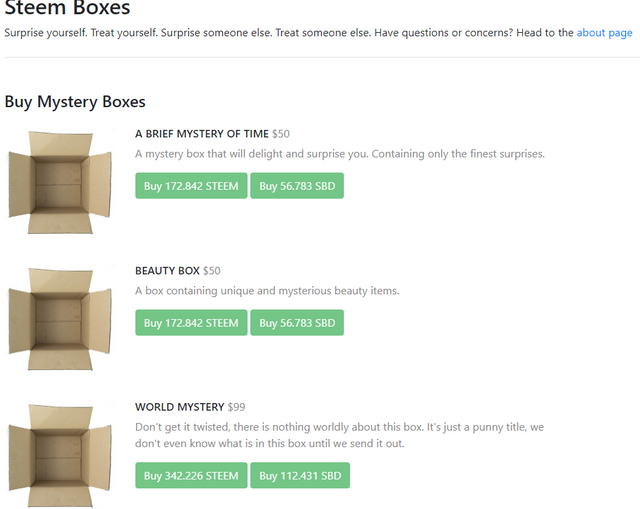 About the developer
I go by the name @beggars here on Steemit, but I am actually an experienced developer who started to become interested in blockchain and decentralised applications back in 2016. I have experience working with Ethereum mostly, but the last 1.5 years I have been tinkering and working with the Steem blockchain which I absolutely love.
How it works
Login using your Steem account, logins are handled via Steemconnect so your details are safe. Choose the box you want to buy either using STEEM or SBD, enter your details and address and then complete the transaction.
It is absolutely essential that you enter correct details here. Addresses will be validated and orders will be manually confirmed via email, so please leave a valid email address as well.
You get a package in the mail with your goodies inside. Simple.
The code will be open sourced very shortly
The code for steemboxes.com will be open sourced in the coming weeks as well once the code is cleaned up and various secrets removed. I believe in open source and helping others build decentralised blockchain applications. So, keep an eye on the code shortly.
This is only the beginning
At first I wasn't even sure if I was going to release this, but I thought some people would find it fun. Initially, it's a very MVP-esque implementation that is undesigned, however, depending on the popularity a redesign of the site will be undertaken as well as continual improvements.
FAQ's
Is it safe?
If you look in the URL bar in your browser, you'll notice https or a padlock icon which means the steemboxes.com site is using SSL. Not only that, but the site uses Steemconnect to handle transactions, so none of your login details are kept onsite. You are in control 100% of the time.
Is this a scam?
While I cannot guarantee you will be happy with what you get in your boxes for the money you spend, it isn't a scam. I wholeheartedly stand behind the boxes sold and aim to make them fun, as well as the overall experience fun. I love Steem and I do not want to harm it in any way.
I am concerned about illegal stuff being in the box
The boxes you get through steemboxes.com are not like the boxes you see on YouTube from the dark web, I am a Steemian as well and getting someone into serious trouble for receiving a package with illegal goods inside is not the aim here. The boxes will be 100% legal.
What are in the boxes?
No two boxes are the same. Each box is unique, nobody knows what is inside of it until they get it and open it up. There will be no repeats, order two boxes and get two different items. Each item inside is a one of a kind item. It might be something useful, it might be nothing useful at all.
Could my box come with body fluids and parts inside it?
As funny as that would be, no. The boxes you buy through steemboxes.com are not going to have any body fluids or parts inside of them, this includes things like poo (sorry to disappoint you).
Where are the boxes shipped from?
All items are sent from Australia at the moment, but depending on the success of this effort, boxes will be shipped from other places through a drop-shipping type setup where Steemians can earn commission on box sales.
Is it really a box?
Sometimes you might receive a huge box, other times it might be a tiny box with a few items inside of it might be a package. You never know what you're going to get until you get it, box type and size included.