Prime Minister Sheikh Hasina awards Fahim Mashroor at the 6th National SME Fair in April 2018 Collected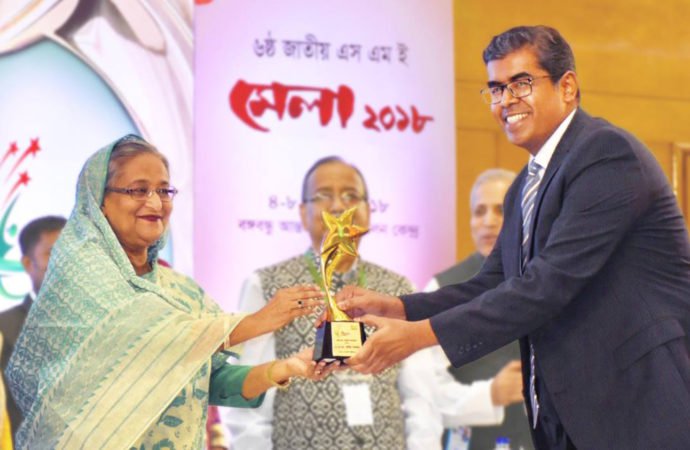 Fahim Mashroor, a well-known ICT expert in Bangladesh, was picked up for allegedly posting Facebook statuses defaming the prime minister
Renowned ICT expert and Bdjobs.com CEO AKM Fahim Mashroor was taken into custody by counterterrorism police on Wednesday, following a case filed by a Bangladesh Chhatra League leader that accuses him of defaming Prime Minister Sheikh Hasina on Facebook.
A team of police's Counter-Terrorism and Transnational Crimes (CTTC) unit picked Fahim up from his Bdjobs office in Karwan Bazar, Dhaka Wednesday morning and questioned him for five hours about putting up derogatory posts about the prime minister on Facebook.
However, not finding any evidence of defamation, police let him go later in the day.
"We did not find anything to support the complaint against Fahim during the initial interrogation, so he was released after signing a bond," said Obaidur Rahman, additional deputy commissioner (media) of Dhaka Metropolitan Police (DMP).
Police did not find anything defamatory about the premier on Fahim's Facebook account either.
"The posts that were mentioned in the complaint were not found in Fahim's Facebook account," said Nazmul Islam, additional deputy commissioner in CTTC's cybercrime unit. "But we are still investigating his account, as well as his accounts on other social media platforms. We will know more after the investigation ends."
The incident comes a mere three weeks after Fahim accepted the National SME Entrepreneur Award 2018 from Prime Minister Sheikh Hasina at the National SME Fair 2018, for his contribution to the e-commerce sector of the country.
ADC Nazmul said the case was filed by Md Al Sadik, former mass education secretary of Chhatra League's Dhaka University unit, on April 22, under the controversial Section 57 of the ICT Act.
Accusing Fahim of defaming the prime minister in the case, Sadik said: "I follow Fahim on Facebook. He repeatedly posted defamatory and mocking statuses on his Facebook wall about the burning issues that created confusion among people. So, I, on behalf of Bangladesh Chhatra League, filed the case."
Sadik also attached the screenshots of the Facebook posts allegedly put up by Fahim with the First Information Report.
The Dhaka Tribune, after going through Fahim's Facebook account, did not find any of the alleged posts; however, Sadik claimed Fahim had already deleted them.
Who is Fahim Mashroor?
AKM Fahim Mashroor has over a decade's worth of experience in the Bangladeshi IT industry. He is the founder and CEO of Bdjobs.com, the largest and most popular online job portal in the country. Bdjobs started its journey in 2000.
Fahim is also the co-founder and CEO of Ajkerdeal.com, an online trade platform, and co-founder of Beshto Ltd, the first Bangladeshi social media platform.
He is also a trustee and governing body member of D.Net, a non-profit development organization working on ICT literacy and promotion for social development.
In addition, he is a policy adviser for the government-run a2i (Access to Information) project.
In 2012, Fahim was elected as the president of the Bangladesh Association of Software & Information Services (BASIS), the national trade body representing the country's software and IT services industry.
Before his term as BASIS president, he served as BASIS senior vice-president in 2010-12, and was an Executive Committee member in 2004-08.
In 2008, he was awarded "Best Innovative Entrepreneur" by the Dhaka Chamber of Commerce and Industry (DCCI).