Steem is Surging as 2018 Begins! Hit $5.00 & $1B Market Cap
In an exemplary bull market today, Steem has surged over 70% to hit $5.00! Back when I joined Steem, though I had high hopes that this would happen eventually I never pictured it happening so soon.
This is a wonderful way for Steem to push us on in the beginning of 2018.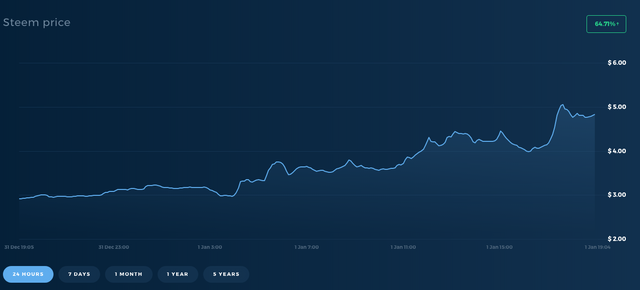 Steem underwent a steady rise today pushed by a bull market and some pumping action on Bittrex, pushing it to a market cap of over $1.2 Billion!.
SBD (Steem Dollars) also underwent a similar (but not as catastrophic) rise above $9. So far, even including the large pump in July 2016, this is the all-time high price for Steem.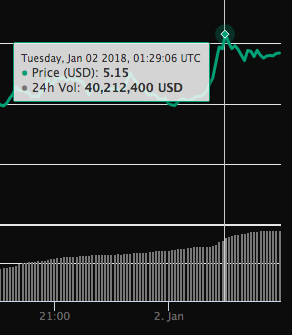 The all-time high reached was about $5.27 (and still rising fast!), today at 1am UTC.
Steem has a lot of growth left to do in terms of Smart Media Tokens (SMTs), Communities, Oracles, and all the other new features @steemit is bringing.
However, I think one of the causes of the recent pumping action is that Steem is being valued as a financial currency, used for real transfers.
Let's face it— Bitcoin has extraordinarily high fees right now, and people need alternatives to be able to send cryptocurrency with low fees and fast confirmation while this happens.
Steem's maximum fee is $0.00, while its confirmation time is consistently about three seconds. In this regard, it kills many of the other p2p-transfer coins such as Bitcoin and Litecoin.
I think this is just the beginning of more possibilities in 2018 with Steem, and I'm lucky to be a part of this community so early. Steem on!
---
Thanks for reading,
— @mooncryption