Hi everyone!
Yesterday, I decided to write a post regarding an email I received from Kraken Team the other day. Kraken is the platform I use quite for some time now in order to turn fiat money into crypto currencies.
More or less, Kraken Team was informing me and I assume thousands of other users too that further verification is needed in order to keep depositing or withdrawing fiat money as you can see below.
There is a change coming on Tuesday April 2 that may affect you if you make bank deposits or withdrawals through your Kraken account. Your account is only verified to the "Tier 2" level, which in some countries enables bank funding in small amounts of $2,000 USD or less. In order to streamline our client experience and offer better overall service, we are simplifying the Kraken verification levels. Since your account is only verified to Tier 2, the change on April 2 means that an upgrade will be required to have continued access to bank funding. Upgrading your account is a smooth and easy process requiring documentation such as a government issued ID and proof of residence. After the upgrade you will enjoy much higher funding limits and other benefits such as higher margin trading limits and access to Kraken Futures! You can upgrade your account at any time, just click the "Get Verified" tab in your account to get started (prior to April 2 upgrading to Tier 3 will be sufficient).
What if I don't upgrade?
If you do nothing then, after April 2, you will no longer be able to make bank deposits or withdrawals through your Kraken account. All of the other services currently available to your account will remain. You will still be able to deposit and withdraw crypto and trade all of our currency pairs (including fiat pairs).
Thank you for choosing Kraken, the trusted and secure digital assets exchange.
The Kraken Team
Of course I submitted the necessary documents and within two days I was verified and therefore my account was upgraded.
Hi,
You're now verified for an Kraken Intermediate Account.
An Intermediate Account allows you to deposit or withdraw fiat through your bank and gives you higher funding limits. Before depositing from your bank, always check your funding limits to make sure the deposit doesn't take you over your limits.
Here are the funding limits for an Intermediate Account:

Daily/Monthly Digital Assets Deposit Limit: Unlimited
Daily/Monthly Fiat Deposit Limit: $100,000/$500,000
Daily/Monthly Digital Assets Withdrawal Limit: $500,000/Unlimited
Daily/Monthly Fiat Withdrawal Limit: $100,000/$500,000
Here are some important reminders about bank deposits:

The name on the bank account must match the name on your Kraken account (we don't accept 3rd party deposits).
Multiple deposits of the same amounts within a few days of each other may be delayed.
Include your reference code with the deposit, which is your public account ID followed by 'kraken.com'.
If you need higher funding limits, sign in and click the Get Verified tab to apply for a Pro account.
Thank you for choosing Kraken, the trusted and secure digital assets exchange.
The Kraken team
I also had a look at the coins the had recently listed and to be honest with you all, I think Steem would fit in there perfectly. I mean...the have listed QTUM and Lumens...so why not Steem too?
Long story short, I decided to send them a message on Twitter for a possible steem listing.

I wasn't even expecting a reply actually, but when I logged in to my Twitter account earlier today I was pleasantly surprised to see that they actually did reply.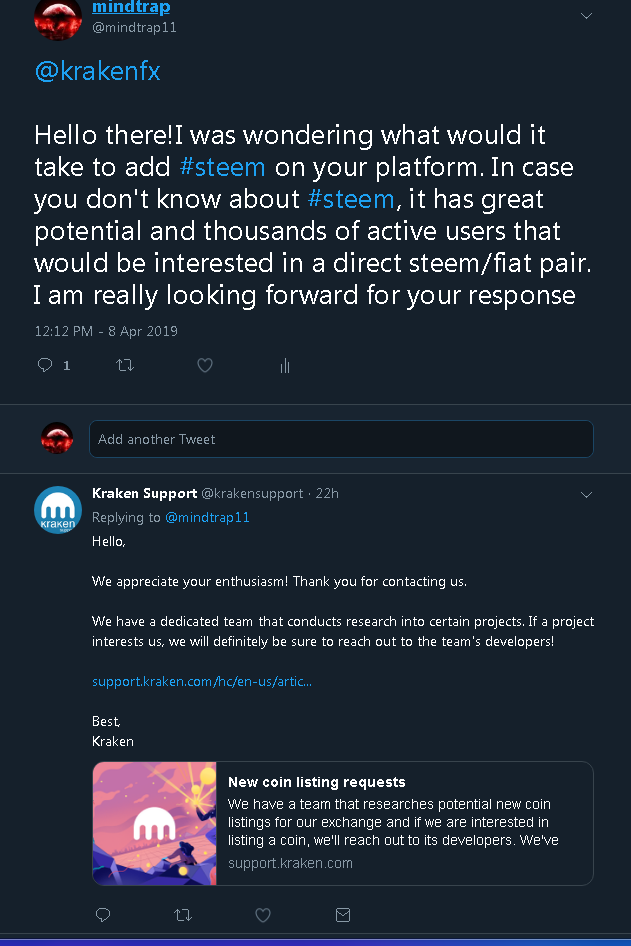 Of course I had to hit that New coin listing requests link to see for myself if we have any chance of getting listed there, and of course the requirements. And this is how it looked like...Apparently, when it comes to listing a coin they only deal with coin devs. So @andrarchy, @birdinc what do you think?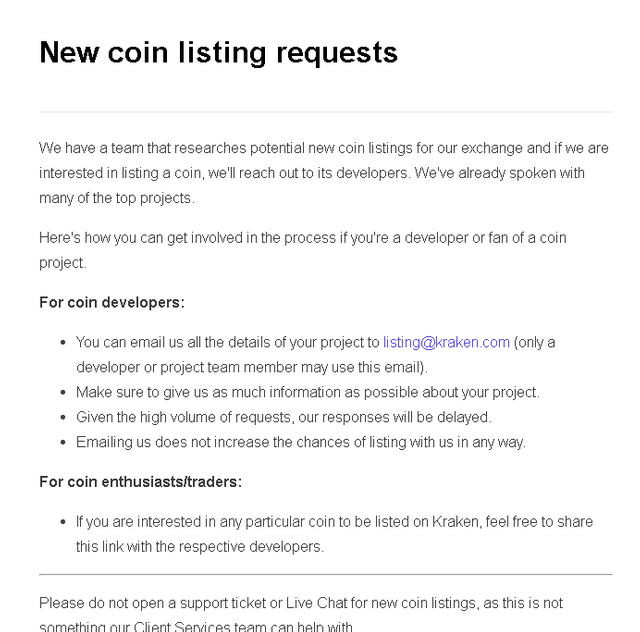 Needless to talk about the benefits of a possible listing to Kraken...right? Right.
It could turn out to be something huge...or waste of time. But I think that when it comes to steem, we should do everything in our hand to spread the word about this great product.
What do you guys think?
Feel free to share your thoughts in the comment section below.