Cryptocurrency Steem: In A World Of Cryptos, This Is The One To Watch. By Gregory Mannarino
**I am on public record stating that "Steem is a hidden gem of cryptocurrency," and I believe that more now than ever.
Have a look at this chart below.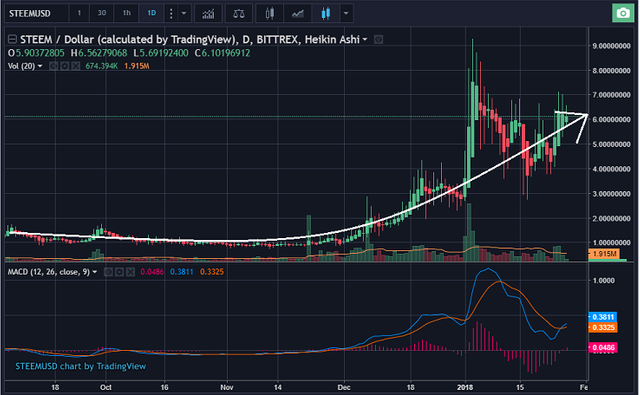 I can say with a relative certainty that the price action of Steem will follow it's current trajectory into the foreseeable future moreover, I would not be surprised to see it's price action accelerate higher faster.
I my opinion the price action of Steem has no where to go but higher in this environment. (As with any asset, it's price action can be expected to fluctuate on a short term basis).
The future upward price action of Steem can be attributed to the platform Steemit itself, which I believe and have also said publicly, is "the future of social networks."
In short, the cryptocurrency Steem is earned by posting, and commenting on content added to the social network (Steemit). If you want to join Steemit for free click here: https://steemit.com/
In my opinion an investment in Steem today is almost a no brainer, and has major growth potential moving forward.
DISCLOSURES:
**the current value of my Steem wallet is $138,825.43
*As with any investment always do your own research. Investing in Steem, or any asset, has risk and you could lose your entire investment. Always invest wisely.
Visit my website where you will find LIVE charts of Steem and other cryprocurrencies. Click here: https://www.traderschoice.net/