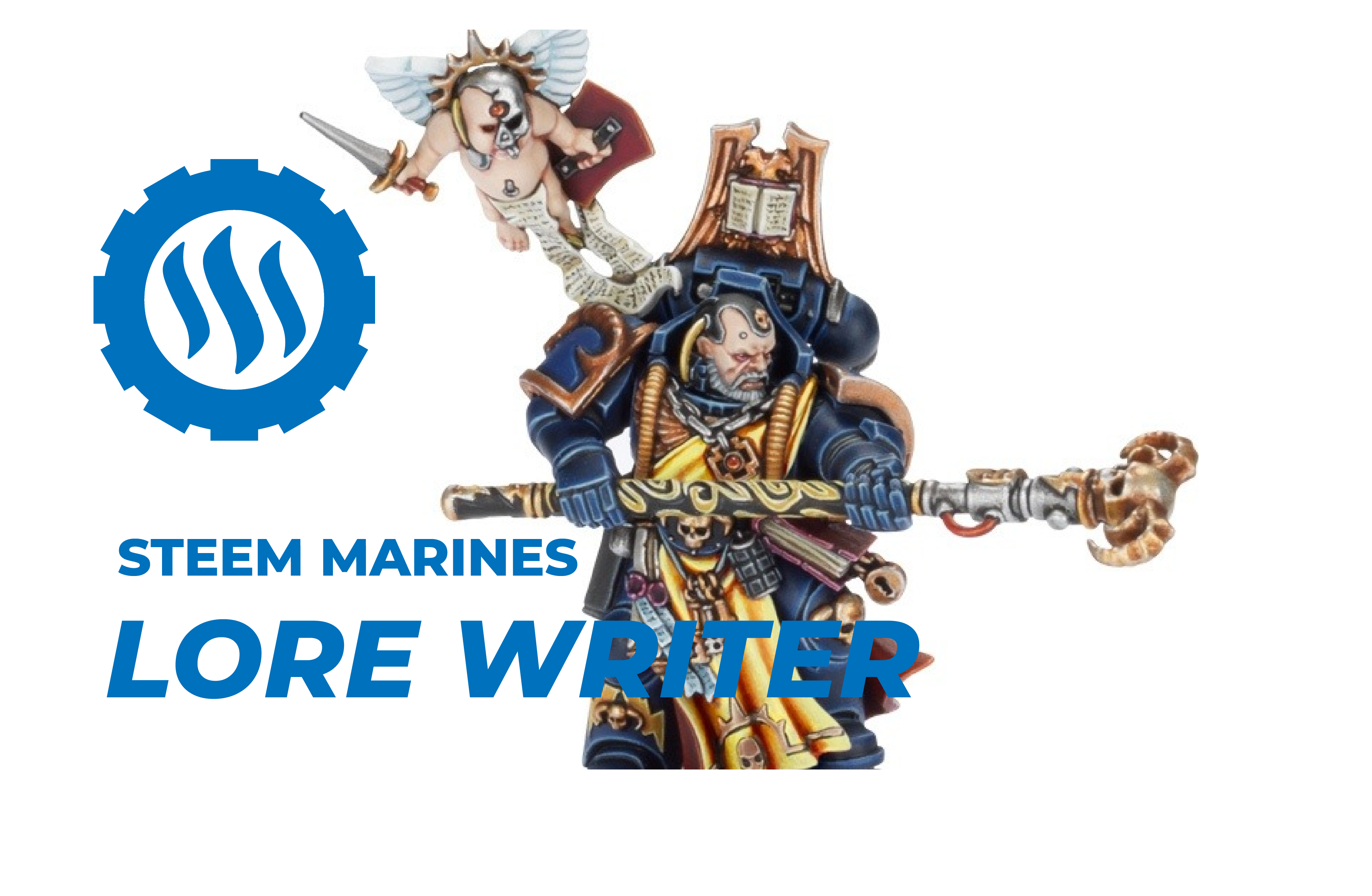 By using the Steemit platform, we have acquired serious talent this day.
It feels like we've been searching forever, but finally, we have found the perfect fit.
This post will announce the position being filled for Chief Librarian and Creative Writer.
I'd like to introduce you all to @neilperry, the STEEM MARINES official Lore Master and Chief Librarian.
His extremely awesome position bid.
If you're wondering what's so great about this, well, I'll go ahead and explain why this is so important.
With a Creative writer on board, We will be able to write interesting lore and backstories to the STEEM MARINES.
Although, it's you the community who will have to decide what direction the STEEM MARINES take by vote, it's @neilperry who will write the majority of this content.
What this means effectively, is that our Custom Army will not only be created and painted, but we will have an actual backstory, Actual events that you guys will participate in, and actual story-driven narrative campaigns that will take the STEEM MARINES through an epic saga of bolter and fire.
Not only is @neilperry a talented and gifted writer, but he has the extensive knowledge of the warhammer 40k universe. Which will take us on an almost canon story from how the STEEM MARINES where formed, what sort of events will be taken place, and what sort of narrative campaigns we will present to you all.
If you guys could show some love to @neilperry, it would be greatly appreciated.
I for one am extremely excited to be working closely with someone who shares the same burning passion for Steem and Warhammer 40k. Together, we will seriously rock the very foundation of both the Warhammer 40k scene, and the STEEM platform.
With that being said, I'd also like to give a big thanks to WulfenZA for also taking the time to apply for the position. WulfenZA may not have the official position, but he has agreed to work with us for Quality assurance and creative reinforcement. Thank you very much Wulfen!
We're still looking for a Video editor, thankfully, @dee-y has taken interest to the project and has submitted a bid for the position.
The future of the project is looking bright, especially after getting together a team of extremely bright, creative and passionate people who all want the STEEM MARINES to succeed.
Stay tuned folks, things are about to heat up!
.
Want to become apart of this?
This is where the magic will be happening. Votes, news, content updates, exclusives will all be available at this discord server.
Everyone is welcome to join, but keep note that this will not be a channel to spam posts in.
This is very much a work in progress, but I have a very general idea of what it will all look like. Everyday I'm hard at work laying the foundation of what could possibly be one of the coolest things that steemit has ever seen.
Share your thoughts
Dialogue is completely open, share your opinions, what you think should happen, what I could do, anything. I will reply to your comments. The is one thing that I'm really looking for feedback.
---