Competition Time!! reply and win CK token and Steem - IBT Survival Island Game - Progress Report Twenty Three
Welcome to this weeks update on IBT Survival Island. 
Last weeks update I left a cheeky message that I would run a competition - so here it is.
Talking with the lead programmer we have come up with what we think should be a pretty fun thing - and just like the traditional Steemit IBT of old lets get some Steemian interaction cranking....haha
My intent is to run this competition once a month instead of a regular weekly update (the regular updates will continue next week and then in a month a new competition - yay!!). The purpose of doing this is to:
Reward people for following along and supporting the project
Make sure your top ideas make it into our game
Show the world that Steem is still going strong!
THIS MONTHS CONTEST
"The lost Casterway"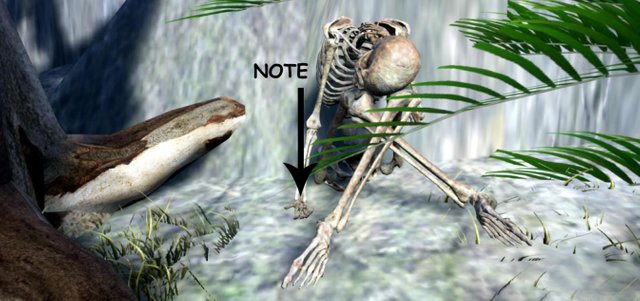 Your playing IBT Survival Island and have come across the above skeleton. 
You notice something in its hand...it appears to have writing on it?!!?
To win the competition: you simply need to post a reply here on what you think should be found in the skeletons hand and what is written on it?
Remember on IBT Survival Island you will begin lost and alone, there are no other signs of civilization so what could this skeleton mean? and what is the mysterious item and note?
The image is original like all our IBT images, so you are invited and have permission to save and edit the image and post it in a reply below with the skeleton holding something (for those who have skills in editing/graphics). 
If your not good with graphics, that fine, just describe what you think should appear in the skeletons hand and what is written on it - - all replies will be considered - - please try to keep it clean though steemians :) haha!!
It can be anything, the only rule is it must have something written on it..So I suggest think about what the text might say?
The IBT Survival Island team look forward to seeing the inventive replies and will award the prize at this posts pay out. Keep in mind, this skeleton will be appearing in the game and your idea will be represented if you win, so by participating your actually helping us make the game
THE PRIZE - BEST REPLY BELOW WINS!!
3 Steem liquid prize and 3 CK tokens
IBT is a supporter of contests on Steemit and the biggest player in this space is @contestkings. At the moment CK token holders who stake a set number of tokens are automatically entered into a crazy daily prize and so I can't think of a better prize at the moment then a combination of CK tokens and liquid Steem - I love em both!!
The best response winner here will receive a 3 Steem liquid prize and 3 CK tokens (these SteemEngine tokens are HOT! at the moment due to the escalating prizes these guys are giving out).
No upvote, Resteem or Follow is required to be eligible to win you just need to post your reply below - Good Luck everyone :)