IT IS VERY IMPORTANT THAT WE KNOW HOW TO TAKE CARE OF OUR KIDNEY.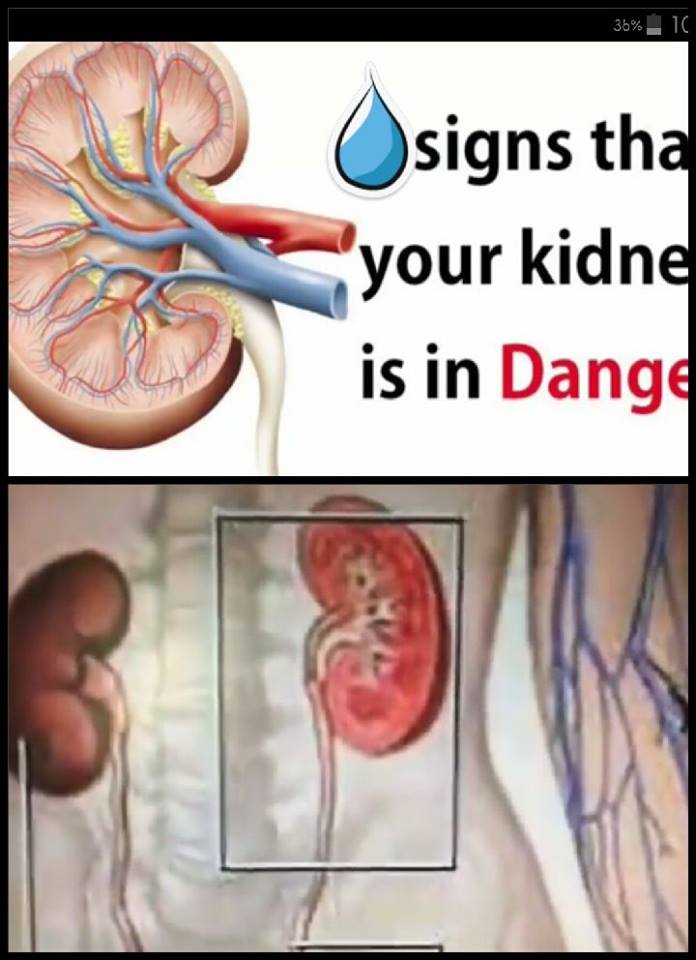 Our kidney is an organs that are shaped like a bean, located at the back side of the abdomen. They provide the body with very important functions. Particularly they are primarily responsible for filtering waste and toxins from your bloodstream. They also release important hormones into the body, erythropoietin, renin, and calcitriol. Our kidneys are constantly working along with other organs, in order to keep blood pressure
WHAT A KIDNEY DOES TO OUR BODY;
-- WATER: Ensures that there's no too much or too little water in the body
-- BLOOD PRESSURE: Make sure that pressure isn't too high or too low
-- WASTES: Gets rid of urea, uric acid, toxins, and other waste via urine
-- BONES: Activates vitamin D, which helps the body absorb calcium
-- HEART: Make sure that the body isn't too acidic or too alkaline
-- BLOOD: Releases erythropoietin, which tells bone marrow to make red blood cells.
10 COMMON HABITS THAT DAMAGE OUR KIDNEY
Not emptying your bladder early- do not hold urine for very long time.
Not drinking enough water -drink 2 liters or 8~10 glasses of water daily.
Taking too much salt and sugar- too much intake of salt, soy sauce, fish sauce, dried fish and even noodles.
4.Not treating common infections quickly and properly - treat urinary infection early
Eating too much meat - protein high in creatinine like meat and protein drinks or protein shake.
Not eating enough and not resting enough - eat good foods that are healthy for the kidney and the body, get enough sleep or 8 hrs a day
Pain killer abuse and high intake of vit. C - avoid taking too much pain reliever like mefenamic and ibuprofen, you can use hot compress for a mild headache. More than 500 mg. of vit C per day can cause kidney stones.
Missing your drugs - take your medicines regularly if you have high blood or diabetes.
Drinking too much alcohol - drink in moderation
Pay attention to test & procedure of MRI and CT-scan- Contrast Media / Dyes are used in the procedure of CT-Scan and MRI.I t is sometimes has a bad effect or damage the kidney
TIPS TO AVOID KIDNEY DISEASE

*Choose and prepare foods with less salt ( sodium). We can use herbs like oregano parsley basil or rosemary, or vinegar pepper as an alternative for salt.
*Select the right kind and smaller amounts of protein. Slice the lean meat very thinly or use ground pork to lessen the amount but still looks plenty
*Choose foods that are also healthy for your heart, like lean cut of meat, skinless chicken, fish, and also vegetables like beans.Cabbage, bell pepper, carrots, cauliflower, eggplant bean sprouts, cucumber, lettuce, onion, also fruits like Apple, oranges, berries. Avoid catsup or tomato sauce, use fresh tomato instead. Avoid canned foods, coconut milk (high in potasium) and cassava
*Read the Nutritional Facts Label, especially for sodium , to help you pick the right foods and drinks.
*Avoid over the counter pills on a regular bASIS.
SYMPTOMS OF HAVING A KIDNEY STONES

1.BLOOD IN URINE -it is called HAEMATURIA, blood in in urine is one of the biggest sign of having a kidney stones.
2.DIFFICULTY AND PAIN IN PASSING URINE - DYSURIA - It is the condition where the person feels difficulty and pain passing urine..
SEVERE PAIN IN LOWER BACKS AND ABDOMEN - If you can't find a comfortable position for sitting or lying andfollowed by severe pain in lower backs and absomen.
PINK, RED OR BROWN URINE - If the person shows the colour like pink. red or brown, then the person may have signs of kidney stones
CLOUDY OR FOUL-SMELLING URINE - Urine does smell a bit, but foul- smelling is not a good dign.
FEVER & CHILLS - If the urinary track has an infection due to kidney stones , then fever and chills may occur.
URINATING SMALL AMOUNTS = The person has to visit bathroom but regularly but only small amount of urine.
NAUSEA & VOMITING - Kidney kidney stones is also accompanied by Nausea and vomiting just like every health problems.
PERSISTENT NEED TO URINATE - The person suffering from signs of kidney stones havve an urge for the persistent need to urinate.
FEELING WEAK AND THIRSTY -- If the person feels thirsty and weak most of the times he may possibly have signs of kidney stones.

Coffee, Red Meat ,Carbonated drinks, Salt, Sweeteners, Alcohol, Processed Foods
NOW LET'S LEARN THE GOOD FOODS TO CONSUME TO HAVE A HEALTHY KIDNEY.

Cabbage, bell pepper, carrots, cauliflower, eggplant, kidney bean, cucumber, lettuce, onion
Apple, oranges, berries, parsley, turmeric, red grapes, olive oil, avocado, lemon, celery are among them
OUR KIDNEY PROVIDE OUR BODY VERY IMPORTANT FUNCTIONS, THAT'S WHY WE SHOULD TAKE CARE AND PROVIDE GOOD FOODS FOR OUR KIDNEY TO HELP IT FUNCTION PROPERLY.
HOPE YOU LIKED THIS INFORMATION, SO PLEASE HIT LIKE AND FOLLOW ME @lisaocampo