Due to how Graphene is made and how many things happen on two most popular chains of this social media site - BTS and STEEM blockchains are responsible for most actions. Sometimes that change switch places but for right now
STEEM is the king of activity out of all coins!

Yet look how low marketcap of both coins is compared to their working way worse competitors.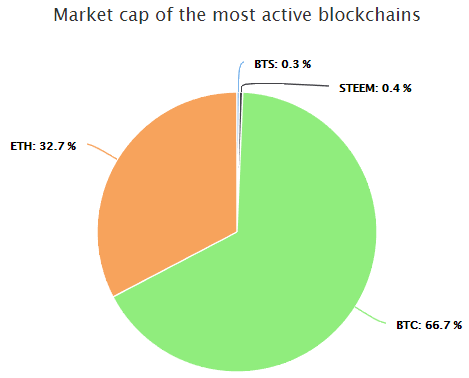 This shows how Graphene owns other systems and may also give us an idea how EOS capacity will work in future.
While all of you reading this know - STEEM is the social media site where posting happens, BTS is a system which core idea is decentralized exchange which it runs a few.
The most popular one is OpenLedger which is free, secure and you should get there.
OL Markets


Loads of coins there has smaller volume (ie STEEM) but there is few coin options ie base currencies there are BTS, EOS, BTC, USD and CNY. Loads of Chinese volume while its normally hard to register for CNY fiat exchanges.
Bitshares Markets


BAE is a native exchange that shares books with all exchange like OpenLedger mentioned, other than this are places you surely know with beloved Binance.
STEEM Markets


As we can see Huobi, Binance and Poloniex are exchanges shared by both but volumes on them look different.