As i said yesterday it was good occasion to buy stuff almost everything is green today. Such big news and just 1 day of drops, means crypto doesnt care much anymore. Worth to use occassion to buy stuff cheap.
Some stuff still didnt recover, but to know whats this about read my yesterdays post.
Lets have a look at Graphene family - coins sharing same base code core.
STEEM (up 14%)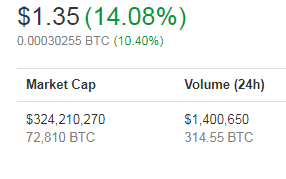 Poloniex is excluded from price so dont think of arbitrages (wallets dont work there) yet this can be done between Bittrex, HitBTC, LiveCoin and OpenLedger. If you dont have accounts on them - its worth to click and make them now ive checked all of those and been having no problems with withdrawals or deposits.
BTS (up 9,8%)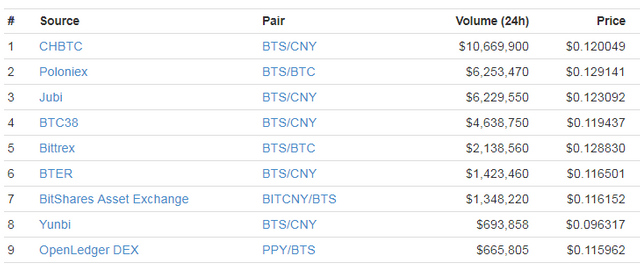 <?a>
Interesting to see that in top10 there is Bitshares DEX aka OpenLedger trading PPY vs BTS. Other than this China drives the price and volumes. Yunbi got closed today (not sure for how long) due to china resolutions on ICO.
EOS (up 1,4%)


It is during ICO and has a lot of chinese markets so took a big hit. BitFinex from USA trades the biggest volumes but other than this - China.
GOLOS (up 7,3%)


Just 3 markets so there is plenty that team can do to raise this coins popularity and prices.
PPY (up 5,4%)


Currently just 3 exchanges make volume, good to see Bitshares DEX with such volumes and LiveCoin placed nice.