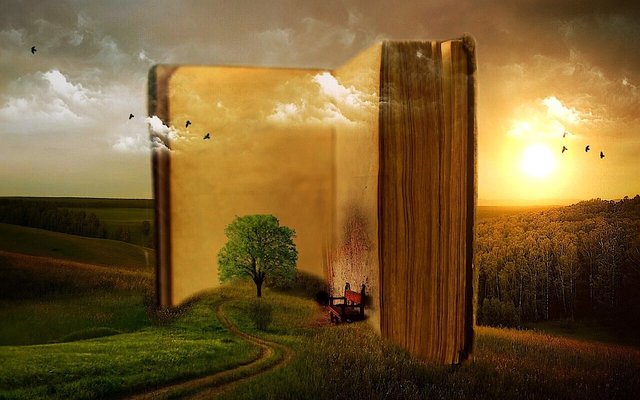 Exciting stuff is happening on the Steem blockchain. HF20 is dropping next month and SMTs finally got a release date. I plan on talking about those at some point, but I had this post in the pipeline and I wanted to share it with all of you.
Reading is something that I've done for years now. When I was growing up in the school system, I never read. I refused to do the assigned reading that my teachers would give me and I would stand my ground about never doing the summer readings either.
I grew up my entire childhood thinking that I absolutely hated reading. I never wanted to do it and I thought that I would never want to do it ever again.
Everything changed for me when I started listening to the Tim Ferriss podcast. Tim somehow made it seem really cool and interesting to read.
He made me want to read to become a better version of myself and to progress in life. I always had colossal ambitions and I always wanted to achieve greatness. Tim convinced me that I'd have to read in order to do that.
Reading has since become one of my favorite habits. I read every single morning. Some days are busier than others and I'll read less than I'd like to but I always get at least 1 hour of reading in before starting my day.
I hope to inspire some others to read as well, I think it's one of the most underrated habits - especially in these times of on-demand videos and audio constantly circulating around us. Here are a few of my favorite reading quotes that inspire me to read every day.
---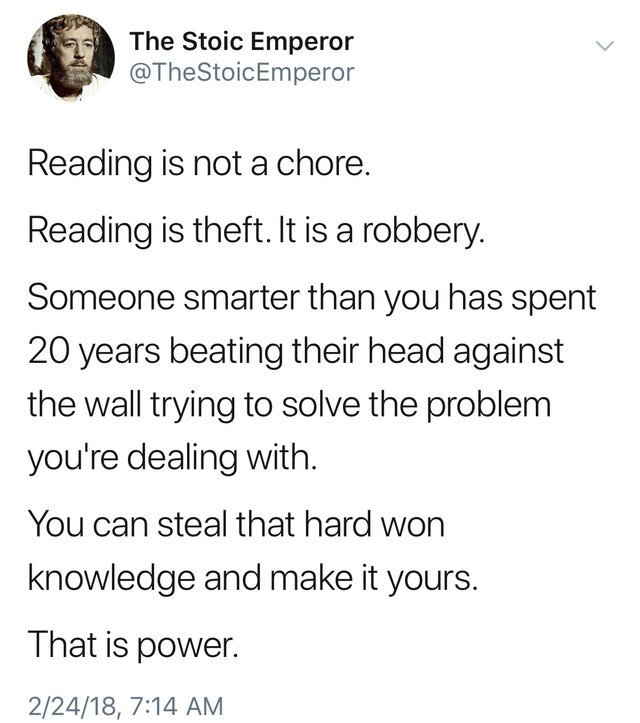 I saw this tweet a few months ago and was instantly obsessed with it. I get fired up when I think about this quote while I'm reading.
I think about how the author I'm reading spent years of his/her life learning this material and then spent more years putting it into a package to present to me via the written word. All the lessons and knowledge that they have gained about this topic is now being fed to me on a silver platter.
Reading is not something to dread. It's not something that you should be afraid of. It's something that you should look forward to. It's something that will make you exponentially smarter because you're walking in someone else's shoes for the duration of the book. It's a unique opportunity, don't squander it.
---
"Reading is to the mind what exercise is to the body" - Joseph Addison
I'm a huge proponent of physical exercise. Working out has been an anchor in my life since I was 14 and first walked into a gym.
Reading has so many fascinating similarities to working out. Similar to working out, reading is a skill that is built through repetition and consistency.
If you read sporadically, then you're well aware of how hard it is to cultivate the habit to read every day and for certain time periods. Reading sporadically is nearly impossible for me. I have to read every day and keep the momentum going. If I stop reading for a few days in a row, then it's like an addict falling off the wagon - I run into trouble and everything else in my life suffers for my lack of reading.
That's why I make it a point to set aside specific time for reading. I do the same thing with working out. It's something that must happen, I never waiver from these 2 habits.
---
"Reading is an active, imaginative act; it takes work. -Khaled Hosseini
I love this quote because it addresses a common misconception about reading. So many people think that reading is some empty act, something that you can just do while you do something else. Comparative to watching TV, for example.
Reading is the complete opposite to me. Reading is something that requires my 100%, unwaivering attention. I can't do 3 things while I read. I can't check my phone while I read. I can't scroll through my twitter feed while I read a book. It just doesn't work that way.
Reading requires me to zone in on the author's words. I'm always imagining what the author was thinking when they wrote a specific line. When I'm reading a true master of the craft, I can feel the emotion of the words and the lessons become ever more powerful and present to me.
---
What's your favorite time of day to read? What's your favorite quote about reading?