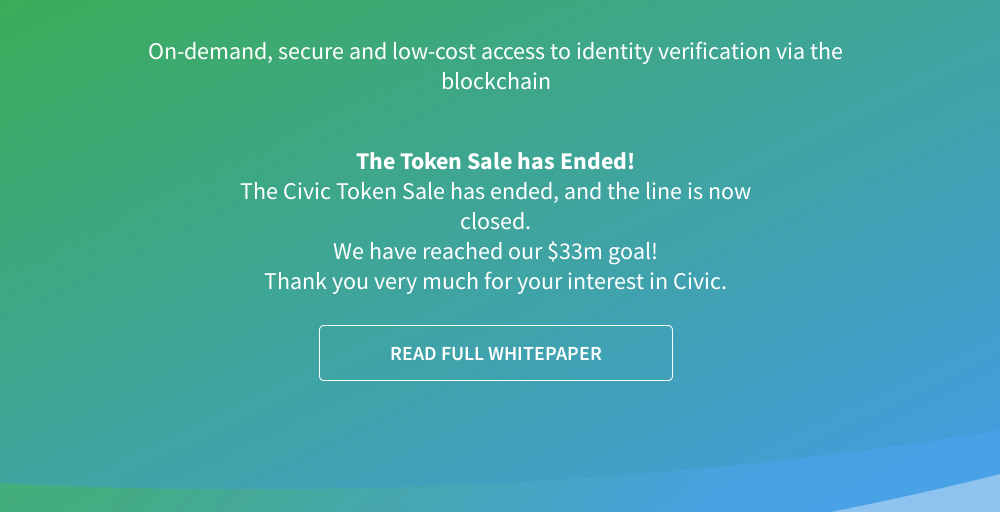 Whats is CIVIC ?
Secure Identity Platform ?
Through our decentralized architecture with the blockchain and biometrics on the mobile device, our platform provides multi-factor authentication without a username, password, third party authenticator, or physical hardware token.
-© 2017 Civic Technologies, Inc
Its a like an ID THEFT PROTECTION system, so Keys are generated by the third party wallet, providing a firewall between
Civic and users' keys and Identity data fully encrypted in the app on the user's device and can be accessible with biometrics,
And Public identifier for the authenticating authority, hashed identity data, and a flag indicating the data is still valid.
So its sound like a solution for digital ocean,
Authenticate without the need for traditional physical IDs, knowledge based authentication, username/password, and two-factor hardware tokens.
Here are some of the services and solutions we are launching with our Civic Business Customers but many more are under development.
Cryptocurrency
Secure new account creation using Civic verified identity for KYC. Multi-factor authentication for web and mobile apps.

E-Commerce
Reduce the impact of data breach by not storing user PII with credit card data. Avoid identity fraud with a Civic verified identity

Medical
Allow Civic Members to securely store and instantly share authenticated medical records from their device with the Civic App

Financial Services
Avoid new account fraud with verified identity data. Multi-factor authentication with simple user experience

E-Signature
Better user experience with more options to establish various levels of trust in the identity of a signer of a document

Social
Secure account creation that offers varying levels of privacy to your users, including anonymity or verified demographic attributes
That sound nice too but how its works in the Blockchain Ocean ?
An individual downloads the Civic App and completes an Identity Validation Process customized to the Civic Business Customer requirements.
This process verifies Personally Identifiable Information (PII) to ensure ownership of the identity with enough data to establish the level of trust required by the Civic Business Customer.
In other words, more PII may be collected to establish a high level of trust, e.g. scanning of passport, driver's license and social security number, while only minimal PII, e.g. only email and mobile phone number, may be collected for new users when the Civic Business Customer only wants to verify the user is real and unique.
After validation, the user is now considered a Civic Member with authenticated identity data secured in the Civic App on the user's device, not stored by Civic. The Civic Member may share this previously authenticated identity data with Civic Business Customers, businesses that enter into a partnership with Civic. Civic Business Customers leverage our blockchain technology for real-time authentication of Civic Member identity data.
Informations From CIVIC dot com
K.