Steem for the Win!
The results are in and Steem runs away with it!
The Bitmama.io exchange posted the final vote tallies and it looks like steem was able to beat out both EOS and Tron!
Even if both of their vote totals were added together!
Check it out: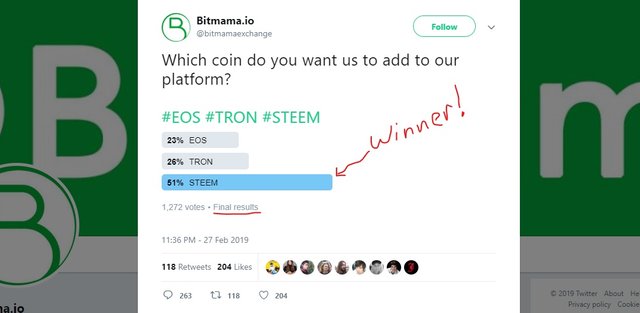 (Source: https://twitter.com/bitmamaexchange/status/1101023277714210818)
Any time we can beat EOS at something it's a good win in my book!
Thank you for everyone who participated in voting, this was a win for all of steem.
That being said, I am not really sure exactly how big the Bitmama.io exchange really is and furthermore, I am not even sure how legit the exchange is...
If you plan on using this exchange make sure you do your homework before sending any money to it.
Either way, having steem listed on more exchanges should be a positive going forward.
Stay informed my friends.
-Doc