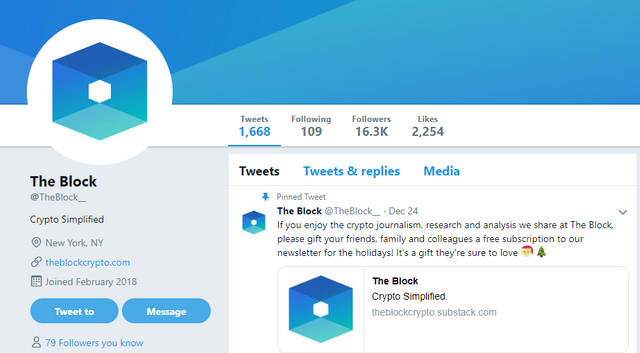 Getting 'The Block' on STEEM
https://www.theblockcrypto.com/
The Block is a relatively new crypto-news outlet stationed in New York City. They exploded onto the scene in 2018 and have quickly become a well respected source. The Block puts an emphasis on investigative pieces in an attempt to expose some of the corruption and scams running rampant in the crypto-space.
Recently I reached out to Mike Dudas, CEO of The Block on Twitter, to see if The Block would feature a @SteemMonsters article. Dudas replied and asked me to DM him some info. Here is the thread from Twitter: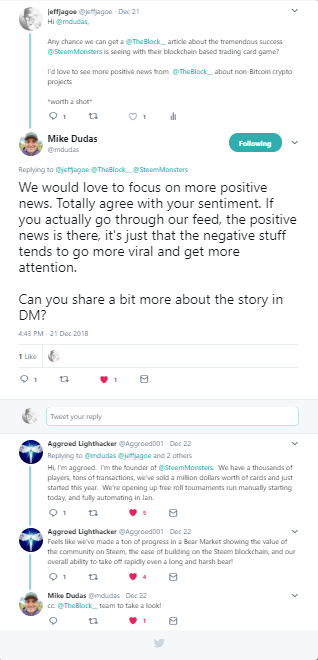 As you can see, @aggroed (a @steemmonsters founder) chimed in and gave some info to Mike. It seemed to be well received, and some of The Block's hound dogs are now looking into it.
I continued to DM Mike to tell him some more about other various STEEM-related applications. The Block uses Twitter to share their news articles. I told Mike that STEEM would be a great alternative place to post a link to the articles and it would help The Block gain some extra traffic. He seemed a bit skeptical at first, but after a little while he gave me the green light to begin a trial run:


In the next few days I will begin posting various 'The Block' articles on STEEM. All of the liquid rewards from these posts will be donated to The Block. Mike Dudas, The CEO of The Block will be gauging the referral traffic from each link, so it will be important to click the link when you see me post an article from The Block.
Let's Get The STEEM Community Together To Show The Block That STEEM Is The Place To Be!
https://www.theblockcrypto.com/