1,000 Steem Event Prize Pool - First come First serve sponsored by Monstalk
It has been a while that I'd been active on Steem, but while running a Marketing company specialized on Crypto I was always fascinated since the beginning at Steem how active and vibrant the community can be. After structuring most the of Crypto marketing events lately on Twitter or Telegram, I was able to convince a customer to start a marketing event on Steem, as I was quite sure that the engagement rate would be higher than compared to other Crypto social media channels. So here we are with a price pool of total 1,000 Steem sponsored by Monstalk.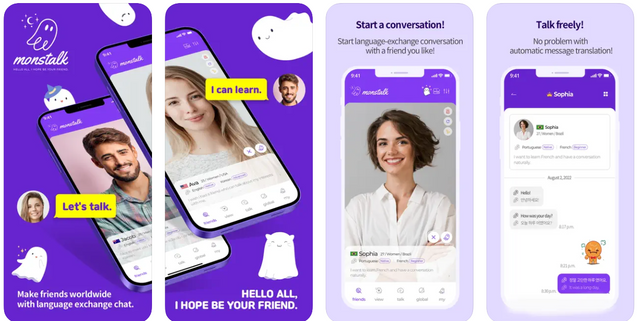 1. TL;DR
If you just want to know what to do to get your hands on the prize!
Please Upvote & Resteem this post.
Download the Monstalk App. Use only this link
Sign-up and setup your profile
Press the Friends Tab and then the Ghost on the top right to get to the MKU Mining Page
Press the Bonus button to get your Referral Link
Leave your Referral Link in a comment on this post.
Be fast to be one of the first.
Spread your Referral Link and get more people on Monstalk to get the first prize!
1 Steem for the first 700 Steemians!
200 Steem
2. About Monstalk
Want to enhance your language abilities while having a good time? Monstalk, a Web3 language exchange platform, is the answer. Connect with native speakers from around the world and chat while improving your language skills. And with a reward system that offers prizes for participating, Monstalk makes learning a fun and fulfilling experience. And be early and mine MKU tokens for free, which can be used later as utility token within the Monstalk economy.
3. What are the prizes?
The first 700 Steemians finishing the tasks above at 1.TL;DR and leaving their Referral link [Use only this link for download] as a comment will get each 1 Steem after the event. Monstalk will also reward Steemians with the highest Referral Count during the Event.
Referral Ranking
1st Place : 100 Steem
2nd Place: 80 Steem
3rd Place : 50 Steem
4th - 10th : 10 Steem
First 700 Steemians finishing the task : each 1 Steem
4. Event Details
Time : From 01.Feb.2023 - 08.Feb.2023 (KST)
Participants Check Time : 09.Feb.2023 - 12.Feb.2023
Event Prize Distribution : 13. Feb. 2023 (Distribution will be managed from a separate account)
5. How To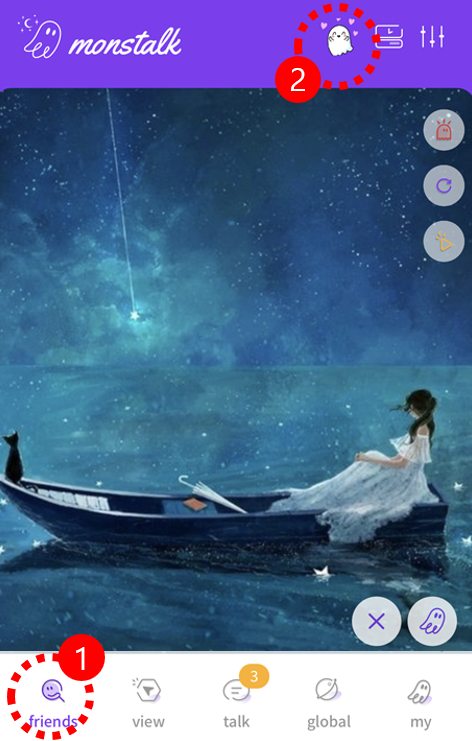 When you first install the app and finished the setup, go to the "Friends" tap at the bottom left. Then look for the "Ghost" Icon on the top right side, which will bring you to the MKU Mining page.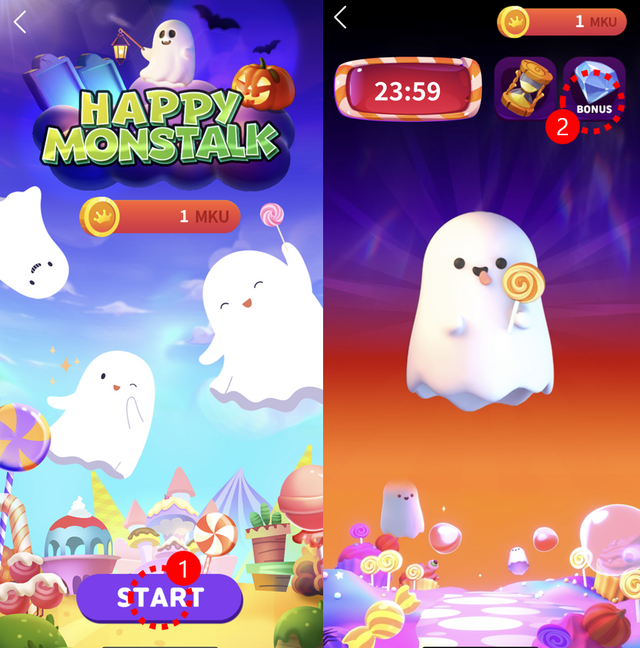 Press start to start the mining process. Mining one MKU will take 24 hours. You can speed up the process when you press the hourglass button. More important for the Event is to get your MKU Referral Link. Press the Diamond Button on the upper right side and you will move to the invite page.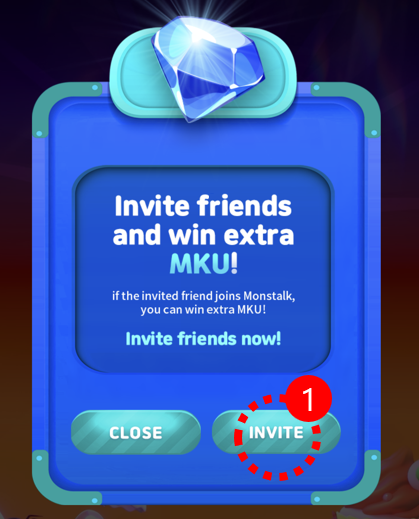 Press the invite buttons and you will be able to either forward your link directly to your friends or copy your Referral link. Make sure to copy your link and add it as comment on this post. Your referral link will look something like the following link
5. Disclaimer
To participate at this Event you need to download the App with the following link : https://links.monstalk.io/Q2ea, as otherwise your Referral link will not be able to be linked back to this event. I was also informed that Monstalk keeps the right to exclude participants that does not fulfill the requirements or abused the event, as an example with multiple alt accounts, etc.
Good Luck to everybody!
Shouting out to the community
Community Curators
TEAM 1
@fjjrg [Venezuela]
@ponpase [Indonesia]
@sofian88 [Indonesia]
@solaymann [Bangladesh]
@stef1 [UK]
@suboohi [Pakistan]
@ubongudofot [Nigeria]
TEAM 2
@ashkhan [Pakistan]
@harferri [Indonesia]
@josepha [Nigeria]
@josevas217 [Colombia]
@msharif [Bangladesh]
@naka05 [Venezuela]
@simonnwigwe [Nigeria]
TEAM 3
@afrizalbinalka [Indonesia]
@damithudaya [Sri Lanka]
@f2i5 [Indonesia]
@goodybest [Nigeria]
@graceleon [Argentina]
@sualeha [Pakistan]
@wilmer1988 [Venezuela]
TEAM 4
@chiabertrand [Cameroon]
@fantvwiki [Indonesia]
@lhorgic [Nigeria]
@nahela [Venezuela]
@petface [UK]
@sduttaskitchen [India]
@steemdoctor1 [Pakistan]
TEAM 5
@bambuka [Russia]
@chant [Cameroon]
@eliany [Nigeria]
@malikusman1 [Pakistan]
@pelon53 [Venezuela]
@shohana1 [Bangladesh]
@waterjoe [Indonesia]
TEAM MILLIONAIRE
@franyeligonzalez [Colombia]
@fredquantum [Nigeria]
@irawandedy [Indonesia]
@karianaporras [Venezuela]
@kouba01 [Tunisia]
@lavanyalakshman [India]
@nadiaturrina [Indonesia]
TEAM NEWCOMER
@heriadi [Indonesia]
@inspiracion [Venezuela]
@juichi [Philippines]
@ngoenyi [Nigeria]
@radjasalman [Indonesia]
@ripon0630 [Bangladesh]
@yousafharoonkhan [Pakistan]
STEEM CURATOR
@steemcurator01
@steemcurator02
@steemcurator03 / @steemitblog