I left a comment, that might be buried in responses on timcliff's blog. For that, I showcase it here -- for YOU!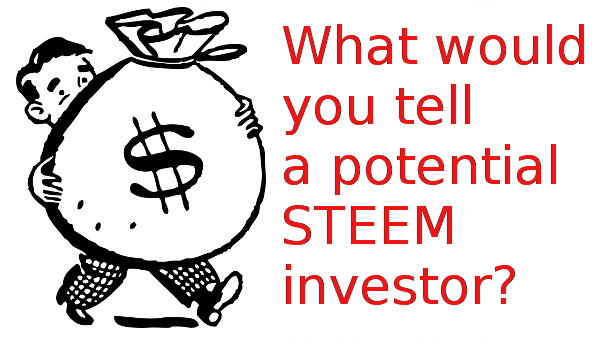 Original post: https://steemit.com/steem/@timcliff/discussion-what-are-reasons-investors-avoid-steem
If you had 60 seconds to talk to a potential investor and tell them five things that they may not know about STEEM, what would you say?
Much like the users of steem, you have no idea about what is soon coming to steem in the way of functionality, programming, hard forks, and plans worked on for the last year that about to debut.

Steem has gone through huge speculation. The steem speculation is secondary to its true value long term. What it is valued today, tomorrow, or next week, has absolutely no meaning to what it will be worth 5 years from now.

Early investors (which means today)... who see the possibility of exponential growth of a system, will earn exponential profits later. If you want exponential growths, you have to invest early.

Brands that have ignored steem, that are the first to try steem, are going to be the most adopted and trusted. If you know someone that has a brand that wants to get easy adoption and be "first on the scene".. let them know. This social platform is ready for some organization to take notice and be the first to exploit the opportunity.

Steem has proven its existence beyond the first year of operation. It has proven its existence beyond the second year of operation. It's entering its third year of operation and all signs point to a continued operation. Most business fail within their first 1-2 years of operations. If steem was to fail, it would have already. Take a second look and really analyze the potential for growth... most aren't doing that... get in on something explosive now.
I decided to repost my comment in the form of a blog post... for my followers to see.
If you like what I've said, please comment, upvote, or re-steem if you agree.