Every single user of steemit is given a choice: BE EVIL OR GOOD. Some try both. Don't be evil, you'll be discovered.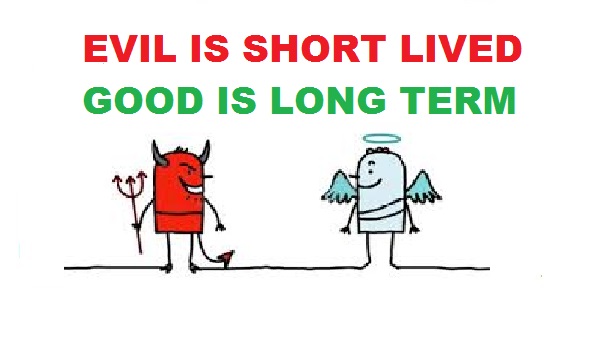 It doesn't take long to look around the STEEM blockchain and see who is misbehaving, scamming, and trying to cheat the system.
Unfortunately it can feel like it takes even longer, to find GOOD people, with honest intentions, and good content. (which isn't true.. you see it a lot)
Why is there so much effort spent on cheating STEEM?
Cheating the system is easy work in the beginning for a very short while

Being GOOD and honest is hard work in the beginning, but it lasts for a very LONG while
I find a lot of new users join, try to act appropriately, it doesn't work. They never read something I wrote 3 months ago nicknamed the 11 cent post titled:
If you're new to steem or steemit and you aren't making HUNDREDS OF DOLLARS yet -- let me explain why...
FAQ - QUESTION TIME
Q: If I spent a long time on here, like two whole weeks and I'm not making $30 a post, shouldn't I give up, and become evil instead to make money?
A: No, tricking the users here will last a very short time and soon you'll have people running around downvoting your junk.
Q: What if I don't do evil things (like spam, or come up with other cheating ways), and STILL no one notices me?
A: Get better at interacting with other users, participating in things like discord, Whaleshares, Steemittalk, steemspeak, steemit.chat or meeting people by visiting THEIR blogs instead of waiting for people to come to you.
(Wait where are the links for those? Gotta do your own research and searches. I tipped you off already on those places)
Q: What if I want to get rich quick?
A: EVIL or GOOD methods on steem do not make anyone get rich quick. That includes the scammers. Only GOOD methods make people get rich in the long term.
Q: But in the early days, didn't people "game the system"?
A: Yes, they did. They are discovered a lot faster now. Do it, and basically your account dies.
Q: Wait? How can my account "die" -- there are no moderators here!
A: Oh yes there is.. it's called steempowered accounts, who do not take kindly to evil methods to steal from the reward pool. They often have high reputation and can take your level 58 account and turn it into a level (-1) account pretty fast, especially when they call on others to stop your evil nonsense.
Q: So what, @intelliguy ... we're all suppose to act like you, take your advice, do what you do?
A: Of course not. I'm not nearly online enough to even take my own advice. If I was, I'd be posting 1 single fantastic post each day of the week. I'd never power down, and heck, I'd probably be worth over $150,000 in steempower right now.
Problem is, I have very little time. I have huge bills and have had to power down before. If my real life struggles didn't get in my way, yes, I'd have over $150K worth of steem.
If my advice is good. It doesn't matter how big my account is. So don't ask silly questions like this again.
Q: What's the point of trying to limit scammers, cheap posters, people who game the system, it's everyone for themselves, right?
A: No. First of all (and I really mean this), it hurts YOU. The one doing it. Your not going to get very far in this game long term, so don't do that to yourself.
Next, yes, of course, it hurts me. If you're scamming rewards in the short term, that's one extra day I don't get paid properly for what I should have earned otherwise.
...and your followers will hate you too, and drop you. It's hard to earn followers. Don't abuse them either.
BUT THIS IS THE BIG PROBLEM
If you're doing it. Someone else is doing it. That hurts the whole system as a whole. If you're trying to crash and burn this thing with your greed, you're going to be sorry, because this cash cow will end sooner than you think.
SO DON'T BE EVIL. DON'T EVEN BE EVIL FOR A MOMENT.
** Steem is designed to be a place where:**
Work hard
Share
Communicate
Engage
Do good work
Don't be evil
...and this place will be here forever. The monetary rewards will grow forever.
So the next time you see someone scamming the system on purpose, go ahead and downvote them, unfollow them, and tell them.. you will not tolerate them filling the blockchain with junk.
This was written tonight because I saw a genuine post by @hitmeasap write a post titled:
The Imperial Bank of @Neoxian Helps Me To Survive! [Amazing & Wonderful!]
...which brought a smile to my eyes (if you can imagine that)... where he mentioned he tried everything including a resteem scheme just to try and get himself out of a jam without a loan.
I go back to the new feed to curate some new content, and then all of a sudden I read this from @sbd.giveaway titled: Resteem for newbies and minnows
With this image:


I scroll down the new list, and see this, posted 2 minutes by @monajam after that one:

Concentrate on the "S" font and the colors... and the "earn SBD or send SBD" idea...
"Don't know personally, but he/she posts giveaways like few others and I sometimes resteem their posts to support."
....[lol] ok yeah, a little coincidental. 2 minutes apart. Same font. Same way of getting the thumbnail sizing wrong (they both have a little unused space at the bottom) AND @monajam admits they've resteemed @sbd.givaway's posts already.
@monajam is level 50 created June 2017
@sbd.giveaway is level 45 created July 2017
I'm not a rocket scientist... but the possibility of a scam and double accounts is spray painted all over the wall here.
Q: What if you're wrong @intelliguy ? What if it is 2 people and they're not part of the same scam?
A: I apologize... BUT! Does it matter? It really doesn't. I've seen proof of other people doing "possibly" evil things on this blockchain... and this is how they could appear.
We can't find and stop everyone that does it. What we can do, is appeal to them to stop hurting themselves, me, you, and the whole concept of steemit in general. Many will listen. Some won't. Let's ask the many who might listen to do the right thing and stop this cheating crap.
As my teacher use to say in school:
"You can cheat on the test. In the end, all you are doing is cheating yourselves"
I never knew what that meant until I got older.. Now I fully know what that means.
PLAY NICE. BE NICE. DO GOOD. YOUR REWARDS WILL COME. CHEAT US. CHEAT YOURSELF. YOU'LL LOSE.
The one thing steemit did well so far, is all those 14-18 year old gamers playing their xbox one's and PS4's are now on their laptops. Their controllers sitting on the floor while they find ways to scam STEEM to pay for their habits. Us adults can outsmart them. It's time we use our curation power to do exactly that...
** PLEASE CONSIDER RESTEEMING THIS POST -- IT HELPS US ALL **