Introducing Adrogavi - Steem's very own Ask and Answer platform. Alpha release 0.1
Have you ever used Quora? Well now you can start earning and rewarding Steem while asking and answering questions!
---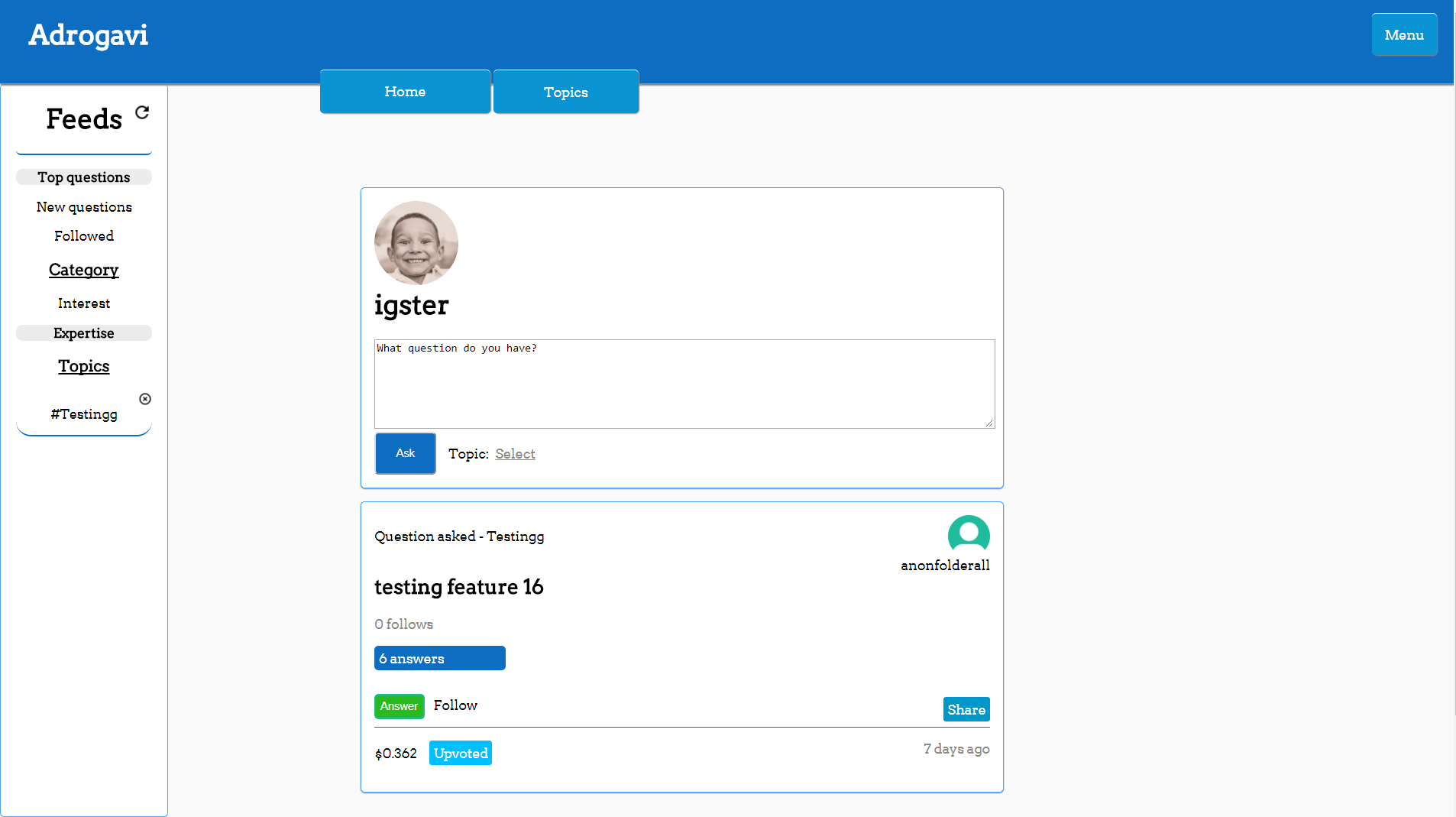 ---
Step-by-step guide on how to start using Adrogavi
When you enter the page, you'll be greeted with this view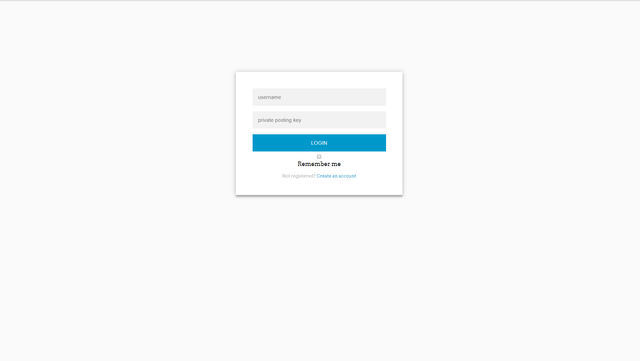 Here you are asked to enter your account name and private posting key. If you leave "remember me" unchecked, nothing is stored anywhere. Meaning if you refresh the site, you have to log in again.
If you check "remember me", your data will be stored only to your browsers localStorage - it will not leave your computer! Once you select log out, the data will be erased. So only use remember me option on your own machine.
Your first login to Adrogavi?
After logging in, you will be asked to choose topics that you'd like to read about (topics of interest). You can choose up to 3 but don't worry, once the registration is done you can add as many as you wish. The list is currently quite empty as you can imagine. It will only show topics that other users have added to the website.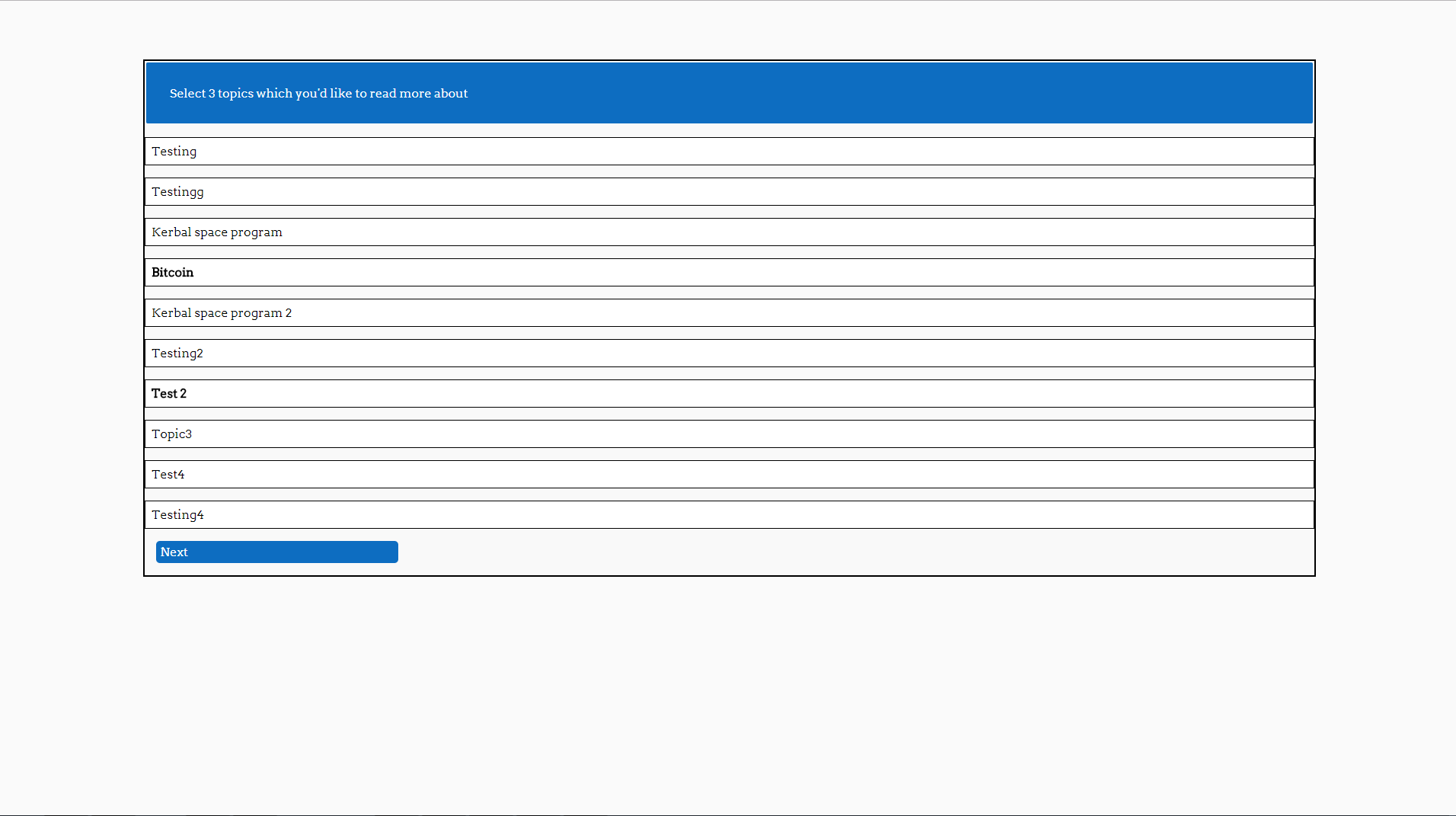 After you have chosen up to 3 topics of interests, you will be shown another list where you get to choose which topics you'd like to try and give answers to (topics of expertises). Once you click next here, you're done! Just wait for message "Account registered" and your registration process has been saved to the blockchain.
There has been some issues here, all of your topics might not be saved (issue with nodes?) but you can add them from the main view.
Adding new topics
If you didn't see topic you'd like to have on your list of interests or expertises, you can click on the Topics button to open up a menu to search and add topics.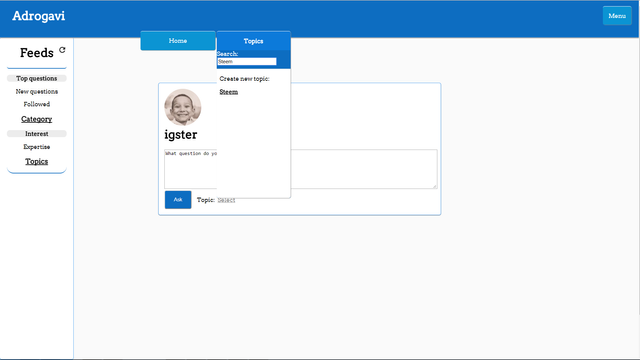 If a topic you're searching for hasn't been already added by another added, you can create it yourself. Just click on it and the process will start. Wait patiently for the broadcast to happen as Steem has been working a bit slow these days, slowing the process.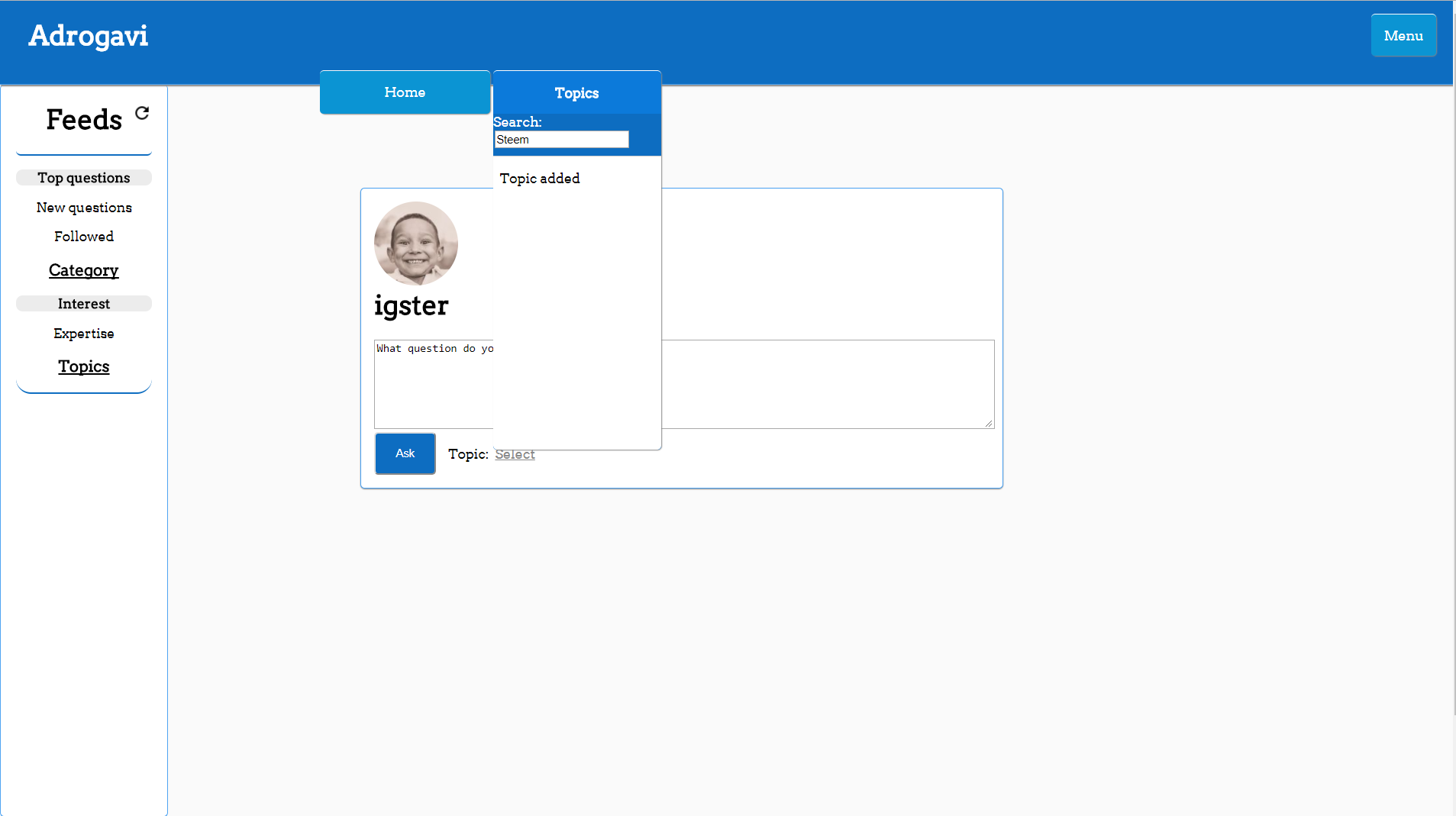 Now that the topic is saved to Adrogavi you can add it to your interests or expertises
Search for the topic again and you should see this view.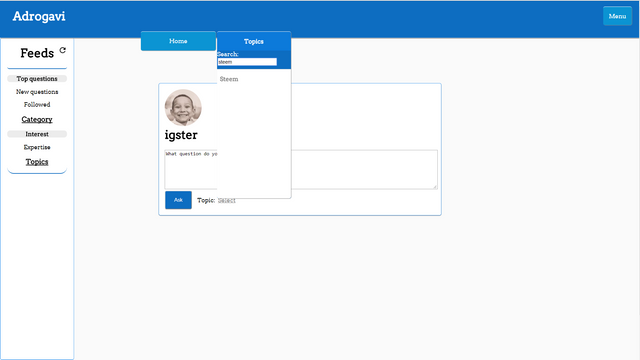 Now just click on Steem and you'll see this.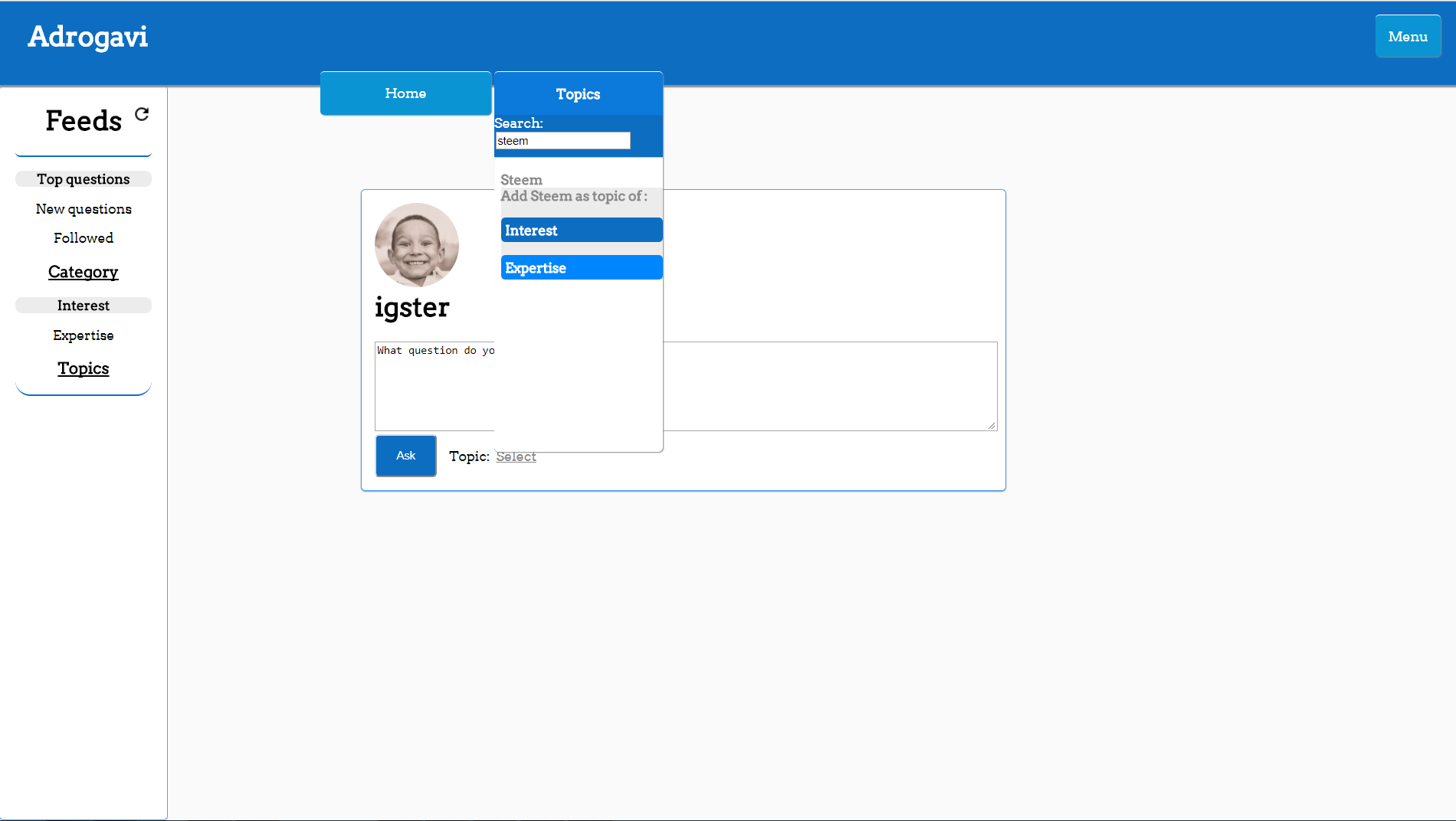 Select which category you would like the topic added to and voila. Topic was created for others to use as well and you now have it on your topics of interests or expertises to choose from.
You might see the previous "Create topic" again however, this just means there was an error creating the topic. Just try again and it will eventually work.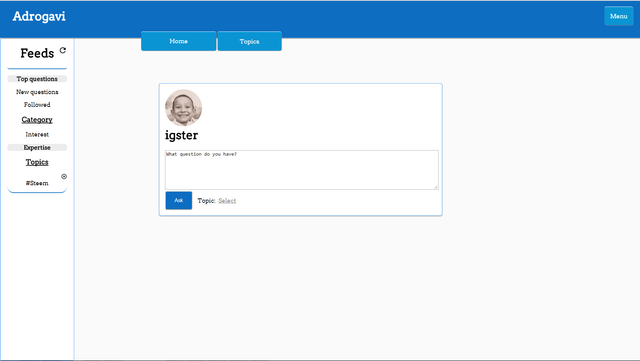 ---
That's the hardest part of using Adrogavi! Now you're ready to start posting questions and answering them and most importantly, start earning Steem!
Are there fees? Can you invest to get share of them?
Yes and no. 15% of author fees will go to @adrogavi to fund the hosting and development of the service. As of now there isn't a way for user to invest to the platform but there'll be one and it will probably be similar to what utopian has implemented. Meaning people can start delegate SP to @adrogavi to get share of the fees accordingly to their stake. There will be post announcing the feature once it's implemented.
Are you using databases?
No. Adrogavi only writes and retrieves data from Steem blockchain.
Are there bugs?
Yes. Probably a ton but I wanted to open the service for public to find all of them faster. Please be patient. This is just the first release! Expect things to not work. Just a warning.
"I'm getting security warning when I enter the page"
The site isn't using https yet. This will be fixed.
Only latest 100 posts are queried from the blockchain currently
Meaning if there's a lot of of users posting questions your questions might not show up anymore. This will be changed as service matures and the current features get more polished. They are still on the blockchain, don't worry.
Coming soon:
Voting power slider - currently all upvotes use 10% of your voting power.
Refresh button doesn't show recently added topics - this will be fixed soon. For now, press f5 to reload the page.
Much more polishing stuff and little features that add to the experience.
Got questions?
You can contact me directly on steemit chat. My nick is @igster there also.