Monetise your reading habit with Steem Network
Steem has a content discovery problem. I wrote about it more than an year ago and that problem still exists today. The core of the problem is that everybody wants to write and earn on Steem blockchain. But there are very few readers of these articles.
Same problem across the internet
In fact this problem is not limited to just Steem platform. It is the same across internet. While everybody should be allowed to write what they want and build an audience, we should build mechanisms which will make sure that the good content floats to the top and is visible. Websites like twitter have made this possible but still there is a lot of gap that can be filled. That is one area which we want to fix with our product. Instead of incentivising the users to create duplicate content in the pursuit of building their own followers we should incentivise people to read more, learn more and share more. What would I not give to get insights from learned people about particular articles that are of interest to me?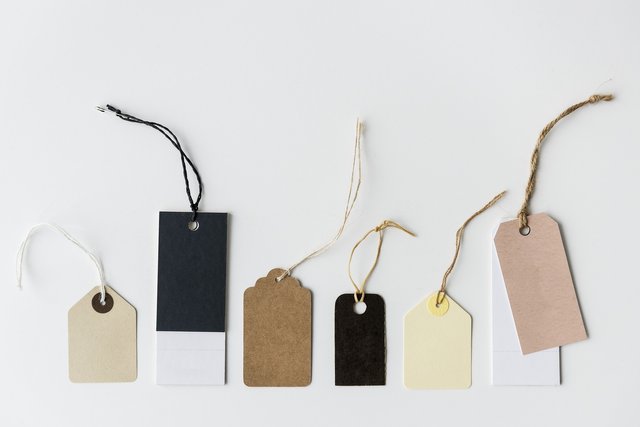 Finding the right tools
This thought was lingering in my mind for couple of months. One of the primary reasons we saw was that there were not enough tools which made this easier. So we set out to build a suite of tools which helps users organise their reading, share the micro-context with regard to the parts they found interesting in various articles and earn some rewards for doing what they love. We felt that tools should be designed in a such way so that instead of everybody writing for the sake of writing, they can concentrate on finding good content on internet, share their insights about them and get rewarded in the process.
Highlights by Learning Paths
Being an avid online reader myself, I was looking out for tools that makes my learning and reading process more organised. I generally take notes while reading. You may find it tough to believe but I used to feel the urge to take notes even while watching series like Mentalist and MindHunter. I looked around for some tools but was not satisfied with any. So we built our own tool. I am using this extension personally and have made more than 1500 highlights in the last couple of months.
If you are anything like me I am sure you will love our tool. We know that your reading flow is sacrosanct to you. So we do make sure that we are not disturbing your reading flow. We are keeping it minimal. Just select what you find interesting and click on highlight. You can add all other details like private notes and tags at later time from our dashboard :)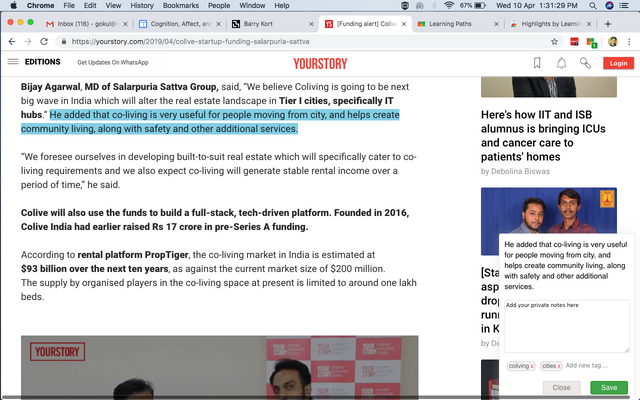 Download Highlights Chrome Extension
Tagging your entire knowledge base
What has worked for us in the past is a huge treasure trove that we often don't use it to the full potential. With this in mind I spent a weekend to tag all my notes and highlights that I had collected over the last couple of months. You can read more about it in my Medium post. Most of the articles I write these days are just adding structures to my notes and highlights that I have already added to my personal knowledge base.
Share the micro-context
When we are having any discussions on twitter URL(link of the article) is too generic. We would like to discuss particular points that we find interesting. With our chrome extension you can highlight everything you find interesting and then you can share the micro-context with others. If the other user also has the chrome extension installed he can go to the exact part you have highlighted and read it in context. Most of the times that user may not have installed our extension. We wanted to make sure that conversation still happen without that. So we created a simple twitter thread maker to share a users highlights on a give page. For example I was reading an article about the design of Google Photos. I just read the article and highlighted relevant parts. Once I was done, I just had to click share all highlights and I was able to create the following thread in a couple of seconds.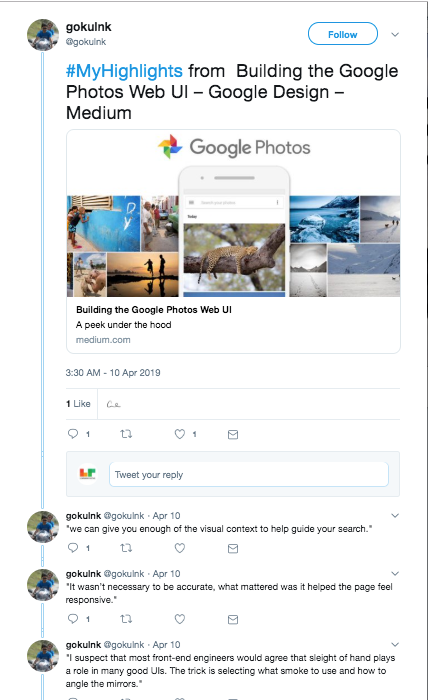 Twitter thread about Google Photos article
Integration with Steem blockchain
Initially we wanted the whole of our product to be built on Steem blockchain as the backend. But due to the limitation we faced and the delay in release of SMTs, we had to pivot. For now our tool works independent of Steem blockchain. But very soon we will be adding various integrations with Steem blockchain. Currently following are the two integrations we are thinking of.
Automate sharing of all of users daily highlights on Steem Blockchain as a post.
On demand sharing of highlights from a give URL.
This way we will make sure that even those of us who are not writers can still share our highlights and insights. If other users find it useful and upvote on Steem, we can earn some rewards for sharing our insights. We hope that this will help in discovery of great content across the Steem network in specific and internet in general.
We will work on more of Steem integration once SMTs are out and ready for production use.
Feedback
We are still in alpha and are actively looking for feedback that can help us shape the use flows. Your feedback will be immensely useful for us. As an active Steem user who has already crossed the learning curve of Steem blockchain, you are in a much better position reap the benefits of leveraging our extension to share your insights, create great meta content and reap the rewards for doing the same.
Give us the good, bad and ugly feedback but in a gentle way :P
Download the extension and share your thoughts.