And Just Like That...
...Here We Are Again
Basically a month ago, we were on the downslope of a little rise that initially took STEEM out of the $0.12 USD or so amount that it had been treading water at for quite a few months, just before the latest run that peaked above $0.30 USD.
But alas, over the last day or so, all that was built up over the past 31 days has gone.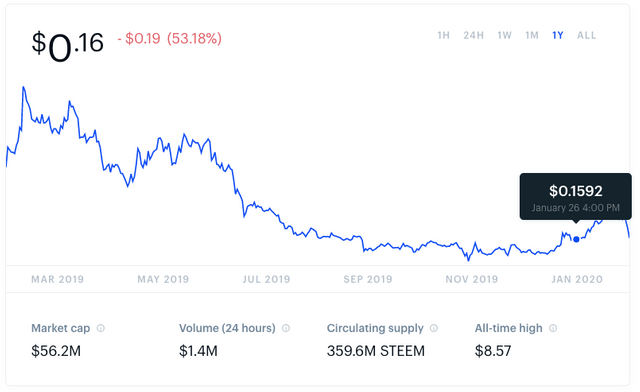 No, It's Not Just STEEM
As is usually the case, the rest of crypto has been taking a plunge, too. Unfortunately, STEEM is among the heavier to be hit crypto percentage-wise.
And it's not just crypto, but many other investments, stocks, etc. This time around fingers seem to be pointing at pretty valid concerns about the spreading corona virus as the reason for this significant pullback.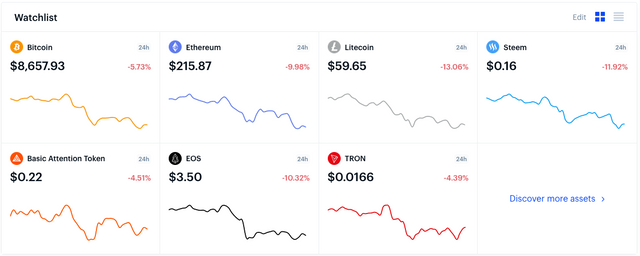 Safe Haven?
Digital assets, in particular cryptocurrency and most specifically Bitcoin, have been at least partially touted as a safe haven for investors when stocks or other types of investments are taking a hit. At the moment, though, such doesn't seem to be the case.
Precious metals and treasuries, the traditional safe havens, have been seeing an increase for a while, as well as over the last several days.
Crypto Catalyst
A while back, I stated in a post that it might take some sort of significant event to get wider adoption of crypto, most specifically STEEM, simply because the masses are largely unaware of what it is and what they do know isn't enough to get them seeking more information about it, let alone buying it.
I don't know if the corona virus is a potential catalyst (I hope it's contained in short order rather than it continuing to spread), but I am still of the mind that it will take some kind of major incident, something that the whole world pays attention to, for crypto to become more than just a haven for blockchain enthusiasts, speculators and those who jumped aboard seeking freedom and decentralization.
Any Of This Related To Buyouts And Soft Forks?
In the two-plus years I've been on STEEM, along with many of you, I've watched as all kinds of different things, from fights over the reward pool, unkept promises on deliverables, and general squabbles between the various parties involved in STEEM, to controversial hard forks—and so on—have all played out, and for the most part, it's been hard to tell if any of that has had any true effect on STEEM pricing.
It may have from a user standpoint if any of it compelled them to sell stake, but beyond that, the greater world at large doesn't seem to really notice or care.
Steemit's Inc.'s selling off stake to make ends meet has certainly contributed to a decline in price to some degree, simply because significant amounts of STEEM have been sold, but as far as goings on around the blockchain, who knows.
However, since Justin Sun bought Steemit Inc., I do believe there has been an uptick in awareness beyond just us, for better or for worse, regarding STEEM. Sun tends to do that with anything he purchases. And the fact that the STEEM Witnesses responded with the soft fork did not go unnoticed either.
All PR Is Good PR
While it might not be pleasant going through the uncertainty that has surrounded the Sun acquisition of Steemit Inc and the resulting soft fork response, STEEM has been hitting the news more in the last two weeks, and in ways that actually gather interest, than it has in a long time.
So, regardless of whether or not the depth of selling of STEEM now has any relation to the sale and preemptive strike we've experienced (Sun followers swept in with the news of the Steemit purchase getting jittery maybe?), the fact that these things are happening is pushing STEEM out there to a greater degree. And with a townhall meeting between Sun and the top 50 witnesses 'tentatively' scheduled for March 6, the opportunity for more awareness increases as that date nears.
The opportunity for all of this 'negative' stuff to ultimately turn into a positive exists. I'm hoping those involved will be prepared to pull it off when the time comes.
We Don't Usually Get To Choose The Cards We're Dealt
But we can decide what we're going to do with them.
In the meantime, anyone who thought they would hold off from purchasing STEEM because the bull run had already begun might have a respite with another buying opportunity again.
Not buying or financial advice. You know what's right for you. Do that.
Images source—Coinbase