PROJECT " NOOB TO TRADER"
TRADE 1
POST IN SPANISH:
https://steemit.com/spanish/@flpmorera/criptotrading-de-noob-a-trader-comenzamos-en-positivo-01
Very good to all,
We started the adventure in the world of trading, and as promised here is my first operation, I am currently using the exchanger KRAKEN, which has not given me any problem to this day.
TRADE ( 1 ) ETH/USD TF: M15, H1


Why did I decide to come in?
As can be seen in the images, ETH came from a bullish phase and when entering into correction I form the pattern known as a flag which generally indicates a continuation of the previous trend (bullish), also in its trajectory, the pattern has a support (Around $ 219) which could end the pattern, favoring the rebound of the price.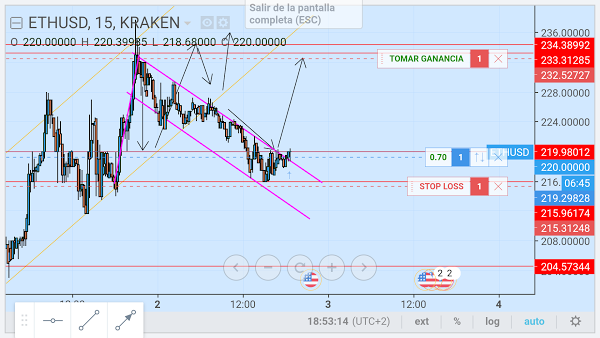 How did the operation end?
Around $ 233 there is a possible resistance so I decided to put TP at $ 232 / $ 232.50 to collect the benefits in case the price rebounded in the resistance
The operation was closed in a positive touching the TP, although as you can see the price broke the resistance strongly and missed the opportunity to get more profit.
I hope you liked the article, and I remind you that I'm starting this, I ask you to forgive me for any possible failures in the operation.
Enjoy, Comment and Share.