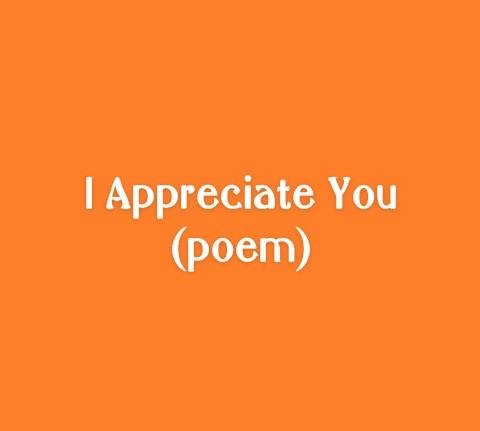 I was thinking last night of a very short but reasonable poem to write and at least something touching. Then, here comes the inspiration and what the outcome became. This may not be so long but I believe it's touching. I gave it to couple of friends to read and all I got were amazing comments. You might have a say too, leave a comment below and follow my blog. Happy Reading
I APPRECIATE YOU
You're My Love and Queen
I am not too perfect, but I truly appreciate your beautiful presence in my life.
Thanks for perfectly accepting an imperfect me
Thanks for loving an unlovable me
Thanks for tolerating an intolerant me.
Thanks for appreciating an ungrateful me.
And Thanks for being with a man like me.
I always knew there was a special lady specially fashioned for a love freak like me
Thank God you're now here.
You're my unchangeable destiny
One I'd love now till infinity
One who's meant to be mine till eternity
No matter how many obstacles
We'd forever remain one like God Tabernacles
Even in all that seems unacceptable
You'll forever remain my one irreplaceable
That's unimaginable... Even unpredictable
But it's will forever be strong and unbreakable
I guess it'd be like a miracle Every 10 years would be just the beginning
No matter what we face we (you &I) would never stop loving... That'd be so amazing Hold my hand let's go to the future
I love everything about u even without having your picture
You're too beautiful even without a posture
You and I is the best feature
Together you and I is gonna have a beautiful future
Thank you so much baby for holding my Hands
I'm very sure this never ends
We must make it work in our both ends
I do my part to make this work just as you do on your ends
What more do I say before my ink ends
I promise to love you till my life ends
Together forever to the ends
            Lovelies Fight

When my heart is broken
When life seems hard
When everything changes
When I can barely find myself
When I have doubts...YOU'RE ALL I NEED
When I Nearly give up
When life wants to scare me
When friends betray me
When everything is gone
When things aren't what I thought...YOU'RE ALL I NEED
When I have no one
When people leave me
When I'm not even myself
Either I'm happy or sad
When I win
When it seems I lost, but I'm never a loser
When everything looks different...YOU'RE ALL I NEED
When there's no one
When I need love
When I need a companion
When I need a best friend
When I'm rich
When I'm surrounded with people
When life's seems beautiful...YOU'RE ALL I NEED
When I'm everything I have ever wanted to be
When I'm loved
When I'm me
When I am Happiest
No matter what happens... YOU'RE ALL I NEED
Should in case you don't know who you're to me...
You're the life
You're the hope
You're the success
You're the Joy
You're the best mother
You're the destiny
You're the unfailing heartbeat
You're the courage
You're God's sent
You're the sweetness of the life
You're a man greatest need
You're the beauty that beautifies a man's life
You're the Queen and Irreplaceable Mother
You're the wife and amazing Soulmate
You're the best and incomparable Angel
There'd never be an Angel like you
Neither is rany like you...always and forever, YOU REMAIN ALL I NEED