STEEM is doing the retest right now! - decision time💗😁
It is now time to decide, will STEEM break out to levels that we have not seem in a long time? I am talking 3-4$ and possibly way more shortly after that.
The retest of the last valid downtrend line is happening as I am writing this. This could be the turning point now. There could be a fake down and then the breach of trendline, or an immediate breach, which would be strongly bullish!
I don't expect any major drop in the coming months if it happens. There will only be small corrections to buy. You won't get "good" prices to buy in anymore.
In german we call this "Fahnenstangenrally" (flagstaffs-rally), which means the market is so bullish, that it does not allow good entry points.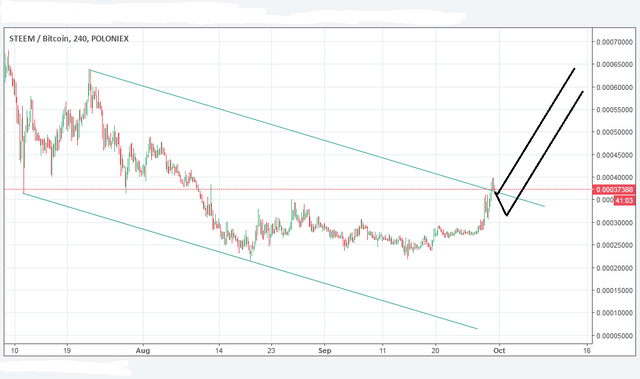 Great times ahead 🔥

SPECIAL OFFER!!! I want more visibility, you want free money. win-win.
I'll upvote your comment 100% if you resteem and have 800+ followers.
I'll upvote your comment 50% if you resteem and have 400+ followers.
I'll upvote your comment 15% if you resteem and have 100+ followers.
requirements:
You need to follow me.
You need to upvote this post with at least 20%.
You need to resteem this post and afterwards indicate in the comments that you did. I will check if you met those requirements ;-)
My 100% upvote is worth approx. 1$ and it will be more soon, now that STEEM is rising. It will be first come, first served. I won't upvote under 80% of my VP. Worst case you might have to wait 24 hours for the upvote. I will change theese numbers, if I can't keep up with the demand!


If you think this to be useful information:



DISCLAIMER: I provide trading ideas using EW and Pattern analysis. The material in this post does not constitute any trading advice whatsoever. This is just the way I see the charts and what my trading ideas are. The author of this post is holding positions in this market at the time of this post.
If you make any trades after reading this post it is completely in your responsibility. I am not responsible for any of your losses. By reading this post you acknowledge and accept that.
Tell me what you think...
Have a nice day :-)