Just like some other cryptocurrencies steem is another cryptocurrency that still lives with the hope that it's value will greatly appreciate with time, this is because of a few projects that will be realized this year according to the 2018 ROADMAP, but some people still do not seem to believe that steem will really appreciate in value to a attain a very good prize before this year runs out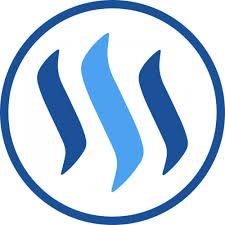 @ned scott the CEO on steemit Inc. once replied to a comment on a post stating out some of the steem projects that we should have in mind which is to be realized this year and it includes:
HF20 (Resource credit system)
SMTs
SMT oracles
Scalability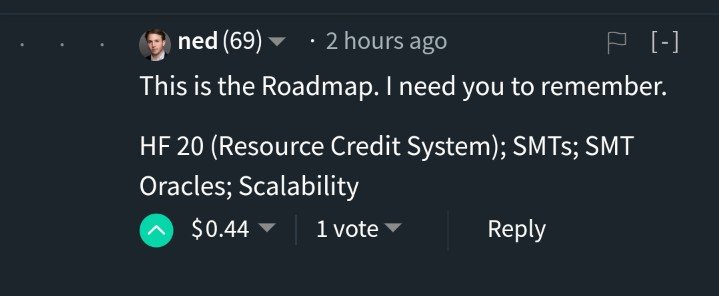 From some of the post I have read on @steemitblog, I've gotten some information that the team is currently working on scalabilty, and before this year runs out I think most of these projects @ned mentioned in the screenshot shown above which is also included in the 2018 roadmap will be completed, or MAYBE the projects have already been completed and the team is waiting for bull run signal so that they can integrate the projects in order to kick start a good pump on the price and this can peg the price steem at a good price level and when these projects have a large number people in participation, then greenlight from this projects could shine to the moon.
One of the factors that makes the price of some cryptocurrencies to appreciate greatly in value is because of some project which has been completed and has also taken effect (launced), but the core factors that adds value to the price of any cryptocurrency is:
A larger number of people in participation and
A larger number of whale investors
We have 5 months from this period before this year runs out and that mean we still have 155 days before this year completely runs out.
Is 155days enough time to complete this projects?
I will say yes if these projects have already begun and if the team have made good progress towards completing that already, then 155 days will be enough time to launch these projects
GOOD FACTORS THAT SHOULD MAKE YOU BUY AND HOLD STEEM
STEEM is also a true blockchain cyrptocurrency
Speed and efficiency of trasactions
Money Transactions can me done for free
steem is a very unique cryptocurrency in the sense that anyone can own steem by using steemit for free and this steem can be earned from the rewards generated and distributed from the reward pool of steemit which is encoded into the the logic of the steem blockchain. People can receive the steem rewards as they partake in receiving upvotes from steempower investors.
A high number of participants, (currently we have above 1 million steemit accounts)
(Afordability) Paying to create a steemit account is cheap. ( you can pay using @anonsteem and blocktrades etc.)
steemit is rated on https://alexa.com as the cryptocurrency website with the highest traffic in a day.
SMTs and SMT oracles is one of steem's project which has the possibilities of great and positive impacts.
The ability for a new user anywhere in the world to start a blog with no money and immediately rank posts high in Google combined with the potential to earn money directly from upvotes makes Steem 10 times better than WordPress, Blogger, Medium, or any other blogging platform I have used. Within 3 to 5 years, I think Steem will become the #1 blogging platform in the world as active bloggers will continue to change our blogs completely to Steem. On top of this built in ability to blog.
Any developer can easily add new apps to the blockchain to expand functionality such as video hosting with @dtube and @dlive.
Read https://steem.io/SteemWhitePaper.pdf
What makes Steem a perfect investment is it's ability to earn more Steem just by holding it in Steem Power and participating in the steemit community. Upvoting posts earns curation rewards. Making a post allows us to upvote our own posts.
Steem Power earns 2% interest. We can even use websites like https://www.minnowbooster.net/market or https://smartsteem.com to loan out Steem Power for the easiest return. The best possible return comes from making our own posts and upvoting them which then can bring in a lot of additional readers if we are holding 50,000+ Steem Power by being an active author.
An investor buying millions of dollars in Steem could expect to earn thousands of dollars every week when combining upvoting, posting, and interest! Combine that with a price increase and the return is huge!
Read the papers updated August 2017 https://steem.io/steem-bluepaper.pdf
Steem white paper updated August 2017 https://steem.io/SteemWhitePaper.pdf