Today it was exactly six months since I was first appeared on this site, and therefore, I decided to write a post, in which I will share with you some of my conclusions and observations. The conclusions will, unfortunately, be disappointing. There will be many, so please be patient.
I came to this project, because I repeatedly heard laudatory reviews about Steemit. Stories that the atmosphere here is friendly, and live communication, and interesting content is creating, and even (oh, a miracle!) - here by writing posts, people can earn (mined), big, fast and easy money. Maybe by someone's standards they are small, but since in my poor country, the average salary of a working person is about $ 100 per month, then the amounts that I saw under the posts from the top, seemed to me simply fantastic.
Not so fantastic was the reality.
Where is this "live communication", if almost no one reads anyone? The main movement of comments occurs only under posts about the redistribution of the pool of payments, and this is mostly - swearing with each other. And, eventually, the promised "friendly atmosphere", in fact, turned into a mere reluctance debates and just communicate, because if your opinion will differs - you can get a flag and lose money, sometimes a fairly substantial amount.
Charles Darwin, once said that the environmental conditions, always form the model of behavior that is most conducive to the survival and development of the species in this environment. In other words, this is the notorious human factor, and everyone will behave as it will be most beneficial for them. What so it means?
In order for your work to be adequately paid for, you are told that you must gain the sympathies of the large holders of STEEM POWER - whales. Only these people are able to really reward. The rest are just click on the button, their upvotes (given the current fall in the exchange rate of STEEM compared to last year), is so miserly that, in terms of statistics, it can be ignored.
Therefore, in order to receive a vote that actually brings at least some money, you are obliged to create texts that whales like, texts that whales consider to be qualitative. But there is no guarantee that even in this case they will vote for your post. Who wants to vote for free, if there is an opportunity to sell your voice more expensive than its cost price?
You should use only the methods by which the whales will allow to promote your texts (most often, these methods do not yield any profit, and only lead to large losses).
Your behavior should conform to the standards that whales approved.
It was described, so to speak, "sweet gingerbread".
But there is also a whip.
Whales can set flags for your posts, and take from you your pennies, which you earned with such great difficulty, if you do not fit into the framework and rules they have established, somehow you behavior did not please, or you did not guess, how to please
But the most unpleasant thing is that these very whales are guided by false concepts.
The first lie is the demand to create "quality content", and then, allegedly, it will be well paid for.
And now let's ask ourselves the question: Who are the judges? Who said that people who are entitled to judge here, enjoy the indisputable authority and trust of the whole community? Nothing like this. Their "authority" is based on one feeling - fear of the possible set of flags for all dissenters.
And the second question: And by what criteria, in general, is quality determined?
Explanatory dictionary of the language of my country, says that the level of quality is the degree of correspondence of the totality of the characteristics of the product/service to the requirements of the consumer. And this means that as long as the requirements and criteria are not clearly formulated - there can be no question of any objective assessments of quality. Not speaking that tastes at people different, and the content which, for example, the religious person will consider fine, for the atheist this content will be absolutely boring and useless nonsense.
Of all the requirements for content content, site use rules (the so-called White Paper), only one is clearly articulated - there should not be plagiarism. But here too the concept is very fuzzy, because rewriting, in fact, is also plagiarism, but it is not always possible to prove it.
The second lie is how to determine the quality of content.
In the same explanatory dictionary, it is written that there are the following methods for determining the quality:
Expert method.
The decision on quality is made by experts, that is highly qualified specialists in the evaluated area.
Measuring method.
This method is based on the fact that the indicators of the quality of the product/service are determined by means of measurements. The results of this method are always objective and expressed in specific numerical units.
Sociological method.
Quality indicators are determined on the basis of surveys, collection and analysis of consumer opinions.
But none of these methods works for Steemit. For Steemit there is a method that I would call "purse seine".
It is a bit like an expert one, but with the difference that the rating, legitimacy and authority of the "expert" depends on the thickness of his wallet, and not on knowledge, experience and qualification. Also, this rating does not depend on the degree of respect and trust in the "experts" on the part of the rest of the community. As far as this method is objective and fair - judge for yourself. Thus, 40-50 people, in whose purses the fixed assets are concentrated, simply put everyone else on the knee-elbow position and bend the whole community to their own selfish (sometimes absolutely idiotic) standards, which do not develop the project, but destroy.
As a result, we see a fourfold drop in the STEEM rate compared to last year.
Steemit perfectly demonstrates the role of man in modern society: - a slave with tie and laptop. Slave of the 21st century, which the imagining himself a free man.
The third lie is about the right, in terms of whales, promotion of content.
I will now talk about those same Boosters, or as people are now say "Bid-Bots". Initially, all these projects were created in order to help make money for those people who were not able to create content that the whales would like. Most often Boosters gave a votes of about 300% of the investment, and in the dry balance, the buyer received + 12.5% ​​SBD and + 25% to STEEM POWER. A small profit, but still it was guaranteed. This lasted until whales (who are the main investors of boosters) decided that it's time to start a complete robbery of ordinary users.
Whales invented a "fairy tale" about that boosters should not give any profit at all and should serve only to promote the post to the top, after which the percentage of profitability on boosters fell below the level of profitability. That is, whales want us to pour in our money from the outside and and paid an obviously unprofitable service.
As for moving to the top - this is also a fairy tale, invented by scammers-whales in order to rob us. Even if your post gets to the top - no whale for him will vote for free, because this voice can be sold for good money. The whales did everything to ensure that we always were to lose, so that we lose money, and at the expense of losing our funds, we for a long time kept afloat a financial pyramid called Steemit, with which whales receive tens of thousands of dollars each month. These are the same dollars that are stolen from our pockets, these are the very dollars with which we pay illusory "promoting" without getting anything in return.
However, some whales do not even hide their opinion that authors should not earn anything here, but only large investors should earn. Just like in the fable of the Russian poet Krylov:
"Oh, but how am I at fault?" - "Shut up! Enough!
I've not time to sort through your transgressions!
You are at fault that I am famished"
Some influential people went further and decided to do absolutely vile and mean things - to put flags and reset payouts for those lucky users, who could get a vote from Boosters with a clear profit. They call it theft and fraud. But I believe that by placing flags and zeroing out payments, they are themselves thieves and scammers. That's what the @heimindanger says for example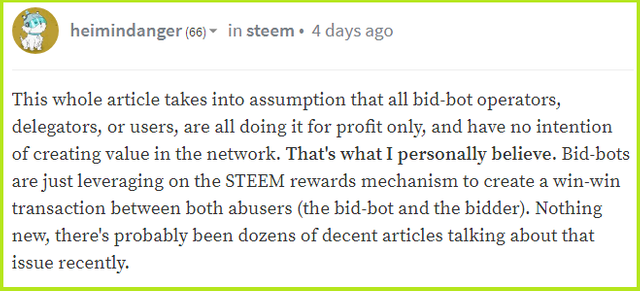 Mr. @heimindanger! Who gave you the right to insult people that way? How dare you stick labels of abusers for people who invested their money and their labor? This is the most honest investstory, they earn themselves and at the same time give money to others. What is your business up to whoever how to manage their votes. It seems to me that it's people of your type who write denunciations for a tax inspector about their neighbors. I would gladly set you a flag for the abomination that you wrote and did not do it until now only for one reason - we have different weight classes with you, my flag will not cause you any special harm, and yours flag can kill me. However, this is exactly what I began my story with.
Proceeding from all of the above, I made one more conclusion: - since those people who are able to substantially influence the size of payments are most often, are not experts with the proper skills - these people are easy to manipulate, and for this you just need to know how to please them. And only one category of authors to please them - professional journalists. The second most ancient profession, as they say in the people.
Awfully angers me this all, to be honest.
Journalists-professionals occupied the entire site, launched a conveyor, which produces public opinion.. In their blogs, they are on order and for a lot of money, brainwash their subscribers and other readers. They feel fine here. In fact, unlike the ordinary author, who writes his simple notes from time to time, they write is regularly, interestingly, up-to-date, use dictionaries of synonyms, speech phrases, aphorisms, and other professional techniques, about which "mere mortals", anything do not know, That is, this duel are initially unequal and dishonest. It's like, in the boxing ring, on which against a professional heavyweight boxer, send in the fight a skinny and painful nerd and call this mess "equal opportunities."
In my opinion, you need to kick out of the Steemit with the help of a nasty broom, anyone, who has professional journalism education, they should not clutter the living space of normal users to their shitty populism. Because of the abundance of this populism, I have long been nauseated!
Let them go to newspapers and news sites, because blogging is not journalism. Because the blog is not a glossy magazine and not a news site, but an online diary.
Blog - is the story of high school student about what she ate for breakfast, how then went to school there and had a argued with a teacher of English, after that she watched the TV show "Comedy Club" and laughing with friends. A blog is a story of a worker or an office clerk about how he spent his day. Blog - this is the stories of the housewife about what, as she cooked for dinner and what she fed her husband and children. A blog is even a picture of my cardboard cup with coffee bought at a nearby kiosk.
Such a photo made at certain moments in my life, which then will remind of these moments, may be no less important value than a photograph taken in the volcanic crater for some expensive scientific journal, using the heat-resistant drone, worth millions of dollars.
And journalism is not blogging, journalism is media and propaganda, which has nothing to do with blogging. It does not matter if it is paid by someone or not.
I want to people able to earn on the Steemit. Both people who can write well and people, who do not know how to write well, because it does not matter what or who says, but most people came on this platform with one goal - for money. And if whales take away this basic motivation - Steemit will only have a couple hundred professional writers and journalists and no one else. They will fight among themselves for the meager pool of rapidly depreciating STEEM and SBD, and the current whales currently imagined themselves complete masters of life will drink Valium, with horror in his eyes looking at how burn out them millions of dollars
If you want to see on a clear example what the policy of whales can lead to, aimed at limiting payments to authors - you can to visit at the closely related project golos.io. On this project, whales also intimidated all people with flags., have decided that pool is their legal property, and only they have the right to decide who is entitled there to withdraw money and who is not, the project is now at death's door, and the local token GOLOS, which is a direct relative of STEEM, worth now on the exchange of 4 cents and even for such small pennies, no one wants to buy it. The reason is simple - not having financial motivation, people (most of whom, I recall, came to earn easy and fast money), began to leave the project massively, and the project lost trust. Do you want the same fate for Steemit?
It's all about capitalization. The economy of Steemit is built in such a way that STEEM and SBD, despite all the lies that they supposedly have value in themselves, in fact something is worth only as long as someone is ready to buy them. And they are not worth more than the price that potential buyers are ready to offer for them. That is, it is a classic financial pyramid, and the fact that this pyramid is built on blockchain technology does not change the essence of the matter. To prevent this pyramid from collapsing - new users should come to the project, and at the same time, it is desirable to invest live money. And who knows how to invest in a project in which there are people who consider themselves entitled to decide who is worthy of payment and who is not. Which can nullify your payment, simply because the left heel itches.
That is the main thing - investments.
Well, the side effect is pleasant impressions of readers from reading good texts.
Both goals are worthy of respect, but why is such a complicated and confusing way chosen?
It reminds me of the logic of a teenager unsure of himself: I will wear fashionable clothes, steal keys from cool car of my father, I will approach her to the girl, the girl will pay attention to me and want to get acquainted. Why is this all? Maybe you do not need these tricks? Maybe the girl does not understand the brands of cars at all and Ford Fiesta can not distinguish from the eight-liter sportcar? Maybe you just need to go to her and invite her to meet? Maybe you just let users mining here tokens in any way that allows the program code of the site, including boosters, bots, botnets, voting for their own posts and comments, as well as automating the writing of texts and comments?
Indeed, the growth in the value of the token, has a very indirect relationship to the number of users and the quality of content, the main role is played only by the number of investors and their desire to invest in the project their real money.
Now let's try to answer the question: what do people do on Steemit?
If you conduct an open opinion poll - the answers will be different and mostly noble:
-communication
-information
-entertainment
-meet new interesting people
-creation of high-quality content
What gives users exactly Steemit, if you compare it with other social networks? If we organize the opinion survey, respecting the respondents' anonymity, the answer will in fact be one - money.
Steemit, in fact, very uncomfortable social network against the background of its closest competitors.
The incomprehensible and inconvenient Markdown, the absence of even the most primitive private messenger, open correspondence for all and open transactions, which do not allow preserving the secret of payments. For example, out of 350 of my subscribers, really reading my posts from the strength of 10 people, of which only 2-3 of them comment and vote for them. Another 2-3 people vote without reading, with the help of almost zero-discharged "batteries", bringing a maximum of $ 0.0001 expecting that in return someone will vote with more force. And the goal is one: money, profit, profit. Some do not even hide it and cynically declare that everything is right and should be so. Others, sincerely believing in their own misconceptions that earnings are not the main thing, are writing eulogies to whales, hoping that whales will vote for them.
And the whales punished all dissenters, set flags, trying to drive the resisting herd into a hedge of illusions and hopes that will never come true, because human nature and human greed can not be overcome. And "right of strong".
And not just a flag, but they have already automated their "death machine", and once you not please them, as soon as make a single mistake - you will be added to the blacklist and each of your next post (regardless of its quality) will automatically be flagged at the time of its publication. For example, such a "death machine", established Patrice with the help of Mack-bot and Spaminator.
She does not even care about that her bots are killing someone, she once added your login to the blacklist and everything, the end, you can leave the project, because you will not be allowed to publish anything anymore.
This is unfair when the role of judge and, at the same time, executioner, is given to people with dubious qualifications and no less dubious moral and human qualities. In some cases, with Patrice this problem can be solved, for this it is necessary to write to her and fall to one's knees with apologies, because like any person asserting herself at the expense of her superiority in strength before others, she likes when someone is deeply humiliated.
Not the most pleasant is the fact that many people, unselfishly delegate their STEEM POWER to such "death machines". This reminds me of something like Stalin's GULAG, where the victims before the execution, had to dig their own graves with their own hands.
What gives us the phrase pronounced as a mantra - Unique Qualitative Content ™
Nothing, except squabbling, confusion, mutual reproaches, flags, and robbery of people.
Proceeding from all vyshenapisannogo, I summarize: - I AM DISAPPOINTED.
And how I would like to be mistaken, but no ...
P.S. This post is a kind of test for the work of the Steemit.
It is written from beginning to end by me manually, it does not contain any plagiarism, there is no advertising and spam, the post does not violate the rules of the project. For half a year of being on the site, I invested in my blog about $150. The very first my blog here, has been destroyed by Patrice, because I dared to buy a vote from an objectionable (from her point of view) bot. She does not like the fact that using this bot brings real benefits. She does not like the fact that someone other than her and her friends dares to earn money here.
Of these 150$, only 21 SBD and 37 SP returned to me in the form of payments for posts. All available to me at the moment SBD, are aimed at promoting this post.
So let's see (not to mention some profit), this post will pay for itself, or not. If it does not pay off - will be the last on my blog. Like my stay here. I spent almost half a year writing posts almost every day, I did not swear at anyone, I did not complain about anything, I have been unfairly punished several times by flags for daring to express my point of view. But my patience is over.
It's a waste of time spent on Steemit. This instead of promised money, brought for me only losses, anger, resentment and disappointment.