Steem price is down: what is going on? Here is what you should know and should do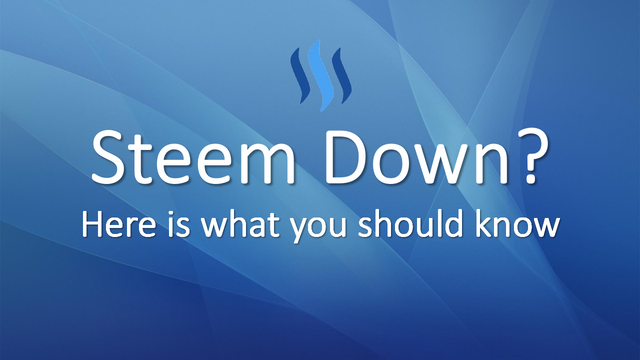 I've been on Steem since August 2016 as @makafuigdzivenu(now my dev account), then as a seasoned author at @BlockRush. Steem's price is one of the lowest I can remember: ~ $0.8.
Due to my work on the platform, I felt it necessary to write this post to remind the community of what we have.
Towards the beginning of this year, Steem prices shot up and we were looking to maintain it but now we are down.
Why are the prices down?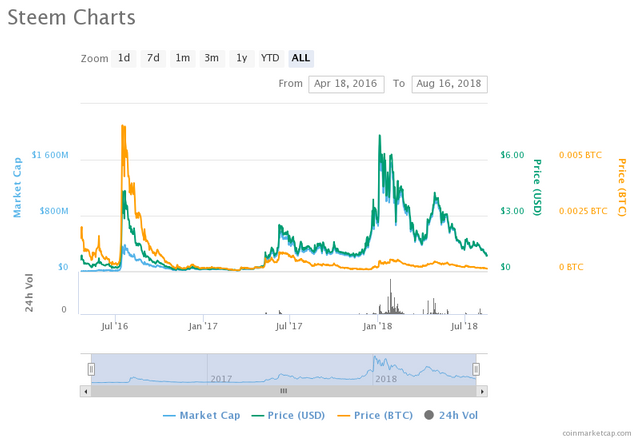 What causes prices to drop?
Without any credible information, investors and minnows may wonder if Steem is losing support which is why the price is down.
I wrote this post to clarify the situation to anyone who is unsure of what is going on. The typical causes of crypto-currency price crash include:
being busted as a scam
losing the support of a lead developer
a major split due to a fork
being pursued by the government
investors migrating to a perceived better platform
network or affiliated services being hacked
delisting from major exchanges
whatever unforeseen disaster that could happen
whatever else I missed
Is Steem price crashing?
No. Steem is in NOT in any of the above situations. From my current knowledge, I can assure you that none of these are a cause of the Steem price drop. We have not lost anything nor are we under attack. Prices crashes are normal and caused by network effect on the general crypto market.
Why then is Steem price down?
A mother in need
Bitcoin is the mother of all blockchains and all cryptos. I cannot emphasize enough the value of Bitcoins. I have done so several times on @BlockRush.
As it happens, when your mother is in need, you are definitely not going to have it easy. With investors more profit-conscious than value-conscious and pending uncertain governments decisions, the Bitcoin's prices keep bubbling.
As Bitcoin's prices bubble, the crypto market falls since we all depend on Bitcoin for liquidity.
The network effect paying negative dividends
I would say that the primary cause of the price drops as a result of the negative effects of the network effect. Network effect? Yes. Remember the early prices booms?
They were because when Bitcoin did well and it lifted the entire crypto industry on its climb. Now that its down, all cryptos are down.
Stats show that billions have been lost due to the rise of overhyped altcoins and ICOs. As investors realize the fact that no altcoin is truly gold, they are pulling out and becoming conservative and savvy.
Well, that means that they will pull out all cryptos since they do not know which one they can trust. Steem would lose the market not because it is having a problem, but because investors are unsure of all cryptos.
Panic due to powering down misjudgments
Yes, some prominent Steemians are powering down but it does not mean they are leaving Steem. @Ned is powering down but not because he is leaving Steem.
@Ned is the co-founder and owner of Steemit Inc, and the common knowledge is that he is powering down to fund expenses. Whales and devs are doing same, not everyone who powers down is leaving Steem.
I am also powering down, but only because I need the liquid Steem to finance several Institute expenses.
The real question should be: why are cryptos down?
As seen above, Steem is not crashing, it is only suffering from the network effect and non-performant revenue generations system.
What can we do for Steem?
The need to capitalize Steem
We need to evolve. As is credited to Leon C. Megginson:
it's not the survival of the fittest; the most adaptive to change that survives
Currently, investors are disadvantaged when they use Steem. They buy Steem; but it is not lucrative to hold liquid Steem, so they turn it to Steem power to get dividends, delegate and be able to vote to earn back something.
Now, none of the above means are really that lucrative and here is why:
you simply cannot auto vote yourself: the blockchain does not censor it, but the community will kill you if you tried it. they would string up voting wars, bots, whatever
voting for ROI is unheard-of: we simply cannot expect an investor who invests $1m to spend all their time writing posts so they can vote it(aside risking downvotes) to be able to earn a return. the money has to work for them, not they themselves working for their own money
trying to delegate to voting bots: the turnover is embarrassing low and you get the label of a greedy capitalist crook
waiting on dividends for Steem Power from the reward pool: this definitely more generous than altcoin facets but would not justify the ROI
To capitalize Steem, we would need to build projects on all of its features. Projects that investors can invest liquid Steem into and get real ROI as well as the security of funds.
We need more apps built by corporations, not just one man developer teams. We need to build apps on the voting, comment, resteem, SP delegation, funds transfer, custom_op, escrow and other features of Steem. Currently, all apps are built primarily on the posting utility of Steem.
We need to think beyond using Steem as a content hosting platform. The Steem institute would be building a suite of multiple apps for our upcoming @CapitalizeSteem initiative.
Become more faithful to Steem
Steem Press is a cool plugin, however, I believe that it could be used for the better or worse of Steem.
Currently its users stand the chance to be rewarded with votes from its curation team, however, the authors actually do little for Steem.
As it stands, anyone could install a Wordpress blog, install some private label content spinner plugin and done! They will just keep populating the Steem blockchain with content.
These content mostly never get read, as they never trend and the authors do little to promote their Steem versions of the articles. Instead, they promote their blog post's versions to keep the traffic to their blogs.
Steem Press also authors delay their post relaying to Steem so search engines could recognize their versions as the original source, in addition to including a link to the same post on their blog. Steem clients serving the same post would be labeled as plagiarists by search engines.
While we fight really hard to combat content plagiarism on Steem, Steem clients themselves risk being blacklisted as plagiarists by search engines.
If authors want to get extra revenue from Steem for their WordPress content which they already continue to monetize through other schemes, the least they can do is to acknowledge Steem's support on our sites.
Upgrade the WYSIWYG editor to support Grammarly
This is one small improvement I believe would do a lot to improve content quality on Steem. The current Steemit text editor does not support Grammarly, the most powerful grammar checking tool.
You would have to switch to the "raw" HTML view before the Grammarly plugin become active and even then it it does not work well. Getting it active on the default WYSIWYG editor interface would allow us to improve our grammar as we write for Steem, improving the overall content quality on Steem.
The makers are at work
You should know that Steem in still in development.
Steemit is at work
When it comes to Steem's development, Steemit is the first call attention. Steemit is at work on Steem, building several backend services and more which would soon be released to the community.
The fact that the Steemit.com interface has not seen any major upgrade does not mean Steemit is not working. Their work goes into building backend supporting services and Steem blockchain development.
The witnesses and devs are at work
I've been watching the Steem repo on Github and it fills my inbox with notifications. The witnesses and developers are eagerly refactoring Steem for Smart Media Tokens and App Base!
The community is at work
In such times, it is easy to forget what we have and focus on what we don't have. Steem young but is a promising and growing platform.
Utopian: As far as I know, Utopian is building their new UI, yet they are still active even without one
Musing: Musing is one nice Q&A app built on Steem
DTube & DLive: Dtube and Dlive are two great apps that seem to be in constant competition with each other. This keeps their team busy with innovation and as they constantly upgrade their apps.
Peer Query: the beta would revolutionize the peer to peer collaboration industry. Due to the amount of work required, development has been slow. As you might have noticed, I usually complete development before releasing the app and code. I can assure you that I've made lots of progress and would release a major update soon. The beta would turn Peer Query into a secure platform to host, build and promote your projects. Its unlike anything we've seen yet and nothing like what we currently have at www.peerquery.com.
SteemHunt: Steem Hunt is another great tool built on Steem
eSteem: Steem now has a mobile and desktop client.
Steem Press: Steem press is the popular Steem plugin for Wordpress
Countless others, as well as new apps, are coming up by the day.
The best is yet to come
Been on Steem for years and not seen anything innovative? Do you believe its time to move elsewhere? Have you seen the best of Steem yet? I don't think so and here is why.
App Base
App Base is a robust engineering feat to allow the Steem blockchain to scale to accommodate the velocity mode after HF20.
Smart media Tokens
As noted above, Steem's codebase is being refactored to accommodate Smart Media Tokens. Smart Media Tokens would allow anyone to deploy their own Steemit with their own custom tokens.
Steem Institute
This is my personal favorite and excited me the most. The @institute has been in preparations for over a year now. We have finally reserved all required resourced for numerous projects, as well as made comprehensive plans on several initiatives which would completely transform the Steem industry as we know it. We would begin a soft community launch this very month.
Hard fork 20
Hard fork 20 is near the corner. It does not break anything as we know and are already used to. It however does introduces measures for scalability and accountability.
Final words
Personal advice
I cannot guarantee you anything nor can I offer you investment advice, but I would encourage you to hold on to Steem. Steem is proven to work; most other cryptos are simply untold tales in whitepapers. Steem isn't perfect yet, but its growing.
A call to interested parties
The Steem Institute is looking for developers, Steem power delegates and a community to build Steem to greater heights. We are not active or open yet, but you can join the community channel on Discord. Once were are live the channel would become active.
Recommended reading
These articles were referenced in this post, and I definitely would encourage you to read them. They offer priceless insights into the crypto industry.
Drowning in Tokens by Meltem Demirors
Why most cryptocurrency market cap is fake by Crypto BI
$30 Billion Lost: 4 Stats That Show a Crypto Market in Decline by Coin Desk