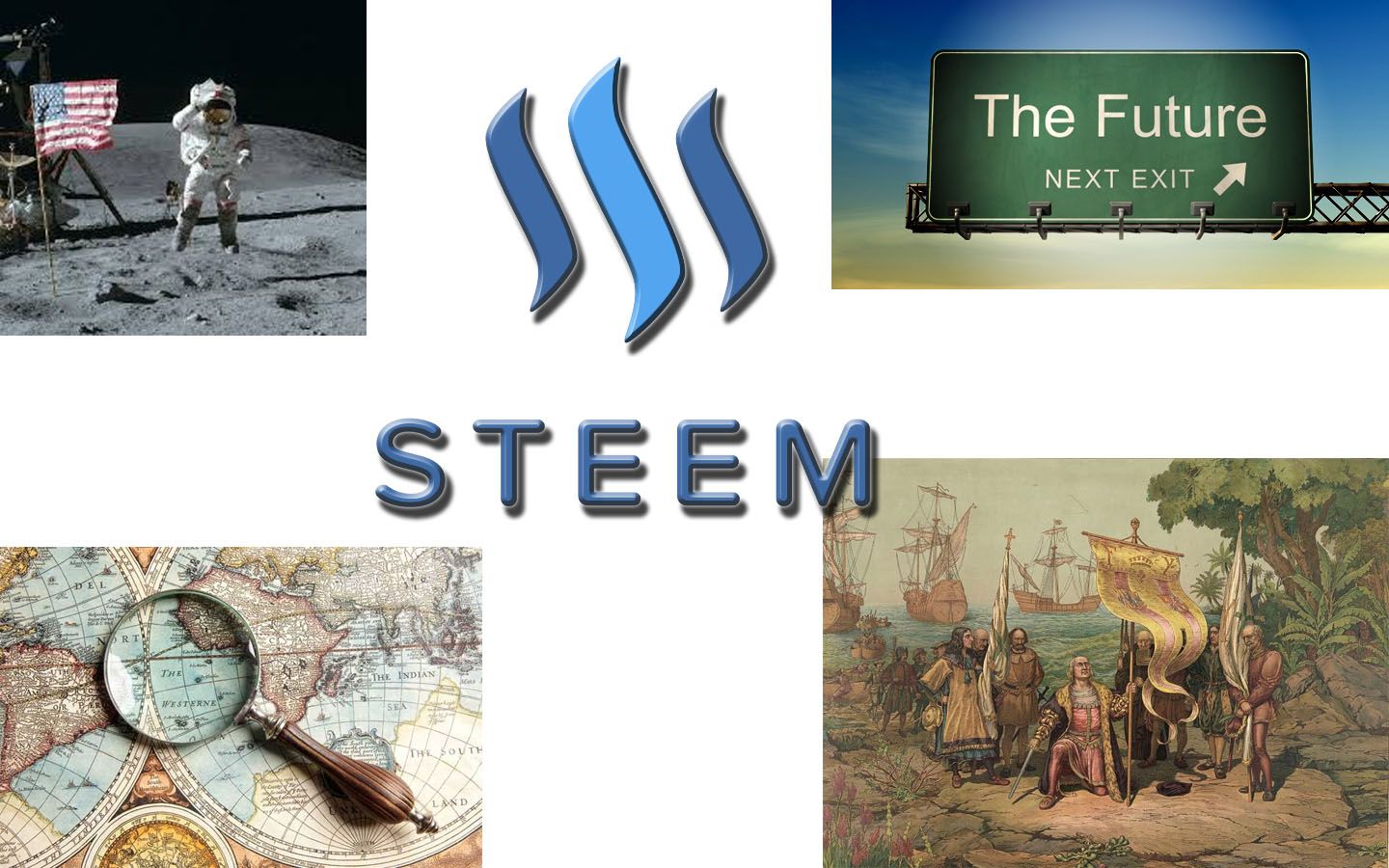 I've been rambling with people on steemit.chat and trying to work through some mental ideas. Some of them have been nicely squashed as they were very much outside of my knowledge base. Which is why I spoke to people in chat that I knew would be able to set me straight if I was full of it. They did indeed. Thanks guys/gals.
What I am going to say now may be fluff, and it may be something you already get. Yet it was pretty important to my own way of thinking and it did clarify some things. It was some thoughts I had that I kept solidifying by discussion.
Problems In Our Community
We are always going to have problems and conflict. That is human nature and cannot be avoided. However, the majority of the problems we are having in our community I do believe there are solutions to.
Here are a couple of things to keep in mind before I proceed:
Steem/it is unprecedented in many ways. UNPRECEDENTED is very important to keep in mind.
By how it is implemented and designed we are Stake Holders (similar to shareholders).
When confronted with something new our minds will try to understand it. The most common thing we as humans will do is to try to put this thing we encountered into the context of things we know or have experienced.
We as humans have been surrounded by markets our entire life. In a market, you walk into a store and you buy what you came to buy. We understand this. It is everywhere.
In a share holders meeting you vote on decisions and you steer a company/enterprise.
Your steem power is actually a STAKE and yes we've all heard and READ this. That doesn't mean we have internalized it or understood it. The vast majority of users likely have never been a stake holder in something so it will be a completely new experience.
We are producing content. We are writing stories, articles, composing music, making videos, making art. In the world we are familiar with we would then put this out there to see if anyone wanted to buy it. This is a market.
In such a place if 10 people wanted to buy it that would be a demand of 10.
If 100 people did not want to buy it that does not make the demand -90, the demand is still 10.
This is how markets work. You do not walk into a music store and start marking down the music you don't like. Which music you don't like is irrelevant. They are there to sell you what you want, AND what other people want. The market does not let you nullify someone elses demand.
In a stake holder situation your votes are as strong as your shares/stake in the company/enterprise. Yea/Nay votes are common, and abstaining (not voting). Votes can nullify each other.
What I believe we are seeing with regards to our conflicts is an unprecedented combination of two different ideas. We have what appears to be a market, but it is in fact a stake holder situation. It really is NOT a market.
So those of us that are coming here and trying to understand it will likely see it as a market, and other people that understand stakes and stake holder meetings, will likely see it as stakes.
Those that see it as a market likely see Steem Power as similar to a Universal Basic Daily Income. It actually is not this.
Those that see it as a shareholders situation likely see it as voting power and stake in the company/enterprise. This is accurate.
This is not about right and wrong though. People are not going out of their way to FORCE change upon it. I believe the conflict is that it is a new paradigm, it is unfamiliar and BOTH parties are trying to treat it as something familiar.
For stake holders in this case are running something kind of like a market in a way that is unnatural for a market.
This means we have a new paradigm here and it is not quite settled and familiar to any of us yet as to where it is going. We are viewing it from different EXISTING paradigms that are in conflict with each other. This I believe is a big part of our problem.
We have something totally new here. Yet it is so new we don't quite internally understand it so each of it is choosing a paradigm we are familiar with and this is biasing our interaction towards this place.
I'll admit I viewed it as a market. So this has biased my perceptions on how it should work. I do not understand how someone can cancel out the demand of another. In a market you really couldn't. You either BUY it or you DON'T.
Yet this is not a market.
In a stake holder meeting what happens is not typically so viscerally obvious to all the stake holders in terms of how it will monetarily impact them. You don't go to a stake holder meeting and have a NAY vote for something you wanted to do instantly revealed to you as a loss in income. So it is unprecedented in terms of stake holder paradigm as well.
Furthermore in a stake holder environment you are not voting on content and creations made by people for consumption. It is usually steering, marketing, and company decisions. You might vote on what type of product you wish to use, which contractors to hire/fire, etc. yet it is not a close to a market as this place is.
This place is unique. It doesn't fit into an existing paradigm. We are creating a new one.
Anytime you explore NEW territory there are going to be challenges. Things will not always come easy. Easy is for the people that come later after the CHALLENGING things have already been solved.
You have the fortune/misfortune (depending on your perspective) of being an explorer. This is a new thing. Those big challenges have not been solved. That is on us to solve them.
Yet a lot of the conflict I believe is coming from ALL of us trying to fit this place into boxes/paradigms of things we are familiar with. They are not wrong. They are just a fragment of what this place really is. Yet when these paradigms are brought against each other there is conflict as they don't work together as the existing paradigms we know.
Our problem is holding onto those paradigms rather than realizing we are dealing with another.
Realizing this I hope will have people more sympathetic to people that "don't get it!". If you realize how truly unprecedented and different this place is then it should be clear that only some prophet or super genius would GET IT initially when they get here. We can't expect people to GET a new paradigm without internalizing it and experiencing it.
Some of the solutions will come in the form of code changes.
Other solutions will likely come in the form of what I have been calling Front End Education.
How can we truly help people transition into this new paradigm more quickly?
Also understanding that the paradigm is not fully formed yet and we don't even know where it will end.
Now some positives
I've mentioned this to some people. Do you realize another truly marvelous innovation here. Mining is not necessary on steem. Yet you are essentially creating currency by using the platform and voting, writing, and replying. You don't need a huge powerful rig, and massive electricity. You can do it just by being you. Anyone can mine this currency. You don't need a PHd or a techy geek friend to help you. Just write, post, vote, and build a following.
Furthermore the payouts when they are low are still even better than what you get mining some currencies.
This I believe has huge marketing potential for getting people to this platform. One among many things, and it is huge but I don't hear many people talking about it.


Steem On!