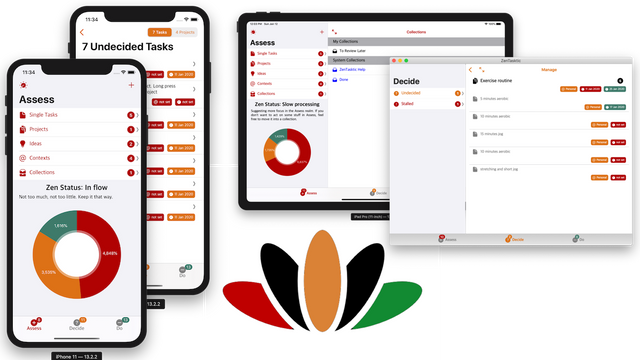 ---
This is the first major release since I launched, almost a month ago. Here are the highlights:
alerts on both iOS and Mac OS
swipe to send items from one realm to another (double finger swipe on trackpad on Mac OS)
refactored the adding items UI
enhanced explanatory titles when adding items
ability to add items from secondary sections (tasks, projects, ideas, contexts, collections)
send Feedback via email in Settings
new, enhanced onboarding flow
cloudKit sync and data stabilization
stability improvements to the subscription flow
order tasks last in first out
new AppStore assets
ZenTasktic implements a productivity framework called "Assess-Decide-Do", which aims at keeping you balanced AND effective.
It works on both iOS and Mac (native apps) and it syncs data between these platforms in real time (meaning you can add a task on your iPhone / iPad and have it synced to your Mac in real time - or the other way around).
It can be downloaded for free (there is a subscription plan for those wanting to access some premium features, like the ZenStatus):
iOS: https://itunes.apple.com/app/apple-store/id1492487688?mt=8
macOS: https://apps.apple.com/us/app/zentasktic/id1494633171?ls=1&mt=12
---
I'm a serial entrepreneur, blogger and ultrarunner. You can find me mainly on my blog at Dragos Roua where I write about productivity, business, relationships and running. Here on Steemit you may stay updated by following me @dragosroua.


---
Wanna know when you're getting paid?
I know the feeling. That's why I created steem.supply, an easy to use and accurate tool for calculating your Steemit rewards
It's free to use, but if you think this is a useful addition, I'd appreciate your witness vote.
Thank you!
Psst: new to Steemit? Start Here